Documenting the beautiful game – football's 10 best reads
The Weekend Dossier: After the week Sir Alex Ferguson launched his latest autobiography, we pick the books that reveal how - and why - football matters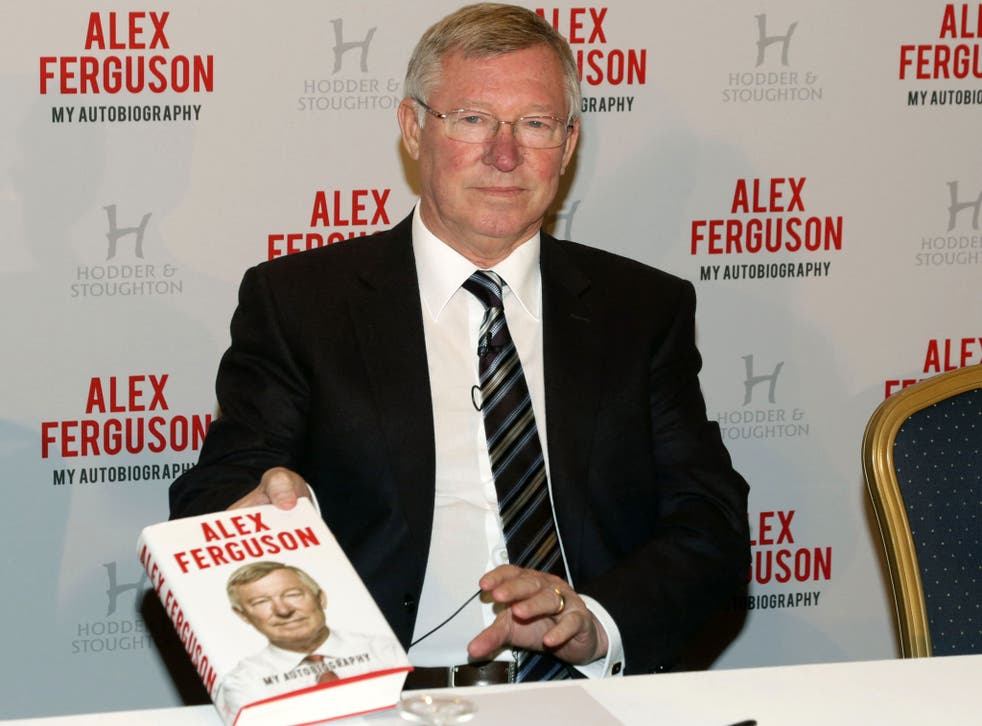 "Sport can be cruel to men. Football can make a man even more ridiculous than drink can." So begins Arthur Hopcraft's The Football Man, probably the best book written on the game despite now being 45 years old. Hopcraft was also an accomplished screenwriter, winning a Bafta and numbering Tinker, Tailor, Soldier, Spy among his adaptations. He would have enjoyed the spectacle and furore surrounding the launch of Alex Ferguson's latest autobiography this week, and the attention on the release of the shortlist for the William Hill book of the year. Both events would have confirmed his belief that "what happens on the football field matters, not in the way that food matters, but as poetry does to some people, and alcohol does to others: it engages the personality".
What follows is a list of football books which, if a bookshelf had only 10 spaces, would provide the reader with a library that revealed how, and why, football matters, and provided entertainment and enlightenment.
The best… reference book
The Ball is Round: A Global History of Football, by David Goldblatt (2006)
When this incredibly broad yet detailed masterwork, all 977 pages of it, appeared I thought how proud I would have been to have written it. I still do. This is the book on the history of football, there is unlikely to be the need for another. Covering every aspect of the world game its index alone is 41 pages of densely packed entries. And it is beautifully written.
Also recommended There are some excellent works on the World Cup (author: Cris Freddi) stadia (Simon Inglis), the FA Cup (Mike Collett), and the influx of foreign footballers (Nick Harris), though they are inevitably in need of updating. David Winner's quixotic Those Feet: A Sensual History of English Football. Plus, in a lighter vein, The Book of Football Quotations (Phil Shaw)
The best… insider's guide
Only a Game? The Diary of a Professional Footballer, by Eamon Dunphy (1976)
The first book to reveal how footballers really thought about the game. Intended as a year-long diary, it ends after a few months, hope having turned to disillusionment as Dunphy loses his place in the Millwall midfield. This makes for a better book. Even now it is a shock to read a substitute being secretly furious when his own team scores, because it means he remains on the bench. Very funny in parts, the Gordon Hill tennis scene is a classic.
Also recommended: The Glory Game (Hunter Davies) took readers behind the scenes at Spurs with access no writer would get these days, though Michael Calvin comes very close at Millwall in Family. Calvin's Nowhere Men uncovers the life of a scout while Alex Ferguson's two seasonal diaries (Will to win, A Year in the Life) reveal much detail of managing, as does Neil Warnock's The Gaffer (declaration of interest: written in collaboration with this correspondent). Keeper of Dreams, by ex-Barnsley goalkeeper Lars Leese with Ronald Reng, is an eye-opening expose of life at an English club as recently as 1999.
The best… Auto/biography
Full Time: The Secret Life of Tony Cascarino (2000)
Although generally derided, football autobiographies have improved immensely in recent years, helped by the trend for confessional memoirs. Alcoholism, gambling addiction, drugs, sex, excessive spending... players have admitted to most vices in gory detail, with a current fashion in doing so anonymously.
But for a book that tells you about football, as well as the footballer writing it, Cascarino's is hard to beat. Well crafted by Paul Kimmage, self-lacerating and revealing – even down to the inclusion of his wages at each club – it broke the mould.
Also recommended: Ronnie Reng's biography of Robert Enke, the German goalkeeper who committed suicide, is a deeply moving tear-jerker, and excellent on goalkeeping. Paul Lake vividly describes the torment of injury. Other good reads include the recent autobiographies of Zlatan Ibrahimovic, Dennis Bergkamp, Jamie Carragher and Bobby Charlton (the Manchester United volume). Alex Ferguson's new one is good, but his first, Managing My Life, has a broader sweep.
The best… England book
All Played Out: The full story of Italia '90, by Pete Davies (1990)
Davies struck lucky in that the 1990 World Cup was so successful for England, but he made the most of his fortune. Having befriended the team, and embedded himself in the travelling circus that accompanied it, he capitalised with a sharp eye for detail to produce a richly memorable tapestry of the fun, games and agony of Gazza's tournament.
Also recommended: Opinionated and erudite, Brian Glanville's England Managers: The Toughest job in Football, needs only updating. The Anatomy of England (Jonathan Wilson) is a tactically-angled history.
The best… on foreign football
Futebol: The Brazilian Way of Life, by Alex Bellos (2002)
The book every reporter heading for Brazil should pack (along with a Portuguese dictionary), and anyone wishing to follow the tournament on a deeper level than just the TV coverage should read. Bellos traverses this vast country from the beaches of Rio to the tribes of the Amazon to inform not just on Brazilian football, but Brazil itself.
Also recommended: This is a rich genre with much outstanding work, such as: Football against the Enemy by Simon Kuper (on European football), Feet of the Chameleon by Ian Hawkey (Africa), Brilliant Orange, by David Winner (the Netherlands), Tor by Ulrich Hesse-Lichtenberger (Germany), Once in a Lifetime by Gavin Newsham (New York Cosmos), and this year's winner of the football category in the British Sports Book Awards, Barca, by Graham Hunter (Barcelona).
Best… investigative book
The Football Business, by David Conn (1997)
The first book to expose the venal underbelly of the shiny new Premier League, with Conn's 2004 work, The Beautiful Game?, shedding further light on its murky corners. Dated, but worth re-visiting for its piercing examination of the sharp-elbowed opportunists who formed, and took advantage, of the new league.
Also recommended: Ian Ridley's more recent There's a Golden Sky, examines the effect of two decades of the Premier League. Tom Bower's Broken Dreams exposed some grubby dealings even if it is flawed by Bower's lack of love for the sport. Andrew Jennings (Foul) and David Yallop (How they Stole the Game) have uncovered some of Fifa's appalling practices. Plus, of course, Phil Scraton's well-titled Hillsborough: The Truth, which underpinned the recent inquiry. That the book is 14 years old shows how overdue the inquiry was.
The best… tactical book
The Italian Job, by Gianluca Vialli and Gabriele Marcotti (2006)
While the Dyke Commission wait for their first meeting they should all read a copy of this book, which explains why the Italy national team wins World Cups and the English one does not, covering every aspect from the weather to cultural attitudes, with expert testimony from witnesses such as Arsène Wenger, Fabio Capello and Alex Ferguson.
Also recommended: Jonathan Wilson's Inverting the Pyramid: The History of Football Tactics, eloquently does exactly what it says on the cover.
The best… fan writing
Fever Pitch, by Nick Hornby (1992)
The male Bridget Jones' Diary, and it also spawned so many terrible rip-offs the quality of the original work became obscured. Hornby has gone on to prove himself a fine writer of non-football books, but this is his most heartfelt work.
Also recommended: Anthony Clavane's Promised Land: A Northern Love Story, and David Conn's Richer Than God, on Leeds United and Manchester City respectively, shine amid the dross, being well-written, and works of research as much as memoirs. So, too, Gary Imlach's My Father and Other Working-Class Heroes, a warm, if at times understandably bitter homage to the career of Stewart Imlach and his Fifties' contemporaries.
The best… fiction book
The Damned Utd, by David Peace (2006)
More faction than fiction, but not enough for Johnny Giles who, unimpressed by his depiction in this imagined account of Brian Clough's 44 days at Leeds, successfully sued. An utterly compelling work of literature which leaves the reader drained by its relentless brilliance.
Also recommended: This is actually an extremely thin field, which is not to decry the quality of two novels by footballing polymath Brian Glanville: Gerry Logan, and Goalkeepers Are Different. For younger readers Dan Freeman's Jamie Johnson books work on enough levels to appeal to several age-groups.
The best… football book
The Football Man, by Arthur Hopcraft (1968)
Hopcraft's masterpiece is a snapshot of an era which is long gone, but the book remains relevant. Examining every aspect of the game, from fans to owners (including a young Ken Bates) he documents a time of rapid change in society and football. With timeless prose Hopcraft captures the bewitching effect the game has on those who play and follow it. The only comparable book is another Sixties' classic, John Moynihan's Soccer Syndrome.
Walsh pursuit favourite for book prize
The inclusion of Zlatan Ibrahimovic's autobiography should ensure the William Hill Sports Book of the Year shortlist gets headlines but it is not just a gimmick, the Swede's tale is revealing and absorbing. However, David Walsh's uncovering of Lance Armstrong's lies will be favourite to garner another award. Since the prize is £25,000 cash, plus a £2,500 bet and a day at the races, it may be slightly embarrassing should either Ed Hawkins or Jamie Reid, who expose illegal gambling and horse-doping respectively, win. A typically eclectic list is completed by the story of an American rower in Nazi Berlin and a new addition to the nature-nurture debate.
Sporting runners: The William Hill list
The Boys In The Boat: An Epic True-Life Journey to the Heart of Hitler's Berlin by Daniel James Brown
The Sports Gene: What Makes The Perfect Athlete by David Epstein
Bookie Gambler Fixer Spy: A Journey to the Heart of Cricket's Underworld by Ed Hawkins
I Am Zlatan Ibrahimovic by Zlatan Ibrahimovic, David Lagercrantz and Ruth Urbom
Doped: The Real Life Story of the 1960s Racehorse Doping Gang by Jamie Reid
Seven Deadly Sins: My Pursuit of Lance Armstrong by David Walsh
Register for free to continue reading
Registration is a free and easy way to support our truly independent journalism
By registering, you will also enjoy limited access to Premium articles, exclusive newsletters, commenting, and virtual events with our leading journalists
Already have an account? sign in
Register for free to continue reading
Registration is a free and easy way to support our truly independent journalism
By registering, you will also enjoy limited access to Premium articles, exclusive newsletters, commenting, and virtual events with our leading journalists
Already have an account? sign in
Join our new commenting forum
Join thought-provoking conversations, follow other Independent readers and see their replies