Dominic Matteo: Gambling away millions
Dominic Matteo lost a seven-figure sum on the horses. He lifts the lid on the financial meltdown at Elland Road... and reveals he struggled to get a club car at Liverpool. He talks to Tim Rich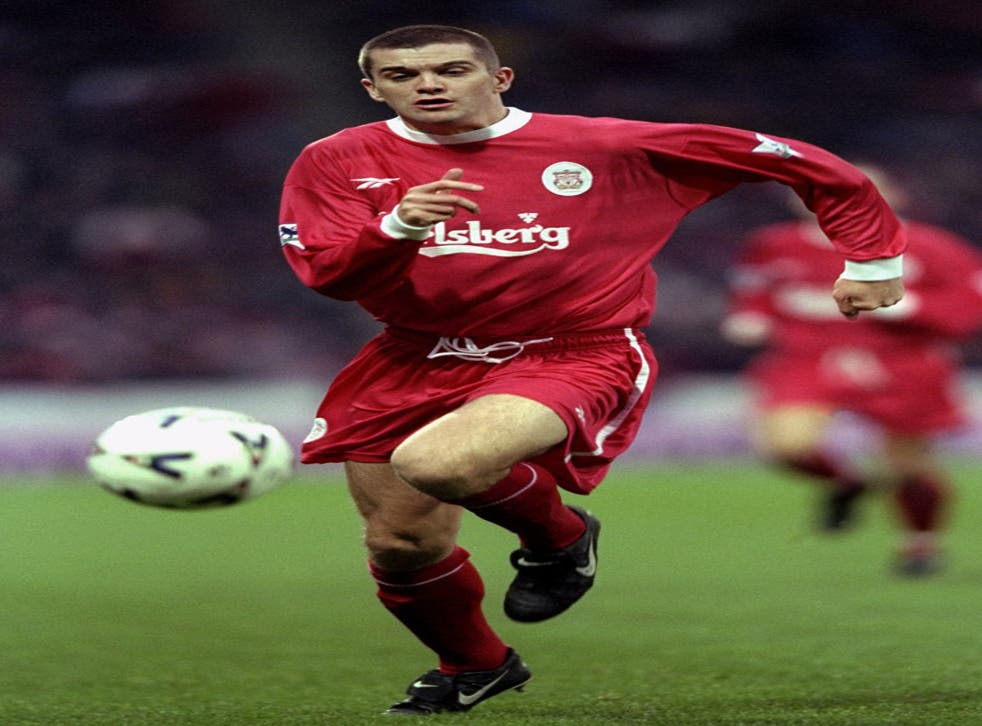 "Live the life of a Premier League footballer," ran the advert, appropriately enough sponsored by a brewery. The winners would be offered chauffeur-driven transport, hotels, a round of golf with Everton "legends" and a tour of the club's "world famous training ground, Finchley Park". It says something for Chang beer that Everton's sponsors could picture how the club's players might live their lives away from football but imagined they trained in north London (Everton's training ground is actually called Finch Farm).
Dominic Matteo has lived the life of a Premiership footballer. His body has had more injections than he can count. He admits to gambling away a seven-figure sum, at one point having £200,000 riding on a single horse (it won) and being at the centre of the greatest financial collapse the Premier League has seen. His is a story of money, the getting it and the losing it.
Thankfully, he survived. Finances, body and reputation largely intact. Appropriately, he is in an Italian restaurant, Danilo's, in Hale, one of Manchester's most affluent suburbs. The school run has been completed, a book, In My Defence, has been written and his immediate interest is in opening a new delicatessen. His father was a chef in the Army who took his mother to Lisbon to watch Celtic win the 1967 European Cup and wanted his boy to play like Cesare Maldini. They spend much of their time in Ibiza in a house their son bought. "They were a little bit sceptical at first but, away from the party side of the island, there are some amazing places and some hidden treasures. They have found plenty for themselves there. They can go for a coffee, go to church, have some tapas and relax. It was the best money I've ever spent."
It is not difficult to find the worst investments Matteo has made. Last week the Ipswich forward, Michael Chopra, admitted he had gambled away up to £2m. Matteo wrote perhaps the most painful chapter of In My Defence as a warning to others, though it is too late for Chopra, who agitated for transfers from Sunderland and Cardiff City to use the signing-on fees to help settle his debts.
Matteo makes the point that once you have an internet or a phone account and seemingly limitless amounts of money and time, the damage can be horrific. The birth of his daughter, Luisa, in 2006, the realisation his career was coming to an end and the working out that he had lost £1m pulled Matteo back. He still enjoys the odd flutter but with what in comparison is loose change. "I didn't have to include it in the book but I wanted to because it might help others in my situation," he said. "I am pretty responsible nowadays when it comes to having a bet but back then I wasn't. Gambling in moderation is fine but, if a footballer reads this, he might understand the consequences of using a mobile phone to gamble with money that doesn't seem real. I do have an excessive personality, I was excessive with drinking and I was excessive with the other things. I found it hard at times to moderate."
What makes gambling so attractive to the modern player is that it can be done entirely in private. Bookmakers do not run to the papers with kiss and tells. You are not required to provide a urine sample if your horse falls at the first. As the Manchester City goalkeeper, Joe Hart, discovered when swigging pink champagne at Lineker's Bar in Puerto Banus, there is no gaggle of people crowding around armed with camera-phones who know how much a Sunday tabloid might pay for the photos.
"I remember when I first started for Liverpool you would go into a pub with the top players and they might be asked for an autograph or be asked to pose for a picture but it was obvious they had a camera," said Matteo. "Now we are in an age where everyone has an iPhone or videophone. It is very easy to make things look worse than they are.
"Sometimes you have to get away from football. I feel very sorry for people like Mario Balotelli who find themselves alone in a huge house. He might want to go for something to eat, he might want some company. He might not drink or gamble but he might actually want to feel like a human being. Recently, I read they closed a shop just so Rio Ferdinand could do some shopping. Does Rio Ferdinand really want that because it actually attracted more attention, not less?"
The real meat of In My Defence is about a gamble, the one made by Leeds United that came within an ace of establishing the Yorkshire club as one of the great forces of English football. Matteo accepts that the central figures, David O'Leary and Peter Ridsdale, the manager and chairman who presided over it all, will never live the experience down, although he liked them both.
O'Leary is in a kind of gilded exile, managing in Dubai, and you wonder why. He never really failed at Elland Road and, although he was not a success at Aston Villa, there was no reason the English game should have turned its back so completely on him.
"I do wonder why he is not in a job in England," said Matteo, who a decade ago was a pivotal figure in Leeds' run to the semi-finals of the European Cup. "Dubai will be very lucrative for him and it will be a nice lifestyle but he is still fairly young for a manager.
"I loved working with David. He had been a great central defender at Arsenal. He worked a lot with me on my heading and the strikers at Leeds enjoyed his sessions. But, as things started to get on top of us, he spent more time in his office.
"Maybe he was caught up in the deals or the finances but I cannot imagine Alex Ferguson not watching training. He was nowhere near a failure and, if you finished fifth now, you would not expect the sack. He signed me, he kept faith with me and he was someone I could talk to. When I was at Liverpool, I never felt good about myself after going to Gérard Houllier's office. He would lecture you; he thought he was Mr Liverpool who knew everything about the club – a club I had been at since the age of 10. It felt like the headmaster's study but David put an arm round you. We missed him."
Matteo has no time for the theory that O'Leary lost the dressing room with the publication of his book Leeds United on Trial that came out immediately after the court case involving Jonathan Woodgate and Lee Bowyer. His players did not read books, even one written by their manager. The reading material of choice in the home dressing room at Elland Road was The Sun or Loaded. What really undermined Leeds, he said, was the sale of Ferdinand to Manchester United in the summer of 2002; the summer O'Leary was dismissed. It was then that Matteo thought Leeds was not quite what it seemed.
The collapse from the semi-finals of the European Cup to relegation lasted three years, although looking back, the signs of the financial incompetence that were to wreck Elland Road were there from the moment Liverpool sold him, a few days after he was persuaded to sign a five-year contract at Anfield. "I knew it was different because when Liverpool travelled in Europe, they never travelled like Leeds did. Liverpool tended to have normal planes. When you got on a Leeds plane, the layout, the people working on it, all seemed very different, with the directors in massive seats down the front ... and did we really need private jets to take our players home from internationals?"
As the club disintegrated, Matteo, as captain, publicly argued that the Leeds players should accept a deferral of 40 per cent of their wages to keep the club solvent until the end of the 2003-04 season. He received a tirade of abuse and no support.
"I went to that players' meeting and I thought there was nobody sat in that room who was short of money," he said. "I don't suppose very many had a mortgage. It was a deferral, not a gift to the club, and as human beings, most of whom were millionaires, we should have been happy to do that. In the end, we had to give up 40 per cent of our wages anyway but we could have come out of it looking a lot better.
"When I was a kid at Liverpool, I never thought about money. I wanted to get in the first team and join Robbie Fowler, who was banging in goals at Anfield for a few hundred pounds a week. It took me a long time to get a club car. It was an Audi as I recall and it had belonged to Razor Ruddock, so it was not in the best nick.
"By the time I was at Leeds all the talk was about money, especially among young players. Nobody should begrudge what Steven Gerrard or Lionel Messi earns. Messi is under public scrutiny far more than Tom Cruise. He has to perform every week. But there was one incident at Leeds that will always be with me. I was in the treatment room, getting iced, and I heard two kids, who were miles from the first team and were never likely to get in. One of them complained they were only on six grand a week. I lost it with them. I was raging and when I came out all I could think of was: 'What's happened to football'?"
'In My Defence' by Dominic Matteo is published by Great Northern Books.
Matteo: clubs and career
Born 28 April 1974 in Dumfries.
Liverpool (1992-2000)
Began career at Anfield after being reportedly spotted by Kenny Dalglish, who was watching his own son play. Made debut aged 19 in the 1-1 league draw at Manchester City before going on loan briefly to Sunderland. Sold in 2000 by Gérard Houllier after eight years, 153 appearances and two goals.
Leeds United (2000-04)
Key part of memorable 2000-01 season when they reached the Champions League semi-finals. But suffered relegation in 2004.
Blackburn Rovers (2004-07)
Captained the side in injury-hit spell at Ewood Park.
Stoke City (2007-08)
Moved on a free transfer to the Potters, who were then in the Championship.
England/Scotland (2000-02)
Twice called up by Glenn Hoddle but injuries prevented him from making England debut, before he decided to play for Scotland, winning six caps.
Post-playing career
Currently studying for his Uefa coaching qualifications.
Join our new commenting forum
Join thought-provoking conversations, follow other Independent readers and see their replies