Dr Steve Peters: the psychiatrist charged with ridding Anfield of the fear factor
Dr Steve Peters is the man who transformed Sir Chris Hoy and Victoria Pendleton's careers. For his next trick, he tells Ian Herbert why he hopes the same philosophy will work at Liverpool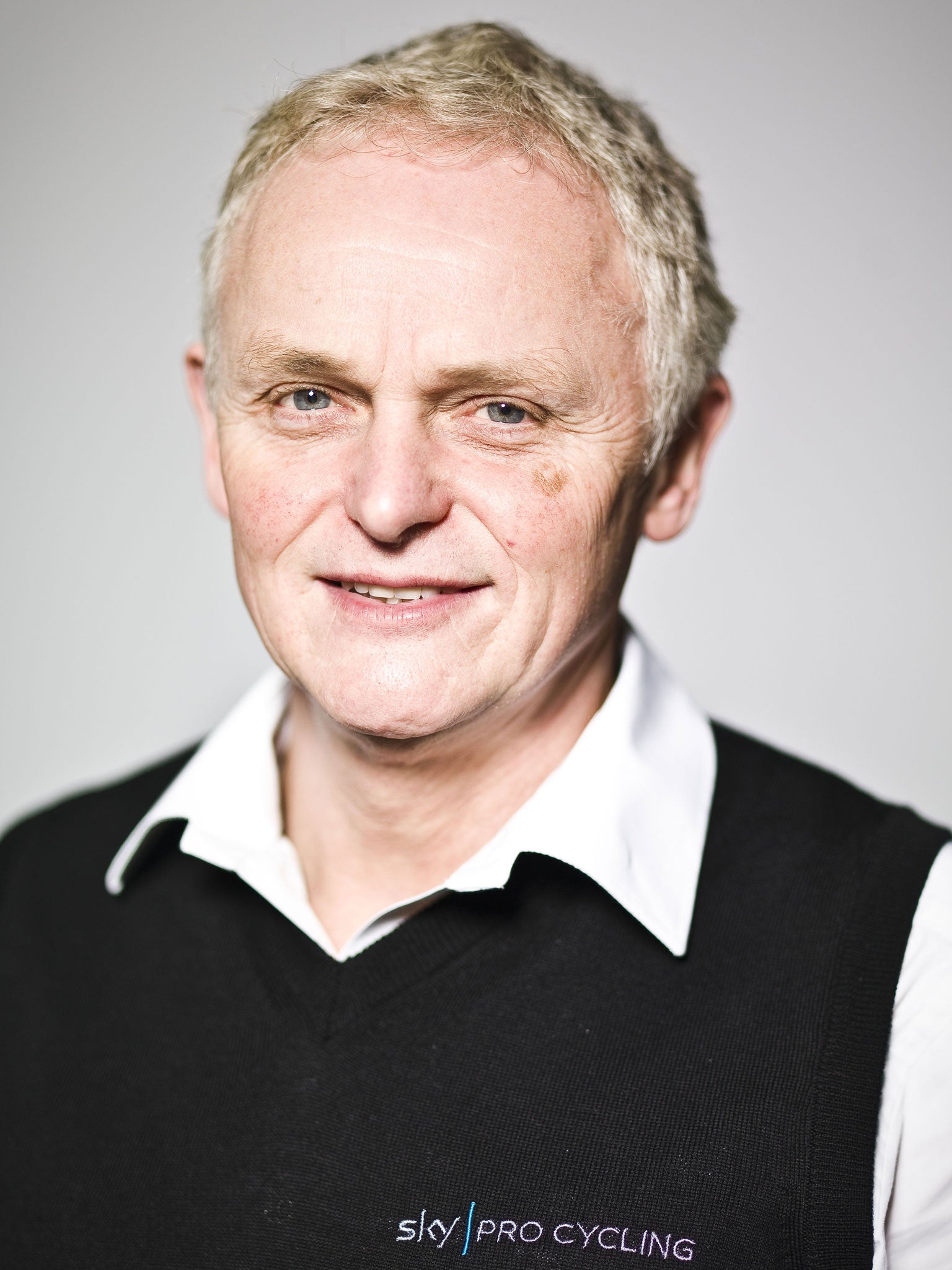 It's about five years since Jamie Carragher's inestimably good autobiography provided some home truths about Liverpool's obsessive quest for a Premier League title. "A championship trophy might not happen for me now," said a player who was only 30 at the time. "It's not impossible and there's no way I'm ever going to accept defeat but without wishing to sound negative, I have no choice but to prepare myself for that possibility…" The obstacle not so much being his own team but everyone else. As Carragher went on to say, Liverpool lost only four league games during the 2007-08 season but still didn't lift the Premier League trophy.
Dr Steve Peters is extremely averse to any implication he knows all about the Premier League environment of the Liverpool squad with whom he works for one day a week – "it's their world, not mine," he repeatedly says – but he has been able to tell the 10 players who have so far knocked on his door at Melwood that Carragher had it spot on.
Peters' point, fundamental to much of his work in sport which has left Victoria Pendleton and Sir Chris Hoy declaring they would never have won Olympic golds without him, is that titles can only ever be dreams: inspiring, motivating reasons to get up in the morning, which are subject to the vagaries of outside forces and, therefore, something you can never plan for, or expect.
"If you start going into the realm of the uncontrollable with a pre-defined goal then you are going to start to stress," Peters says, in his first interview about his Liverpool role, which he is juggling with work for UK Athletics, among others. "So I would be guiding Liverpool to say, 'By all means let's commit to the dream and make it happen. But let's not make it a goal and put pressure on ourselves to live up to something that is actually not in our control.'
"That, to me, is very critical in life. The goals become: 'Let's do the best we can, be prepared as individuals, be prepared as a team, make sure we get everything right.' These are the goals because you can control these. At the end of the day you can't do better than your best." Tell me about it, Roberto Mancini would probably reply. Amid all the talk of Manchester City's flaky title defence, Manchester United's record 74-point haul from 29 games is a widely disregarded factor.
It won't be easy for Peters – applying a cool common sense to the often heated, sometimes burlesque, world of top-flight football, which is played out with high emotion while the on-looking world gasps and gawps at the latest outburst, misdemeanour, triumph or disaster. But Peters, a "massive find" according to British Cycling's performance director, Dave Brailsford, who ascribes a huge amount of British riders' success to his influence, applies the scientist's rationale.
The psychiatrist, who has worked at Rampton high security hospital and helped in the search for the Soham killer, Ian Huntley, applies an extended primate analogy – expounding in his best-selling mind-management manual The Chimp Paradox how the brain comprises a rational "human" part and an emotional, rash "chimp" component (with a third part, "the computer", storing information and experiences.)
The key to happiness and success is managing the inner chimp – the carrier of fear, emotion and irrational thought; the part of you which will always want to jump to an immediate opinion, see things in black and white, think the worst and put you through hell. Managing the chimp allows you to make the logical decisions on the field of play, rather than be bullied by emotion.
The analogy is purposefully amusing but has a serious scientific base. By using an MRI scanner you can actually see blood flowing into different parts of the brain when you are making rational or emotional decisions. Those Peters has worked with – Craig Bellamy, Ronnie O'Sullivan, Taekwondo athlete Sarah Stevenson and the England rugby team that reached the World Cup final in 2007 – will tell you they are training the brain, a functioning machine, to manage emotion. Every brain is different but the process typically involves a relentless application to the same pre-match preparations.
Peters tells a story of how, at cycling's last World Championships, he saw Hoy looking at the giant screen over the track to see a rival break a world record. This wasn't a part of the routine and Peters wasn't delighted by what he saw, knowing it would provoke an anxiety.
Hoy, equipped to fend off the chimp, simply went out and secured his own world record. The chimp is more manageable for some (Hoy) than for others (Pendleton), whose chimp was always highly charged and seeking to hijack her.
That time-honoured, visceral football practice of getting teams "up for it" is about as useful as setting the title as a goal, incidentally. "There's no evidence that approach actually works," Peters says. "People keep saying this, and anecdotally they talk about it getting the team 'up', but if you actually look at what happens, when the team are in this state or an individual is, their judgement is impaired. They make errors and they then try to correct that by emotional attacks which result in further errors."
Those attacks can be hugely debilitating in the unforgiving space that football occupies. Peters does not discuss or identify the Liverpool players who have been "trickling in one at a time" to work with him and only Joe Allen has talked about the benefits so far. But on a human level you did wonder how Stewart Downing felt when he found himself on the receiving end of a bruising press conference inquisition into how he deserved to be in Roy Hodgson's England squad last June, even before he'd kicked a ball in the European Championship.
The Independent's James Scowcroft recalls how, when beginning his career at Ipswich Town in 1994, he was so besieged by criticism from fans unhappy that another popular forward had been sold that his then captain Geraint Williams decided the side would kick towards the heaving North End stand in the first half, keeping Scowcroft 90 yards away from the opprobrium which was at its worst in the second period. "When you're on receiving end of that kind of thing the anxiety consumes you," Scowcroft says. "You wake up thinking about it. It drains your energy."
This landscape of fear is one Peters has been operating in for 12 years, full-time since 2005. Mancini may care to know that The Chimp Paradox deals extensively with the anxiety and fear which can follow success – for those who feel they have to repeat it even before they have enjoyed it. And though Peters' perspective is that footballers, like the corporate managers who occupy a bruising world, know what they are getting into – "If you want to go into elite football you accept it's part of our job, so there's not much point in complaining after you get in, saying, 'I get scrutinised'" – he considers the negativity punishing and deeply counter-productive.
"It's generic across every walk of life. There's this hostility and it causes people such untold stress you wonder why we don't say: 'You know, we're only on the planet for a short time, can't we be more constructive?' Sometimes that criticism is not constructive at all, but just a destructive attack on people. I'm not sure that does any good."
Brailsford said when he met Mancini last year to discuss what football could learn from the Olympians that he was interested in how the Italian managed "big characters, lots of money, potentially challenging players…" But, after four months in football, Peters says he sees the same universal quest for contentment through achievement – multimillionaires though these people might be.
"We have to accept the factor that these are wealthy guys who do not have to prove anything because they are going to get paid anyway," he says. "But I can see that's not what's driving them. What's driving them is their zest for the club and success with that club. They're very, very loyal."
The challenge of operating with a team carries complexities that working with Hoy or Pendleton simply did not.
"[Cycling] is much easier in that sense if you've got one committed individual with one committed event," Peters says. "If I go to a team with, say, 10 people and only five work with me then I am absolutely limited in what I can do with that team."
And even if the other members of Rodgers' 23-strong first team squad choose to work with him, there is then the difficulty of agreeing how to pursue success. "At the most extreme, you have potentially 10 opinions on how the game should be approached and a coach who's trying to pull all those opinions together. So the power base has, quite correctly, shifted to the coach."
You can see why Peters gets on so well with Rodgers, whose deep interest in what makes his players tick and what they do when they leave the training ground is something which all those he left behind at Swansea City eulogise about.
"He is taking it step by step and we can both see it as a long-term process," Peters says. The problem is football's impatience for success – the "chimp" in the game, you might say. Rodgers would probably like to make fifth place his goal, with Aston Villa to play at Anfield tomorrow, but he really dare not. As Carragher put it so presciently: "The trouble we face is the teams in our way."
Steve Peters: Been there done that
1993-2005 Works at Rampton secure hospital as a forensic psychiatrist.
1994 Begins work as a senior clinical lecturer and undergraduate dean at University of Sheffield.
2001 Turns to cycling and befriends Dave Brailsford, now British Cycling performance director. Among first pupils are Chris Hoy and Victoria Pendleton. Goes on to work with GB Olympic cycling team and Team Sky.
2002 Works with police to profile Ian Huntley during investigation of the Soham murders.
2007 Aids England rugby union team as they reach World Cup final.
2011-12 Helps to revive Ronnie O'Sullivan's career as snooker player wins fourth world title.
October 2012 Handed role with performance team at UK Athletics.
November 2012 Peters branches out to football to work with Liverpool.
Join our commenting forum
Join thought-provoking conversations, follow other Independent readers and see their replies