Edwin van der Sar's new goal is to make Ajax more marketable
Dutch club have great seniors five-a-side team as ex-United keeper joins Bergkamp, Overmars, De Boer and Jonk working at the club. He wants to give something back to the place where it all began, he tells Ian Herbert in Amsterdam
Ian Herbert
Friday 17 October 2014 20:08 Comments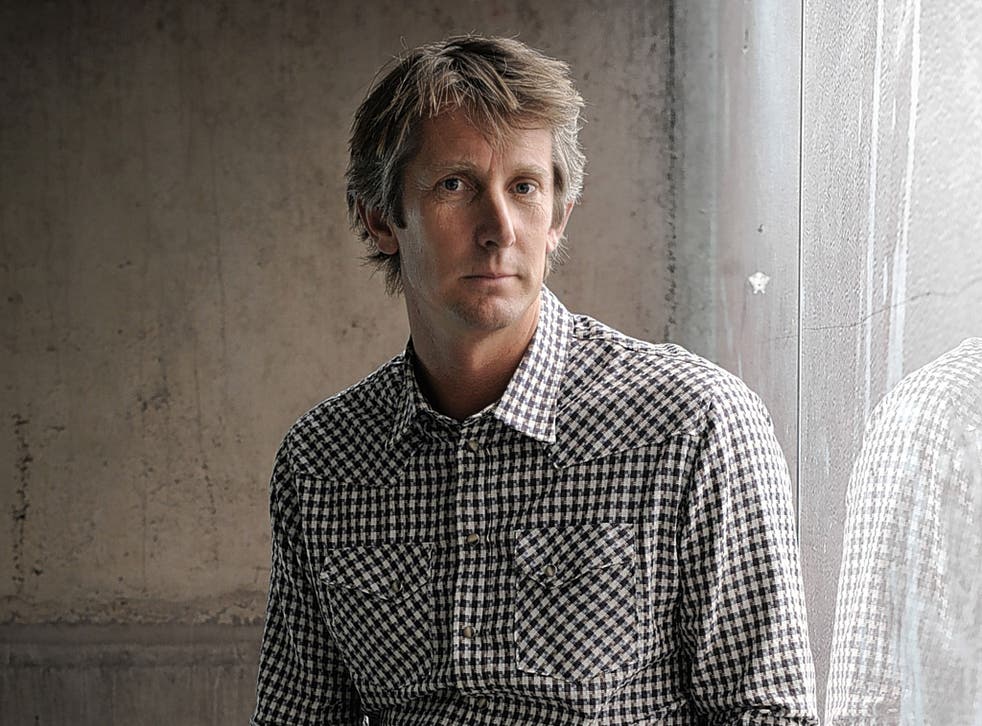 The Ajax marketing director keeps a football in his office and needs no encouragement to reach behind a pile of files and send it spinning out across the carpet to re-enact – as few with a job title like his can do – the dressing-down that Louis van Gaal once inflicted upon him.
"Stop Van der Sar! In front of you!" the former goalkeeper bellows, recalling Van Gaal's words to him so vividly that you imagine they may be a cause of alarm for his PA, Pascale Vos, at her desk outside the door, in the Ajax Amsterdam Arena. The story is worth telling, though.
Edwin van der Sar was a 19-year-old Ajax reserve team keeper in 1992 when the back pass was made illegal and Van Gaal was dismayed to discover in the course of a practice match that the boy could not control a ball with his feet. "Every time I received it I stopped it and I was underneath it, so I had to step back to kick it from left to right," Van der Sar relates, rolling the ball under one of his suede boots. "So Louis stops the ball and the game stops for 22 people, because his reserve goalkeeper could not stop a ball properly. He told me: 'You need to step back to receive it.' So I found a brick wall and started practising..." Manchester United fans evidently had something to thank their new Dutch manager for, long before he arrived at Old Trafford.
Van Gaal's bluntness – Amsterdaamer bluf, as Daley Bind recently described it – is something Van der Sar will go on to say that the English will just have to adapt to, because there are substantial benefits. But the 43-year-old's bigger preoccupation is his part in a remarkable experiment at Ajax – where the executive board is densely populated with the footballers who delivered Ajax to greatness in the side's incredible mid-1990s under Van Gaal. Van der Sar's masters degree in football administration at the University of Amsterdam, completed after he stepped away from Manchester United three years ago, has propelled him alongside Marc Overmars (director of football), Wim Jonk (academy director), Dennis Bergkamp (assistant manager) and manager Frank de Boer – an executive dream team if ever there was one.
"Of course, I've never had the experience of 10 years at Unilever and five years at Coca Cola," Van der Sar says. "But I'm not the marketing director who only wants 25 per cent a year on the revenues. In the old days you sold something and you would be happy. At Ajax, we thought we needed more from that than selling a seat and making five grand..."
The cold commercial realities do not vanish all that easily. Ajax's stock market listing – 27 per cent of the club's shares are traded – creates the same need for corporate revenue. Though Henri van der Aat and Joroen Slop are commercial and finance directors, the pursuit of a new kit sponsor has been a part of Van der Sar's landscape. The extra six months needed to tie up the deal saw Aegon sign an extension and work is advancing on that front. Van der Sar's innovations have included a new incentive for corporate box-holders to renew: a one-hour presentation from the boardroom quintet, with half an hour's question-and-answer session which gravitates to drinks between all parties at the bar. "It is good for them to see those ex-players who are now involved with the wheeling and dealing at the club," he says. "The philosophy here is, 'if everything falls right, can we do it in a different way? Can we tell a football story in a different way?'"
That "way" is to deconstruct the idea that only the wealthiest clubs can compete. Ajax were 27th in the 2014 Deloitte Money League, below Newcastle United, only two places above West Ham United, yet the club are in the Champions League again and there were more Ajax-trained players at European clubs last season than from any other Academy: 69 in total. Only Real Sociedad and Barcelona had more club-trained players in their Champions League squads last season. The average age of de Boer's side was a mere 23 years and two months.
"You know the television money in Holland?" Van der Sar asks rhetorically of the number which dictates the salaries any football club can pay. It is eight and half million euros (£6.7m), he relates, of which Ajax pick up the biggest slice. "I think the number 20 club in the Premier League [Cardiff City, last season] takes around 85 million euros [$67m]," he says. "So yes, with a 10th of that money, we have to do something different..."
Ajax have long since tackled some of the propositions that English football is only just getting to grips with, in the quest for home-grown players that Van Gaal ingrained. A coach in their Under-eight set-up, where Manchester United's Daley Blind started out, commands the same hourly salary as in the Under-21s.
It's not all Dutch boys. Ajax pick up players from Denmark and the Scandinavian countries. But a psychological factor means Ajax's boys are more likely to make it, Van der Sar suggests. "If you are a player at the Manchester City academy, what sort of hope and drive do you have as a young player, when [their Champions League squad is] 12 per cent club trained? Maybe the money's good but we try to paint a different picture."
The prospect of a nation's finest crop of retired players becoming involved in running a club is an alien concept for England, too. But there is something of the Dutch culture about the quintet working at Ajax, which was equally manifest in Ruud van Nistelrooy's presence on the Netherlands bench these past two weeks. "We Dutch have to do something different," says Van der Sar, who is working perhaps 50 per cent more hours for considerably less pay than United delivered from 2005 to 2011. (In the last two weeks he has been to England, Germany and China).
"You might say the quality of life is almost less than being a player," Van der Sar says. "But we are small so we have to help each other, to make each other bigger. You have your plan for yourself and how you want to develop but Ajax gave us our first opportunity and we want to share our knowledge. We don't have those big star players in the current squad who have experience of winning. We want to share that."
The restrictions which come with the role sound painful for an individual whose life has been football. There has been an executive decision, for example, that he will not talk publicly about Ajax's players, while he still observes that Blind's "feeling for the space around him and what he can and can't do" is why United have paid £13.8m for him.
But the desire for some football amid all the business has taken Van der Sar to a role as chair of the European Club Association's youth working group, fighting for greater representation for smaller clubs in the Uefa Youth League.
The Ajax youth players have also benefited from the chance to play in second-tier professional football in the Netherlands – an opportunity many Premier League clubs would kill for – after several clubs from that division went bust. The clamour for "Young Ajax" and "Young PSV" to join the Dutch equivalent of the Championship, bringing extra TV interest with them, demonstrates the striking weakness of the professional club structure in the World Cup's third-placed football nation.
"With the financial situation and television deals, it's been much more difficult for Dutch clubs to make a difference," Van der Sar reflects. "There has been an amazing spin-off for England, Spain and now Germany. Frank de Boer and I left here when we were 28 but now you see players leave when they are 22, 23, 24.
"We accept that in one way now, if you are 27, 28 and still playing for Ajax you are probably not good enough for the top of Europe because players want to go to the top in Europe. So we have to make sure there are even quicker and stronger and better players for the first team than maybe three, four or five years ago. We want to have the best young team in Europe."
Ajax have demonstrated that a cut of a £1bn TV deal is not a prerequisite of success. De Boer's squad has defeated Manchester City, Manchester United and Barcelona in the past few years. At the core has been that brutal Dutch honesty which Van Gaal taught some of this executive team, right back at the start. "Yes, I think perhaps the honesty is [a Dutch trait,]" the marketing director reflects. "But I think that's fine. If I see something right, I say so. If you see something is wrong, you say why, too. We know where we are and improve."
--
Edwin in numbers
2001 - The goalkeeper joined Fulham from Juventus for a £7m fee 13 years ago
266 - Appearances for United, debut against Debrecen in August 2005
4 - Premier League titles won, plus 1 European Cup, 2 League Cups and a Club World Cup
Register for free to continue reading
Registration is a free and easy way to support our truly independent journalism
By registering, you will also enjoy limited access to Premium articles, exclusive newsletters, commenting, and virtual events with our leading journalists
Already have an account? sign in
Join our new commenting forum
Join thought-provoking conversations, follow other Independent readers and see their replies