England Women 9 Montenegro Women 0 match report: Miss-match could have been 20-0
England stroll to facile win which does no favours to those trying to revitalise the women's game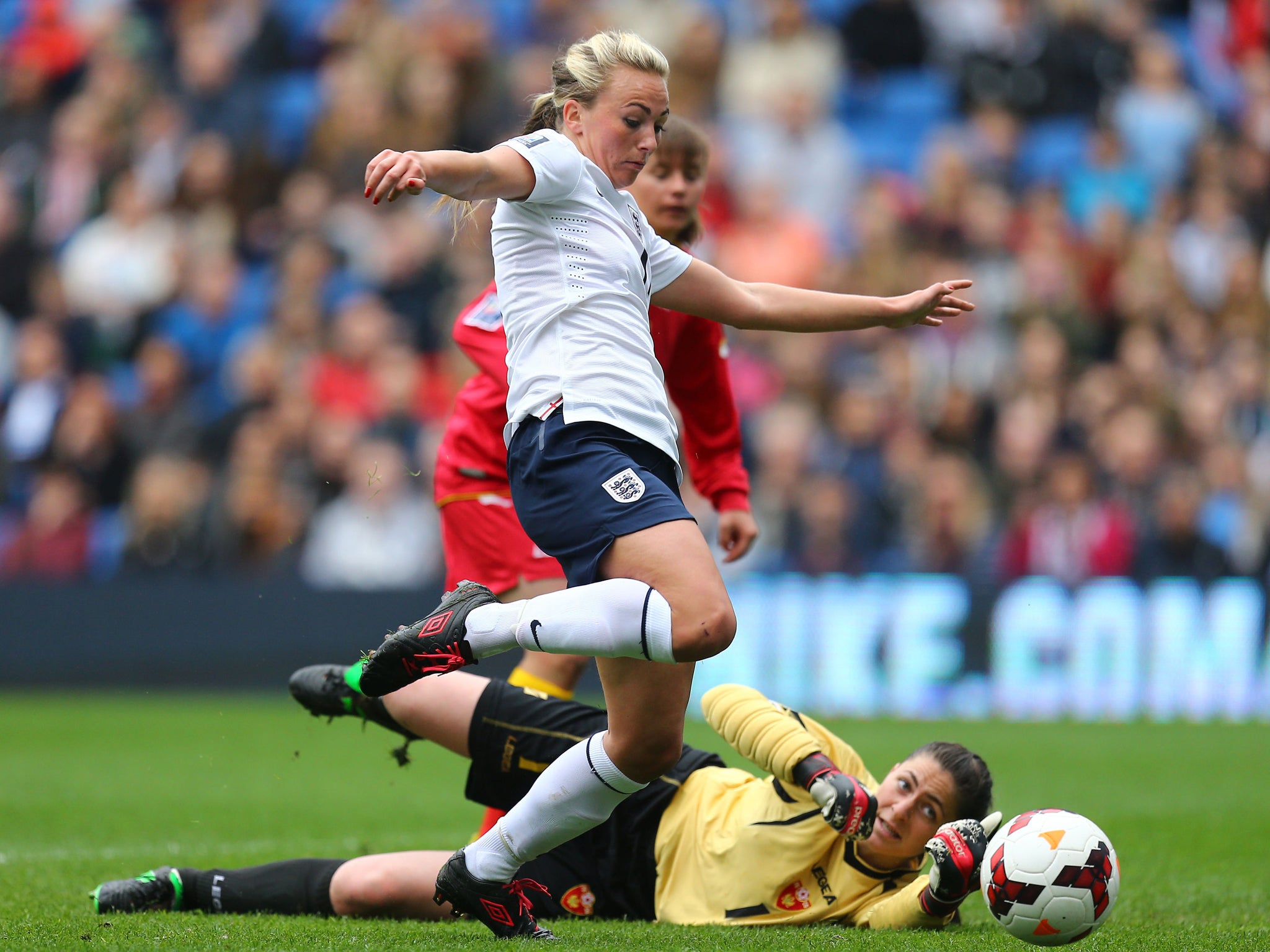 Women's football endured its Alice in Wonderland moment at the Amex Stadium in Brighton yesterday when England won far too easily for comfort. A nine-goal thrashing of a sub-standard Montenegro team was an unconvincing advertisement for a sport which craves credibility.
This is a big weekend for women's sport. Attention shifted, seamlessly immediately and inevitably, to Charlotte Edwards' cricket team who play Australia in today's final of the World T20 in Bangladesh. That will be the essence of international competition, a pressurised match played before a huge global audience.
England's football counterparts were obliged to go through the motions in a World Cup qualifying game which attracted a family-oriented crowd of 8,908, whose solitary chant was: "We want 10."
That demand remained unanswered, but the mismatch was live on BBC television and one fears the worst if it proves to be a rating success. The schedulers will surely be tempted to commission similar programmes such as synchronised kitten drowning or pro-celebrity butterfly defiling.
Inequalities were placed into sobering perspective by the inadequacies of a small nation that has been competing for only three years. Montenegro's original Under 17 squad, from which the senior side has rapidly evolved, contained nine players who had never flown before. It was chosen from only 26 eligible players. Montenegro are ranked 85th out of the world's 122 active nations, a statistic which begs the uncomfortable question how poor are those below them. When a team evokes pity, something is amiss. The natural instinct is to shy away from harsh criticism but to do so would represent the condescension those within women's sport rightly abhor.
It took precisely 58 seconds for the pattern of a predictable rout to be set with Toni Duggan, one of Manchester City's newly recruited professionals, cutting in from the left to score the first of her three goals with an angled shot that Marika Zizic could only parry into the net.
The goalkeeper's inadequacy reflected the failings of a callow team. She was small, hesitant and lacked basic handling skills. The defenders around her were ill-equipped, technically and guilty of persistent ball watching.
Montenegro kept their shape so rigidly they allowed England to run between the lines with impunity. With greater composure, England would have surpassed their highest win, 13-0 against Hungary in October 2005.
It was not an afternoon to make snap judgements about a new era, in which Mark Sampson, a young coach, has been entrusted with a role dominated, for 15 years, by the personality of his predecessor, Hope Powell.
He could hardly be expected to emphasise the limited value of victory and the nature of his praise for the opposition was revealing.
"They kept going and could easily have caved in," he argued. "They showed a lot of national pride. It will be good experience for them, moving forward. We want to pit ourselves against better teams though."
He must hope he doesn't suffer from Capello Syndrome, in which England's ease in qualifying for the bigger competitions is compromised by their ability to build a tournament team. England's women have not lost a qualifying game for 12 years but were beaten in their last significant test against a leading nation, France, in last month's Cyprus Cup final.
The women's game lacks pace, compared to the men's equivalent, but that misses the point. It is a separate sport, adhering to a different strategy and challenged by a different type of opportunity. This is its most important season since the Football Association belatedly recognised it after a 50-year hiatus in 1971. Youth football seems likely to follow its lead, in being reinvented as a summer game. The new Women's Super League, launched on 16 April, is designed to break the debilitating cycle of boom and bust in which professional clubs lacked a strategic commitment to the game.
The franchise system, backed by FA central contracts worth £20,000 each, offers the hope for Sampson developing a new generation of players, nurtured in a more professionally demanding environment.
Football has the potential to benefit from a greater social and political focus on women's sport, but it must be wary of bad habits.
The WSL must not duplicate the elitism which defines the Premier League. Liverpool, where women are incorporated into the club's infrastructure, have already made several foreign signings. Manchester City's well-funded approach inevitably inspires envy.
Duggan is likely to develop into their poster girl. Her hat-trick, which also included an opportunistic close-range effort and a rising drive from the edge of the area, caught the eye, but she also used the ball intelligently and worked back diligently.
Eniola Aluko's header, which went in off the far post and a side-footed shot from Jill Scott, which sped between the outstretched arms of the hapless Zizic, meant England were 4-0 up by half-time.
Karen Carney, who controlled a ball over the top by Fara Williams with her right foot before swivelling and scoring with her left, was responsible for the best goal of the game. Others were credited to an unfortunate own goal from Jovana Mrkic, Natasha Dowie and Demi Stokes, on her home debut.
In truth, it could have been 20 such was the gulf in ability between the teams. England top of the group, winning 9-0, but still underwhelming? Curious and curiouser.
Line-ups:
England (4-2-3-1): Chamberlain, A Scott, Houghton, Bronze, Stokes; J Scottt, Williams; Aluko (Moore, 63), Carney (Dowie, 58), Duggan; Sanderson (White, 71).
Montenegro (4-1-4-1): Zizic, Radanovic (Djurkovic 46) Micunovic, Vidix; Vulic; Djukic, Krivopavic, Kuc, Djokovic (Vujicic, 66), Bulatovic (Bojat, 72).
Referee: Elia Maria Martinez (Spain)
Join our commenting forum
Join thought-provoking conversations, follow other Independent readers and see their replies