Exclusive: Is Zahir Belounis a Qatari wage slave or not? Local FA break silence to dispute footballer's 'nightmare' tale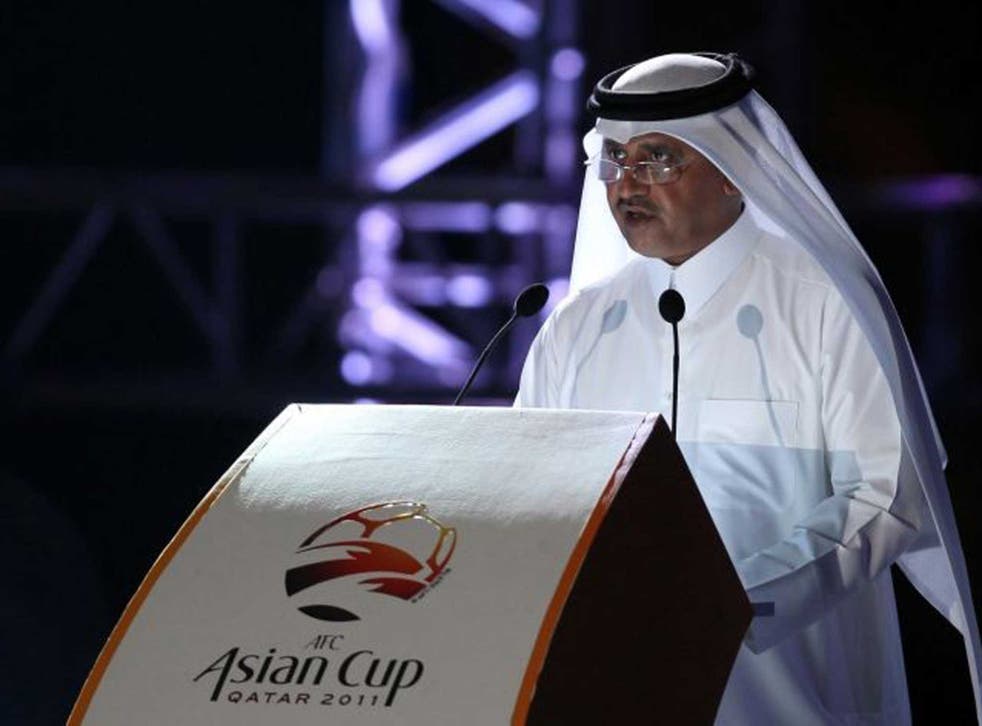 He has become a cause célèbre, the journeyman footballer who sought riches in Qatar but wound up "a destroyed man" because of unpaid wages, blocked from leaving the Gulf state that hopes to welcome thousands of visitors to the 2022 World Cup.
But last night Zahir Belounis' tale of desperation in a country where the treatment of migrant workers has been likened to modern-day slavery was being seriously questioned by the Qatari authorities as the player himself suddenly broke off communication.
Belounis, held up by human-rights' organisations as a victim of Qatar's notorious Kafala employment system that prevents foreign workers leaving the country until being "released" by their sponsors, claims he will not be granted an exit visit until he drops a lawsuit seeking 18 months of salary.
The 33-year-old French-Algerian says he has not been paid since May, 2012 and has been reduced to selling all his possessions to support his family. French president François Hollande has intervened on his behalf, as has the international players' union FIFPro but to no avail. His story is proving hugely embarrassing for the Qatari authorities, who have faced a torrent of bad publicity since Fifa awarded them the 2022 World Cup.
The much-travelled Belounis arrived in Qatar in 2007 from the Swiss third division. Both his daughters were born here and he believes the country "deserves" to stage the World Cup. But, he adds, the employment system is "killing" him and is pleading with his hosts to pay up and let him leave.
With Fifa opting out of the controversy on the basis that Belounis began his legal process in Qatar instead of through their own channels, he went public by writing a letter to two legends of the game, Zinedine Zidane – a former 2022 World Cup ambassador for Qatar – and Pep Guardiola, whose Barcelona club has a shirt deal with Qatar Airways. He urged both to intervene on his behalf: "I ask you to use your influence as football ambassadors to talk about what is happening to me and what is happening to many other young men here in Qatar."
Earlier this week Belounis told The Independent on Sunday that he had no choice but to go through the painful process of a legal challenge. "I had a great time when I first got to Qatar but now it's a living nightmare," said Belounis who has not trained for a year and is on medication for depression.
"It's a disaster. I was told last week that an agreement had been reached and sold everything to prepare for my departure. But now they want me to sign a termination contract. I'm frightened of doing this because I may end up with nothing after fighting for so long."
Three years ago, Belounis left Qatar, where he had been playing in the second division for the Military Sport Association club, to return to Europe. He agreed to go back the Gulf, however, with the promise of an extended five-year deal when the club was promoted, rebranding itself as a company under the new name of Al-Jeish.
At that point, typical of the complexities that envelop Qatari football, Military Sport Association no longer took part in the country's league structure, becoming a separate entity independent of the Qatar Football Association.
"After one year they stopped my salary," bemoaned Belounis. "They told me they had changed management and that I had to be patient. I went back month after month and they just told me the same thing."
In the end, in February this year, Belounis could not go on any longer. Although his contract was still technically still with Military Sport Association, he decided to sue. The case is ongoing but he fears it could take another year to resolve because of Qatar's complex legal system.
"That's unthinkable. I want a guarantee that if I sign a termination contract, I can get out of the country. All I'm doing is asking for what I'm owed. I'm sleeping on a mattress, my home is empty, I've sold everything. It's impossible for me to stay now. The club have won and I'm a destroyed man. I don't have the strength to continue. I just want to see my family in Paris."
Last night, amidst widespread condemnation of Belounis' treatment, the QFA heavily disputed his version of events, refuting suggestions that the case had tarnished the 2022 hosts' image and claiming he never even played for Al-Jeish, also sometimes spelled Al-Jaish.
"He is still being paid every month by the military, I'm 100 per cent sure," said Saoud Al Mohannadi, general secretary of the Qatar FA. "He has a permanent job in the armed forces. They are his sponsor, not Al-Jeish. Usually if there is a dispute, the player concerned contacts us but we only heard of the case through the media. We would encourage him to sit down with the relevant parties, sign an agreement – and that's it.
"Do you think someone would stay in a country for almost two years without any money? He has a villa provided by the military and a car. Unless he has done something wrong and has no liability towards anybody, he can get an exit permit."
One source close to the organising committee said that the saga was far less one-sided than had been reported: "When Al-Jeish was established they didn't want the player and he was pissed off about it."
In a statement, the Qatar FA claimed that Belounis had never signed a contract with Al-Jeish. Even when he went out on loan to in 2011-12 to second division Al Markhiya and claimed outstanding payments from them too, he received "full compensation" with the minimum of fuss, the statement said.
Last night Belounis could not be contacted.
Register for free to continue reading
Registration is a free and easy way to support our truly independent journalism
By registering, you will also enjoy limited access to Premium articles, exclusive newsletters, commenting, and virtual events with our leading journalists
Already have an account? sign in
Register for free to continue reading
Registration is a free and easy way to support our truly independent journalism
By registering, you will also enjoy limited access to Premium articles, exclusive newsletters, commenting, and virtual events with our leading journalists
Already have an account? sign in
Join our new commenting forum
Join thought-provoking conversations, follow other Independent readers and see their replies