Fancy Bears: Who are the shady hacking group exposing doping, cover-ups and corruption in sport?
Everything you need to know about the anonymous group with ties to the Russian government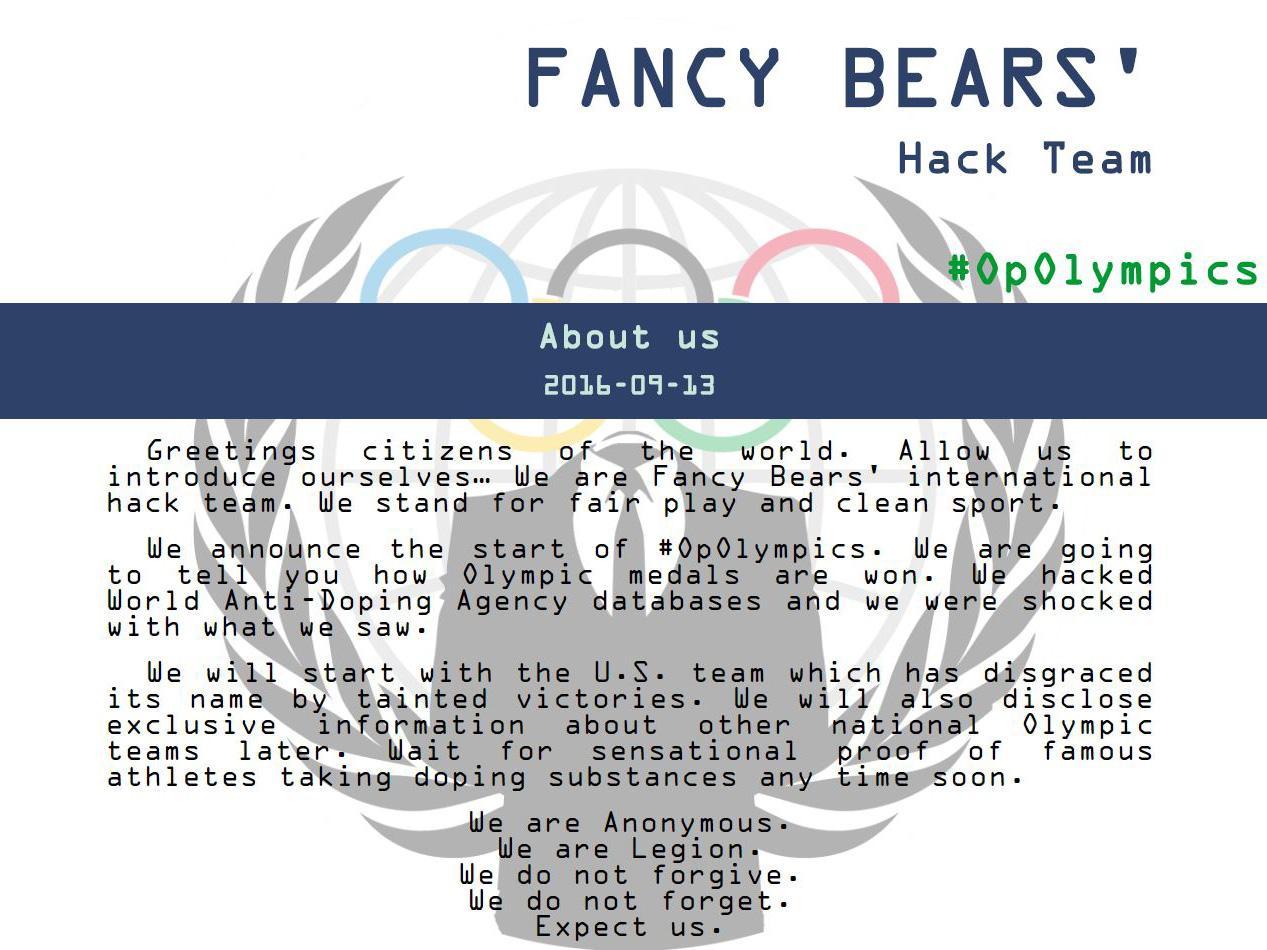 Fancy Bears are an anonymous cyber espionage group responsible for leaking confidential information from the worlds of politics and sport.
Their earliest work included hacking Georgia's government ministries before the Russian army invaded the country in 2008.
Since then, Fancy Bears have targeted the White House and the CIA and were responsible for the email hack of the Democratic National Committee which is thought to have badly damaged Hillary Clinton's campaign for the presidency last year.
The group has infiltrated computer systems of several foreign governments and were accused of trying to disrupt the 2017 General Election.
Their sports arm has hacked the World Anti-Doping Agency (Wada) and the IAAF, the world athletics governing body, releasing medical documents belonging to British athletes including Mo Farah, Bradley Wiggins and Chris Froome.
The group released information on athletes who have requested Therapeutic Use Exemptions (TUEs) which allows the use of banned substances if there is a medical need.
Wada subsequently claimed some of the information released by Fancy Bears did not "accurately reflect" their own records, suggesting some of it had been doctored.
On their website, Fancy Bears describe themselves as an "international hack team" who "stand for fair play and clean sport".
However, cyber security analysts believe the group works in the interests of the Russian government and may receive funding from the Kremlin. Its hackers are Russian speakers and work on Moscow time.
Wada's general secretary Olivier Niggli said last year he had no doubt the attacks on the anti-doping agency were carried out in retaliation for its uncovering of Russian state-sponsored doping across the vast majority of Olympic and Winter Olympic sports.
The group has threatened to uncover wrongdoing in athletics and other Olympic sports ahead of the Tokyo Games in 2018.
Last year it released information regarding doping tests and TUE requests in football, naming Carlos Tevez, Dirk Kuyt and Gabriel Heinze as players who were permitted to use banned medicines during the 2010 World Cup.
Join our commenting forum
Join thought-provoking conversations, follow other Independent readers and see their replies