FBI investigates secret payments to Fifa whistleblower
Months after his bribery claims shocked the football body, Chuck Blazer finds himself in the spotlight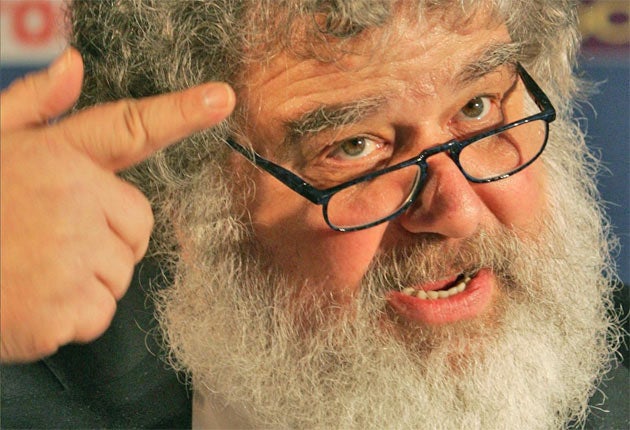 The man credited with blowing the whistle on bribery and corruption in Fifa, the body that runs world football, is now himself the subject of an FBI inquiry. US investigators are examining documents appearing to show confidential payments to offshore accounts operated by an American Fifa official, Chuck Blazer.
Mr Blazer sparked an investigation into allegations of bribery in the Fifa presidential election two months ago. He claimed his long-term ally Jack Warner was involved in a plot to hand $1m in cash to Caribbean officials to vote for Qatar's Mohamed bin Hammam, who was running against the sitting president, Sepp Blatter.
The subsequent scandal shook world football's governing body. A leaked internal report revealed Fifa investigators believed there was "compelling" evidence of a bribery conspiracy between Mr Warner and Mr Bin Hamman. Mr Warner later resigned and was declared "innocent" by Fifa. Mohamed bin Hamman was banned for life but is appealing against the result. Last week, Fifa announced a further 16 Caribbean football officials were being investigated.
Now the spotlight has turned to payments to accounts controlled by Mr Blazer in the Cayman Islands and Bahamas. The Fifa official is contracted to work for Concacaf, the regional football association for North and Central America and the Caribbean, but FBI officers are examining evidence that payments have come from the Caribbean Football Union (CFU), a separate regional football body, tightly controlled by Mr Warner.
The most recent payment of $250,000 was last March – before Mr Blazer's allegations. Mr Blazer deposited the cheque in a Bahamas account and initially claimed it was "repayment of a personal loan" he had made to Mr Warner. He now claims Mr Warner may have misused the CFU account and says he is prepared to repay the money if that is the case.
In September last year, Mr Warner approved another CFU payment of $205,000 to a private company operated by Mr Blazer from Cayman. It is also alleged that another payment of $57,750 went from the CFU to Mr Blazer's Cayman account. Mr Blazer denies any impropriety, saying: "All of my transactions have been legally and properly done, in compliance with the various laws of the applicable jurisdictions based on the nature of the transaction."
Mr Warner, from Trinidad, became president of Concacaf in 1990 and immediately appointed Mr Blazer as his general secretary. In 1996, Mr Warner secured Mr Blazer's promotion to Fifa's 24-man executive committee. When Mr Warner's involvement in World Cup ticket rackets emerged, Mr Blazer defended him, saying that the well-documented claims had "very little credibility". Their relationship soured when Mr Blazer revealed that Mr Bin Hammam had arrived in Trinidad last May in a private jet carrying at least $1m in cash to pitch his election manifesto to regional football officials at a meeting arranged by Mr Warner. A photograph of cash in a brown envelope was handed to the ex-FBI boss Louis Freeh, who has been commissioned by Fifa to investigate the bribery allegations.
During a Fifa marketing dispute in a Manhattan court five years ago the judge ruled that Mr Blazer's testimony was "generally without credibility, based on his attitude and demeanour and on his evasive answers on cross-examination". The judge added that some of his testimony was "fabricated". Mr Blazer reportedly owns a $3m apartment in the Bahamas. He is said to own it through a Bahamas company, in turn owned by two other companies registered at a Nassau bank where he has an account.
Mr Blazer's confidential contract reveals he hires himself out from his Cayman-based company Sportvertising. It also reveals he receives 10 per cent in "commissions" from regional football marketing deals. Over the past five years he has taken $9.6m. The payments are recorded in private Concacaf accounts but with no indication that he received them. Mr Blazer says they are "consistent with industry standards". His remuneration from Concacaf has never been disclosed. He employs his son Jason, 41, as Concacaf's $7,000-a-month medical officer, and his daughter Marci has been a member of Fifa's legal committee.
When Mr Warner resigned he was automatically replaced by Concacaf's vice-president, Lisle Austin, from Barbados – who immediately fired Mr Blazer. In turn, Mr Blazer barred Mr Austin from Concacaf's New York office. Mr Austin then took legal action to secure his position, resulting in his suspension by Fifa last week for breaking its rule that members cannot use the courts to settle disputes. Mr Austin said last week: "I have repeatedly asked for an independent forensic audit of Concacaf's finances, but to no avail. My struggle is to bring transparency and democracy to regional football, and indeed Fifa."
Mr Blazer said he would continue to "fully respond to... Fifa, Concacaf and their respective stakeholders."
Join our commenting forum
Join thought-provoking conversations, follow other Independent readers and see their replies