Ferdinand says Cole is a 'fake' as choc ice row heats up
Rio insists tweet is not racist, simply slang, as fallout from the Terry race trial continues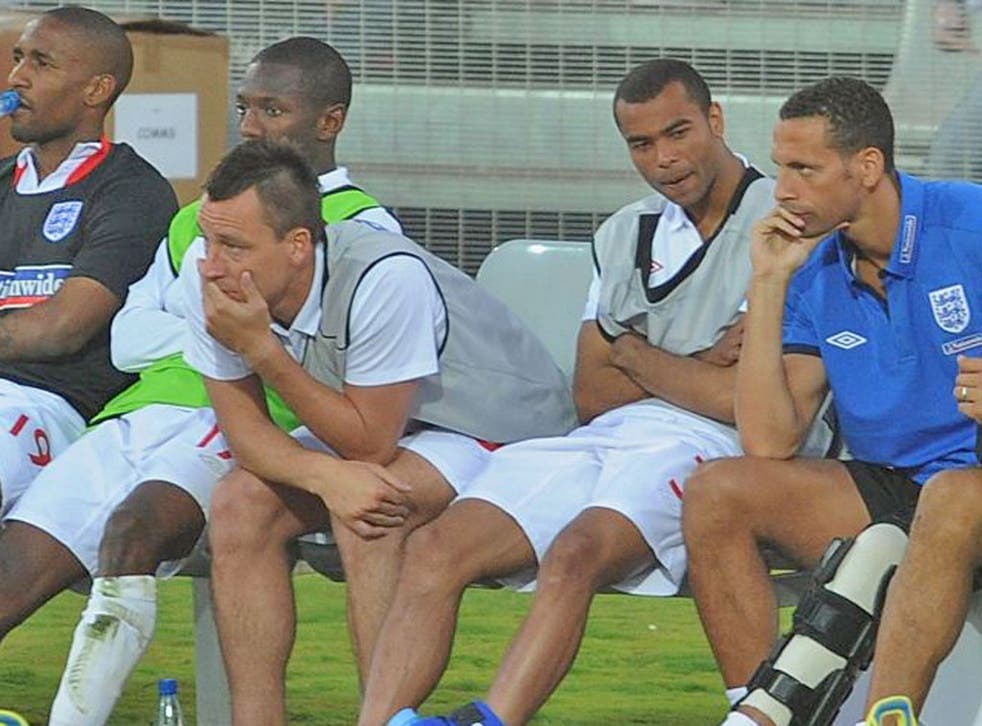 The fallout from John Terry's court case showed no signs of abating yesterday when Rio Ferdinand was forced to defend his response to a tweet which referred to Ashley Cole as a "choc ice", insisting it was not a racist term. The Manchester United defender said the term was slang for "someone who is being fake".
Ferdinand reacted with laughter on Twitter at the weekend after being sent a tweet which accused Cole, who was a defence witness in the Terry racism trial, of being a "choc ice". The term is commonly understood to mean "black on the outside, white on the inside".
The tweet said: "Looks like Ashley Cole's going to be their choc ice. Then again he's always been a sell out. Shame on him." Ferdinand replied: "I hear you fella! Choc ice is classic! hahahahahahha!!"
Users began discussing the comments and Ferdinand wrote: "And if I want to laugh at something someone tweets....I will! Hahahahaha! Now stop getting ya knickers in a twist!"
Ferdinand's initial comment has now been deleted from his Twitter account, but the 33-year-old did speak about the issue yesterday morning. He tweeted: "What I said yesterday is not a racist term. Its a type of slang term used by many for someone who is being fake. So there."
The comments reignited the Terry racism row, two days after the Chelsea defender was cleared of a racially aggravated public order offence at Westminster magistrates' court. It was alleged that Terry had maliciously called Rio's brother Anton – a Queen's Park Rangers defender – a "f****** black c***" during a match on 23 October last year.
Cole, 31, had told the trial that Terry, his Stamford Bridge captain and friend, was not a racist.
On Saturday night, Cole moved to calm down the situation regarding the comments made on Twitter. A statement issued through his lawyers said: "Ashley Cole has been made aware of the discussion following comments appearing on Twitter and wishes to make it clear that he and Rio Ferdinand are good friends and Ashley has no intention of making any sort of complaint. Ashley appreciates that tweeting is so quick it often results in offhand and stray comments."
Amid the social media hubbub, anti-racism campaigner Lord Ouseley took to the radio to urge the Football Association to follow a similar procedure to that which saw Liverpool forward Luis Suarez last season receive an eight-match ban for racially abusing Manchester United defender Patrice Evra.
"What they [the FA] have to do is pursue the process otherwise they become impotent," Ouseley told Radio 5 Live's Sportsweek programme. "I think the FA had shown quite clearly in the Luis Suarez case that they are determined to impose their will to ensure that the game becomes one that's respected and enjoyable for all participants, whether they're spectators, officials or players.
"They need to assert their authority in exactly the way that they conducted their investigations in the Luis Suarez/Patrice Evra case.
"They considered the evidence in accordance with their processes and their rules independently and came to a conclusion. They did so in that case; they would have done so in this one had the police not got involved."
Meanwhile, Ferdinand's Manchester United team-mate, Dimitar Berbatov, has announced that he is looking to leave Old Trafford in search of regular first-team football.
The 31-year-old Bulgarian, who cost £30.75m in 2008, is out of favour with Sir Alex Ferguson and made only 21 appearances last season. "I love this club, but I am not going to be useful to anyone if I am not playing," he said on his official website.
Register for free to continue reading
Registration is a free and easy way to support our truly independent journalism
By registering, you will also enjoy limited access to Premium articles, exclusive newsletters, commenting, and virtual events with our leading journalists
Already have an account? sign in
Register for free to continue reading
Registration is a free and easy way to support our truly independent journalism
By registering, you will also enjoy limited access to Premium articles, exclusive newsletters, commenting, and virtual events with our leading journalists
Already have an account? sign in
Join our new commenting forum
Join thought-provoking conversations, follow other Independent readers and see their replies