Ferguson will never talk to the BBC again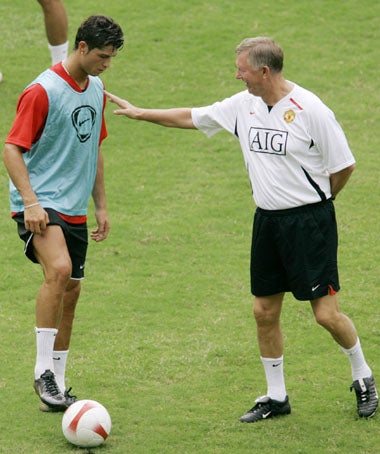 Sir Alex Ferguson has launched an astonishing attack on the BBC, saying that the national broadcaster is "arrogant beyond belief", has an "inability to apologise", and does not care about being sued "because they are so huge and have insurance." The Manchester United manager has also reiterated his stance that he will never speak to the corporation again.
Ferguson is not the only football manager who now refuses to talk to the BBC. Newcastle's Sam Allardyce and Portsmouth's Harry Redknapp have both declined to be interviewed by the broadcaster since last year's Panorama investigation into alleged malpractice in football transfers. The pair both featured in that programme but have never been accused of any rule infringement or faced charges for any wrongdoing.
Yet Ferguson's renewed assault – not to mentioned his and the others' conspicuous and ongoing absence from the flagship Match of the Day – has again highlighted the rift between the BBC and some of football's major figures. The BBC did not respond to an invitation to reply yesterday.
Ferguson's broadside came late on Tuesday evening at the Citizens' Theatre in Glasgow, where he was the guest of honour at an 'An Audience With...' evening attended by family, friends and fans. For 45 minutes he captivated the audience with a wide range of tales from a life in football, and then spent as much time again answering questions from the floor.
He made it clear that he is still furious about a BBC documentary from 2004, called Father and Son, which portrayed his agent son, Jason, as somebody who exploited his father's influence and position to his own ends in the transfer market. Ferguson jnr was never found guilty of any wrongdoing, and Sir Alex said he would never speak to the BBC again, a promise he has kept.
"I think the BBC is the kind of company that never apologise and they never will apologise," he said.
"They are arrogant beyond belief. I read Alastair Campbell's diaries recently and he's written a fantastic piece explaining the arrogance and their inability to apologise.
"They did a story about my son that was whole lot of nonsense. It all made-up stuff and 'brown paper bags' and all that kind of carry-on. It was a horrible attack on my son's honour and he should never have been accused of that.
"But it is such a huge organisation that they will never apologise. They don't even care if you sue them or whatever, because they are so huge and have insurance. They carry on regardless and it's breathtaking."
Two of Ferguson's answers to other questions in the Q&A session contained replies that might be interpreted as ironic in light of his view of the BBC, and given Jason's job.
First, talking about the late, great Jock Stein, Ferguson spoke in praise of the former Celtic manager, who, Ferguson pointed out, was responsible for introducing the regular post-match press conference in Scotland.
Ferguson said Stein did this to counteract what he saw as a Rangers-dominated media agenda. After introducing press conferences, Ferguson said, Stein had the press "dancing to his tune." Ferguson not only refuses to talk to the BBC, but never attends post-match conferences after Premier League games, despite having a theoretical obligation to do so.
Ferguson also suggested that he feels agents are unnecessary, and implied they demand wages for players that the players do not deserve. "I say to young players 'You don't need an agent'.
"I say 'Speak to Gary Neville, Paul Scholes or Ryan Giggs about what you get paid at Manchester United [when you deserve to].' Sometimes they [young players] take my advice and sometimes they don't."
Beckham's marriage, Rooney's peace deal and the managers to watch out for
Apart from his relationship with the BBC, Sir Alex Ferguson was forthright in his views on a number of other subjects during his Q&A in Glasgow
Ferguson on Beckham
Ferguson said that David Beckham's marriage to his wife, Victoria, changed his professional priorities for the worse. "He was never a problem until he got married. He used to go into work with the academy coaches at night time, he was a fantastic young lad.
"Getting married into that entertainment scene was a difficult thing – from that moment his life was never going to be the same. He is such a big celebrity, football is only a small part. The big part is his persona."
... and the contrast with Paul Scholes and his shyness with the media
"Scholes is a great little guy. He doesn't get any profile because he doesn't want any profile. I love to wind him up by going over to him and saying, 'Sky want to interview you now.' The blood drains from his face! Actually, if Paul had a higher profile, I don't think he'd be the player he is."
On Wayne Rooney's suggestion of making peace in public with Cristiano Ronaldo after their bust-up at the 2006 World Cup, a suggestion Ferguson rejected
"Wayne phoned me on the day of the World Cup final and said he had a great idea. He suggested he could do a TV interview with Ronaldo and they could show everything was fine. I thought it would look stage-managed and said no. Instead David Gill and I flew to Portugal to meet Ronaldo. We told him we'd had a similar experience with David Beckham [after France 98]. Ronaldo was concerned but not afraid [about coming back]. We said we'd put extra security on his house. He said he'd try it and see how it went. It's been no bother."
On why Paul Gascoigne was the player he was most disappointed to have missed out on signing
"Gascoigne was quality. I think he was the best young player to come out of England in the last 30 years at that time."
On why selling Jaap Stam, a move that happened after Stam was critical in his autobiography of Ferguson, was a mistake, in football terms
"At the time he had just come back from an achilles injury and we thought he had just lost a little bit. We got the offer from Lazio, £16.5m for a centre-back who was 29. It was an offer I couldn't refuse. But in playing terms it was a mistake. He is still playing for Ajax at a really good level."
On the managers he rates
"[Alan] Pardew at Charlton has got something about him, he is a good young manager. Roy Keane has got a good chance, he has something about him.
"Of the older ones, Sam Allardyce is a very influential manager. His way of managing is very different. He is very into the sports science, he had about 16 people working behind the scenes at Bolton, analysing every aspect. He transformed Bolton from a little team into what they've become."
Join our commenting forum
Join thought-provoking conversations, follow other Independent readers and see their replies