Fifa corruption: Caribbean football bosses Jack Warner and Jeffrey Webb 'took aid for Haiti earthquake'
New indictment reveals pair had no compunction about embezzling development and relief money destined for the very poorest countries in their confederation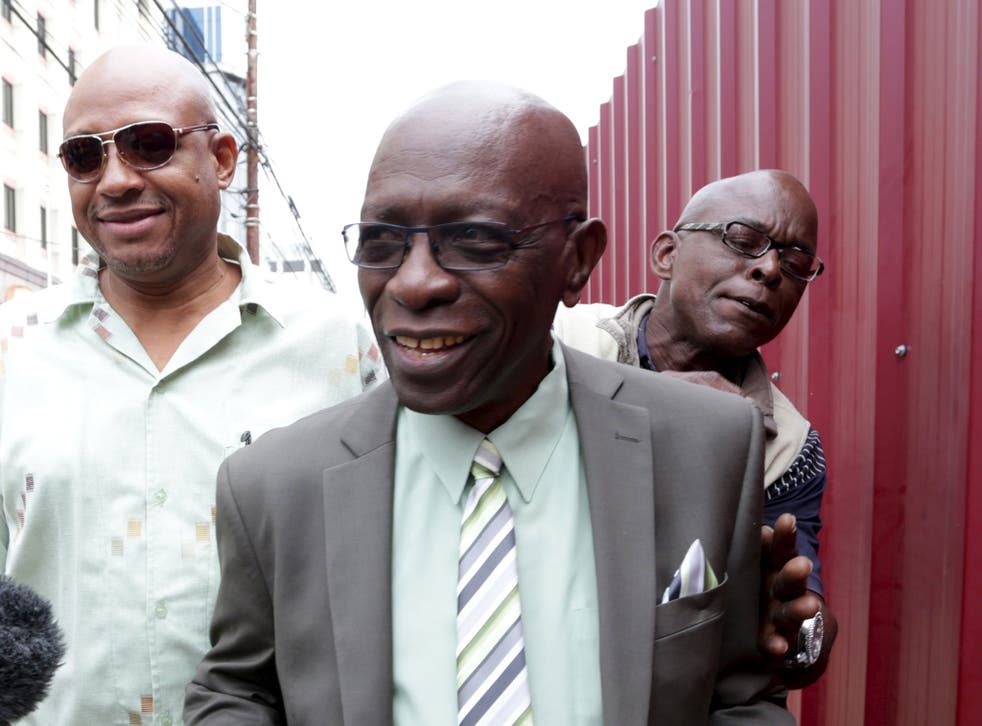 The full extent of Fifa's corruption scandal was laid bare by fresh indictments after United States justice authorities revealed huge sums destined for disaster relief and development projects were embezzled by senior officials.
The new indictments followed the dawn arrests of two Fifa vice-presidents, Alfredo Hawit of Honduras and Juan Angel Napout of Paraguay, in Zurich and fresh corruption charges against a total of 16 officials for sums totalling $200m (£135m) mostly relating to TV and marketing deals in north, south and central America and the Caribbean.
The US attorney general, Loretta Lynch, announced the new indictments, including those against three former executive committee members – Ricardo Teixeira, the disgraced Brazilian who quit Fifa's executive committee in 2012 after it was revealed he had received millions of pounds in bribes from Fifa's former marketing company ISL, his successor Marco Polo Del Nero, and Guatemala's Rafael Salguero. It brings to 10 the number of current or former executive committee members facing charges.
The most shocking detail in the new indictment is the revelation involving officials who were indicted following arrests last May. It discloses that disgraced former Caribbean football chief Jack Warner and his successor Jeffrey Webb – who has pleaded guilty to seven charges – had no compunction about embezzling development and relief money destined for the very poorest countries in their confederation.
The indictment states: "The conspirators' corruption of the enterprise extended beyond the payment and receipt of bribes and kickbacks. Fifa's provision of money – which totalled in the hundreds of millions of dollars – to its member associations in connection with the Goal Programme, Financial Assistance Programme, and other programmes created opportunities for officials to embezzle or otherwise fraudulently appropriate funding intended to benefit Fifa's member associations and their constituent organisations, including youth leagues.
"Certain of the defendants and their co-conspirators, including the defendant Jack Warner and Jeffrey Webb, took advantage of these opportunities and embezzled or otherwise personally appropriated funds provided by Fifa, including funds intended for natural disaster relief."
It is the first official confirmation of allegations that Warner diverted $750,000 in emergency funds donated by Fifa and the Korean Football Association intended for victims of the 2010 Haiti earthquake. He is currently fighting extradition to the US.
Webb, a banker from the Cayman Islands, has pleaded guilty to racketeering conspiracy, three counts of wire fraud conspiracy and three counts of money-laundering conspiracy. As part of his plea, Webb agreed to forfeit more than $6.7m (£4.5m).
Lynch told a news conference in Washington DC: "The betrayal of trust is truly outrageous." She warned those officials still to be arrested: "You will not wait us out and you will not escape our focus."
The announcement of the indictments followed a raid on the luxury Baur Au Lac hotel in Zurich used by Fifa officials, which was swooped upon for the second time this year.
Acting Fifa president, Issa Hayatou, still insisted that neither he nor the organisation is corrupt. Hayatou said: "Fifa is not corrupt. We have individuals that have shown negative behaviour. Do not generalise the situation. There are lots of people in Fifa for more than 20 or 30 years that have not been accused of anything."
PA
Register for free to continue reading
Registration is a free and easy way to support our truly independent journalism
By registering, you will also enjoy limited access to Premium articles, exclusive newsletters, commenting, and virtual events with our leading journalists
Already have an account? sign in
Register for free to continue reading
Registration is a free and easy way to support our truly independent journalism
By registering, you will also enjoy limited access to Premium articles, exclusive newsletters, commenting, and virtual events with our leading journalists
Already have an account? sign in
Join our new commenting forum
Join thought-provoking conversations, follow other Independent readers and see their replies