Fifa scandal: German FA headquarters raided over 2006 World Cup
Documents and hard drives were seized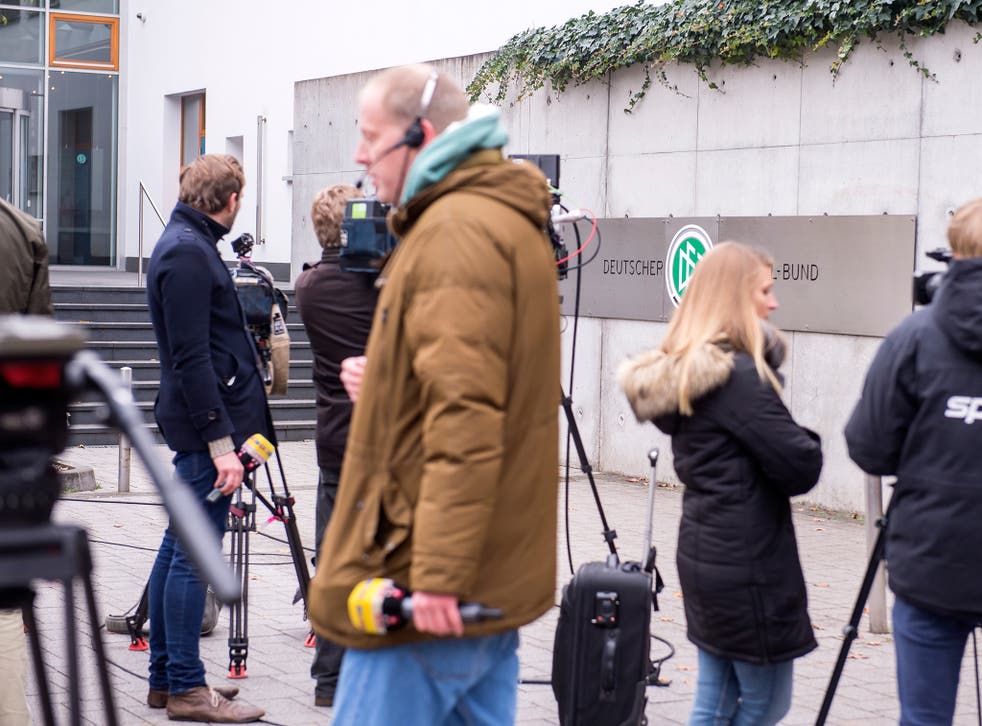 The corruption crisis surrounding Germany's 2006 World Cup has intensified after tax authorities launched raids on the country's football federation (DFB) and private residences.
Documents and hard drives were seized from the DFB's headquarters in Frankfurt and the homes of DFB president Wolfgang Niersbach, a Uefa and Fifa executive committee member, and his predecessor Theo Zwanziger, were searched.
It follows the disclosure that the DFB made a secret payment of 6.7million euro (£4.6million) to FIFA in 2005. An internal audit has failed to find any trace of the 6.7million euros in the DFB's tax documents.
Frankfurt's senior public prosecutor Nadja Niesen said in a statement: "Fifty officials from the Frankfurt tax investigators as well as the prosecuting authorities carried out searches of the offices of the DFB as well as the homes of suspects.
"Prosecutors in Frankfurt have started an investigation on suspicion of serious tax evasion connected to the awarding of the 2006 World Cup and the transfer of 6.7million euros from the DFB to Fifa."
The 6.7million euro payment was revealed by German news weekly Der Spiegel last month. Der Spiegel alleged the money had originally been loaned by former Adidas chief executive Robert Louis-Dreyfus, acting in a private capacity, to set up a slush fund to buy FIFA votes for the 2006 World Cup.
It claimed the money was later re-paid to Dreyfus in 2005 using Fifa as cover - the German World Cup organising committee made a 6.7million euro contribution for a gala opening ceremony at Berlin's Olympic Stadium which was later cancelled. Der Spiegel said the money was paid into a FIFA bank account in Geneva and from there transferred to a Zurich account belonging to Louis-Dreyfus, who has since died.
The Frankfurt prosecutor's statement added: "The defendants are accused of causing the submission of inaccurate tax returns as part of their former responsibilities."
Frank Beckenbauer, who lives in Austria, was president of the 2006 World Cup bid and last week admitted the DFB had made a "mistake" in paying the 6.7million euros, but denied that the money was used to buy votes.
He said: "In order to obtain financial support from Fifa, a suggestion by Fifa's finance commission was followed which, in hindsight, should have been rejected.
"No votes were bought in order to win the right to stage the 2006 World Cup."
PA
Register for free to continue reading
Registration is a free and easy way to support our truly independent journalism
By registering, you will also enjoy limited access to Premium articles, exclusive newsletters, commenting, and virtual events with our leading journalists
Already have an account? sign in
Register for free to continue reading
Registration is a free and easy way to support our truly independent journalism
By registering, you will also enjoy limited access to Premium articles, exclusive newsletters, commenting, and virtual events with our leading journalists
Already have an account? sign in
Join our new commenting forum
Join thought-provoking conversations, follow other Independent readers and see their replies