Fifa crisis: Michel Platini backed by all Uefa members after suspension
The European body's president has been backed by all of its 54 members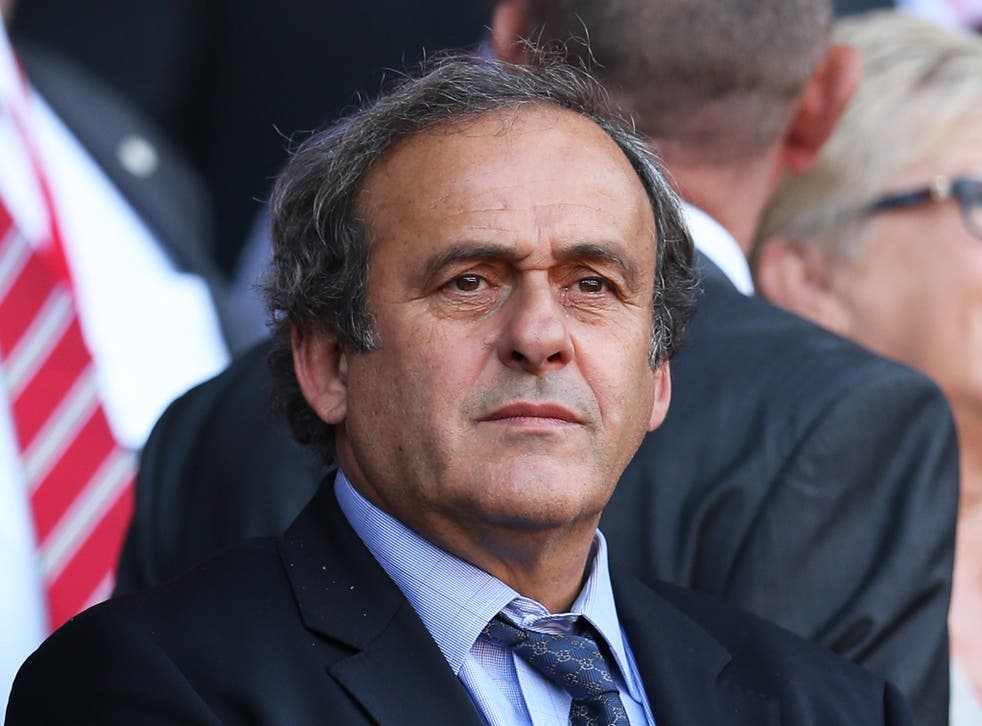 All 54 European soccer nations are backing suspended UEFA President Michel Platini.
Austrian federation president Leo Windtner, speaking Thursday after attending an emergency meeting at UEFA headquarters, said the member nations agreed to stand by Platini, who last week was suspended for 90 days by the FIFA ethics committee.
"We got a unified position of UEFA," Windtner said. "All nations give all support to Mr. Platini."
Earlier, a statement from the Russian Sports Ministry said the UEFA executive committee expressed its "full support" for Platini.
Russian soccer union president Vitaly Mutko, who is also Russia's sports minister and a member of the FIFA executive committee, attended the meetings.
"During the first meeting, which was chaired by UEFA general secretary Gianni Infantino, all members of the UEFA executive committee expressed absolute trust and full support for UEFA president Michel Platini," the ministry said in a statement.
Platini and FIFA President Sepp Blatter were suspended for 90 days last week by the FIFA ethics committee following an investigation into a 2011 payment to the former France captain. Both Blatter and Platini deny wrongdoing.
Switzerland: Press surround FIFA HQ following Blatter and Platini suspension
Pending the outcome of the FIFA investigation, the two soccer officials could be handed longer bans.
Platini received 2 million Swiss francs (about $2 million) from FIFA in 2011 which, he says, was unpaid additional salary from his job as Blatter's adviser between 1998 and 2002.
Platini has not produced a written contract to show the money was owed to him. Because of his ban from any role in soccer, Platini is not allowed to attend Thursday's meeting.
Executive committee member Allan Hansen, who is also a member of the FIFA audit and compliance committee, said earlier this week he could no longer support Platini if there was no written contract.
"I expect to get some further information because I didn't so far," Hansen said as he arrived at Geneva airport on Thursday.
FIFA investigators have not yet been convinced there was even an oral agreement between Platini and Blatter which accounts for the unpaid debt called in at the start of 2011. Platini said he did not receive his full salary by 2002 because FIFA could not afford to pay him.
Besides the FIFA probe, the payment is also being investigated by the Swiss attorney general.
Platini still hopes he can clear his name in time to stand in the FIFA presidential election in February, even though he is expected to be declared ineligible once the candidate integrity checks are conducted after Oct. 26.
Only Platini and Prince Ali bin al-Hussein of Jordan have said they have submitted their paperwork to FIFA ahead of the deadline for candidates.
AP
Register for free to continue reading
Registration is a free and easy way to support our truly independent journalism
By registering, you will also enjoy limited access to Premium articles, exclusive newsletters, commenting, and virtual events with our leading journalists
Already have an account? sign in
Register for free to continue reading
Registration is a free and easy way to support our truly independent journalism
By registering, you will also enjoy limited access to Premium articles, exclusive newsletters, commenting, and virtual events with our leading journalists
Already have an account? sign in
Join our new commenting forum
Join thought-provoking conversations, follow other Independent readers and see their replies