Forest Green chairman Dale Vince sees a bright future in going green
Dale Vince has turned a struggling Conference club into contenders for a first ever League place – while simultaneously trying to revolutionise the game's ecological credentials. Simon Hart meets a true visionary
Simon Hart
Tuesday 28 April 2015 17:42 Comments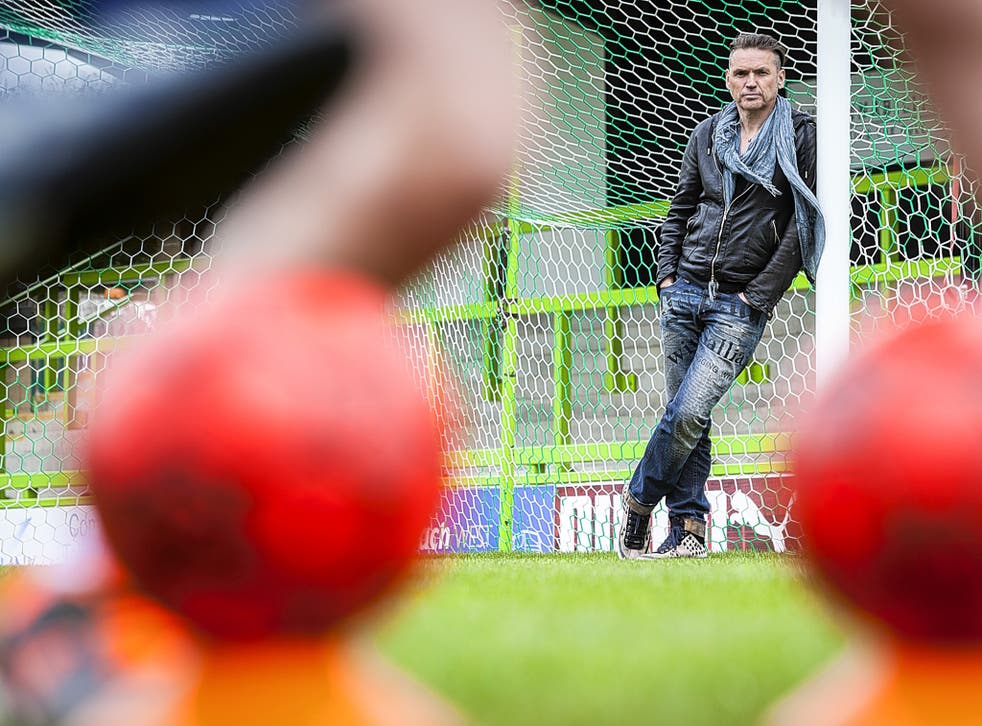 "We think we probably are the greenest club in football," says Dale Vince, surveying the organic grass pitch of Forest Green Rovers' New Lawn Stadium. It sounds like a lofty claim by a club in the fifth level of the English pyramid but there is no arguing with the man pointing out the robot lawnmower on the chemical-free turf and the solar panels on the roof of the stands.
Vince is the former New Age traveller who founded the green energy company Ecotricity before taking over Forest Green and turning the then struggling Conference side, based in the Cotswold town of Nailsworth, into a club with a rare mission. "We wanted to bring our work and our thinking to a new audience – the world of football, which I think is relatively untouched still by eco messages," he tells The Independent.
Off the pitch he turned the stadium into a meat-free zone and changed the kit from black and white stripes to green – what else? On it he has overseen a steady improvement, culminating in the Gloucestershire team standing three games away from reaching the League for the first time as they prepare to face Bristol Rovers in the first leg of the Conference play-off semi-finals tonight.
Manager Ady Pennock observes that "this is a very different football club", and its chairman, with his long hair and ear piercing and big boho scarf, sets the tone. He asks visiting directors not to wear ties but jeans and T-shirts, and it is safe to assume no other football club owner in this country has ever said the following of his immersion into the game: "It is very stimulating to get into something new. I have been doing windmills for a long time now."
It seems fitting that the blades of his first wind turbine, built in 1996, rotate intermittently into view at the top of the hill behind the stadium's West Terrace, for Vince offers a modern twist on the old breed of owner as a local businessman with his OBE and £100m company based down the road in Stroud.
Recalling his initial involvement five years ago, he says: "I came to a pre-season game, thought it was a lovely place with lovely people, a big local employer and a big part of the community, and I thought it was worth saving."
Saving Forest Green initially took a £40,000 investment "to get through the summer but it turned out the [previous owners] needed far more than that. It turned out to be a massive rescue mission." And the start of Rovers' transformation.
Some of the changes were not universally popular but Vince is unabashed by his decision to change the colour of their home shirts. "Because of our focus on the eco stuff, we put the green in 'Green'," he says, before noting how this year's green-and-black hooped jersey sold more "than all the others put together".
To their credit, Forest Green "will keep the home strip for two years as we don't want people to have to buy a shirt every year", tallying with the 53-year-old's quest to run his club in a sustainable manner. "Take the three major issues – energy, transport and food – and if you look at a football club they are here [running through it] like a stick of rock. We have to power the place, our players and fans have to travel, and we feed people when they come here."
When Vince spoke to The New York Times this month, it was his eco-friendly approach to football – not the recent Supreme Court ruling over his ex-wife's right to a seek a settlement 23 years after their divorce, nor his £250,000 donation to the Labour Party's election campaign – that the paper wished to discuss.
His initiatives have included a six-month period when the entire squad drove Nissan Leaf electric cars and outside the stadium (reached, appropriately, by Another Way) there are still three such models for club employees, parked up beside a charge point. "We are trying to encourage football fans to come to games in an electric car knowing they can charge up and we have had our first fan do it, which is brilliant," says the man who created the Nemesis electric supercar and Electric Highway, a motorway network of charge points launched in 2011.
One of the stands is sponsored by Sustainability in Sport, the foundation that Vince established with Gary Neville after he helped provide wind power for the then Manchester United player's testimonial at Old Trafford. The aim of the foundation, he says, is "to take this message into the wider world of sport". On the pitch a group of schoolchildren play football before heading inside for a classroom session on recycling.
They could not be in a better place for it. In one corner, between the Main Stand and South Stand, is a tank filled with rainwater which is used to water the pitch. "People talk about rainwater harvesting and it is usually done from a roof but the biggest roof in our ground is our pitch," Vince explains. "It goes underground and we pick it up in drains and pump it back up into a tank and use it again."
Nearby is the "mobot" – or robot lawnmower. "It is a solar-powered, autonomous robot mower. When it needs to charge up, it drives itself into a charge point which is powered by the solar panels. Twenty-four/seven it pops out and does what appears to be a random cut of the pitch but is so small that it doesn't collect the grass but just leaves it and this feeds the pitch. Organic pitch, robot lawnmower, solar power – these are the exciting technologies that are out there for people," adds Vince.
In 2012 Forest Green became the first football club to earn the European Union's gold standard for environmental management and people within sport have begun to take note. "We talked to the governing body of cricket and a rugby club and a couple of Premier League clubs interested in what we are doing, and the groundskeeper of St George's Park has been here and seen what we do," explains Vince.
Closer to home, he insists the supporters have no complaints about the loss of their old meat burgers. "We put in a veggie burger which our fans rave about," says Vince, who has also "removed sugary, fizzy drinks. It is about trying to introduce a healthier way of eating".
The ban on meat inside the ground applies to players too and, according to defender Aarran Racine, "it is a bit of a shock to some, but you get used to it – I have done anyway, I like it". He speaks of a club where the players "get well looked after", and it must have the only club dorm decorated with recycled carpets and organic paint.
While Vince gives the football industry a "pretty low" eco-rating, he has also been dismayed by what he considers its "brutal" treatment of players and especially managers and, to counter this, gave David Hockaday, the manager he inherited, time to build a team. "We kept him for four seasons, against the wishes of the fans and the old board. He got us 10th three seasons in a row. We have got this long-term approach. It is like karma, without wishing to sound like a hippy, but if you do the right things in this world then good things come back to you.
"Our man [current manager Pennock] came from Stoke – he was assistant to Tony Pulis – and a lot of fairly big names in football [applied] because they had seen we'd given the previous guy a fair shout."
Pennock sees a "bright future" under Vince. "[Compared with] other clubs in League Two, and League One even, we have better facilities," he says, and the medium-term plan is to provide a significant upgrade with Vince hoping to build a new stadium and training ground on a site close to the M5 motorway near Stonehouse, a town six miles from Nailsworth.
"Gates have been up every season since we've been doing this," adds the chairman of a club whose fifth-place finish in the Conference – the best in their 126-year history – follows a run of just two defeats since Boxing Day.
For Vince, the long-term vision is a place in the Championship: "Part of our rationale is the higher up the leagues we move, the bigger platform we have for our message."
Though Bristol Rovers start as favourites in tonight's play-off, he already has something special up his sleeve if Forest Green achieve promotion. "I have said if we get into League Two we're going to go vegan. Get ready for that because we may win the play-offs yet."
Register for free to continue reading
Registration is a free and easy way to support our truly independent journalism
By registering, you will also enjoy limited access to Premium articles, exclusive newsletters, commenting, and virtual events with our leading journalists
Already have an account? sign in
Join our new commenting forum
Join thought-provoking conversations, follow other Independent readers and see their replies