Gareth Bale files application to trademark 'Eleven of Hearts' goal celebration logo
The Tottenham forward could make up to £3m a year if it is successful
Monday 17 June 2013 12:11 Comments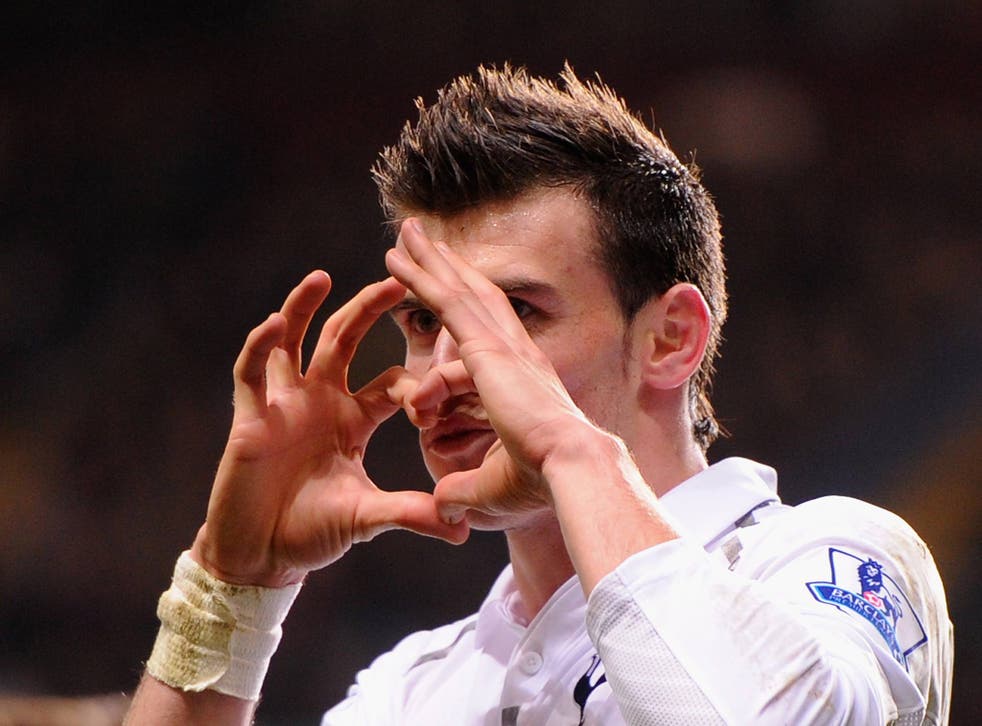 Gareth Bale could stand to make up to £3million a year if he successfully manages to trademark his 'Eleven of Hearts' goal celebration logo, according to a leading sports marketing expert.
Bale has filed an application to the Intellectual Property Office (IPO) to trademark a logo which copies the goal celebration gesture he makes every time he finds the net, with a number 11 - his shirt number - inside the heart.
An independent tribunal will decide in the next two months whether he can trademark the logo. Should it give him the green light, the Tottenham forward will then have a powerful icon which he can incorporate into his image rights.
That could stand to make him up to £3million a year, according to Nigel Currie, director of sports marketing agency brand-rapport.
He said: "The possibilities are huge for Gareth Bale. Once he has that right he can cash in on it and become a more well-known player.
"A third of his overall income could be made from his image rights, potentially up to £3million a year."
Bale first incorporated the heart sign in to his goal celebration in 2010. He revealed afterwards that he did it as a gesture to his childhood sweetheart Emma Rhys-Jones, with whom he had a daughter last year.
Details of Bale's application to trademark the logo were first published last month. The 23-year-old, who scored 31 goals for club and country last term, has applied to trademark the logo for use on clothing, footwear and headgear as well as jewellery.
According to the IPO website, he has also applied to use the logo on leather goods, and "animal skins, hides; trunks and travelling bags; umbrellas, parasols and walking sticks; whips, harness and saddlery."
Bale is not the first British sportsman to try to cash in on his image rights. David Beckham was the most famous person to do so, but the 'Eleven of Hearts' logo gives Bale a head start on the former England captain.
"Beckham does various things for various brands, but having this logo gives you the opportunity to use it as the brand image," Currie added.
"It can appear on any sort of product he wants, so it has massive potential.
"Once you have got something that is readily identifiable with the person and has the potential to be seen by millions every time he scores a goal, then it becomes more and more recognisable globally."
PA
Register for free to continue reading
Registration is a free and easy way to support our truly independent journalism
By registering, you will also enjoy limited access to Premium articles, exclusive newsletters, commenting, and virtual events with our leading journalists
Already have an account? sign in
Join our new commenting forum
Join thought-provoking conversations, follow other Independent readers and see their replies