Gareth Bale, Michael Carrick, Juan Mata, Luis Suarez, Robin van Persie and Eden Hazard nominated for PFA Player of the Year award
Players from Manchester United, Chelsea, Liverpool and Tottenham complete shortlist
Simon Rice
Friday 19 April 2013 12:29 Comments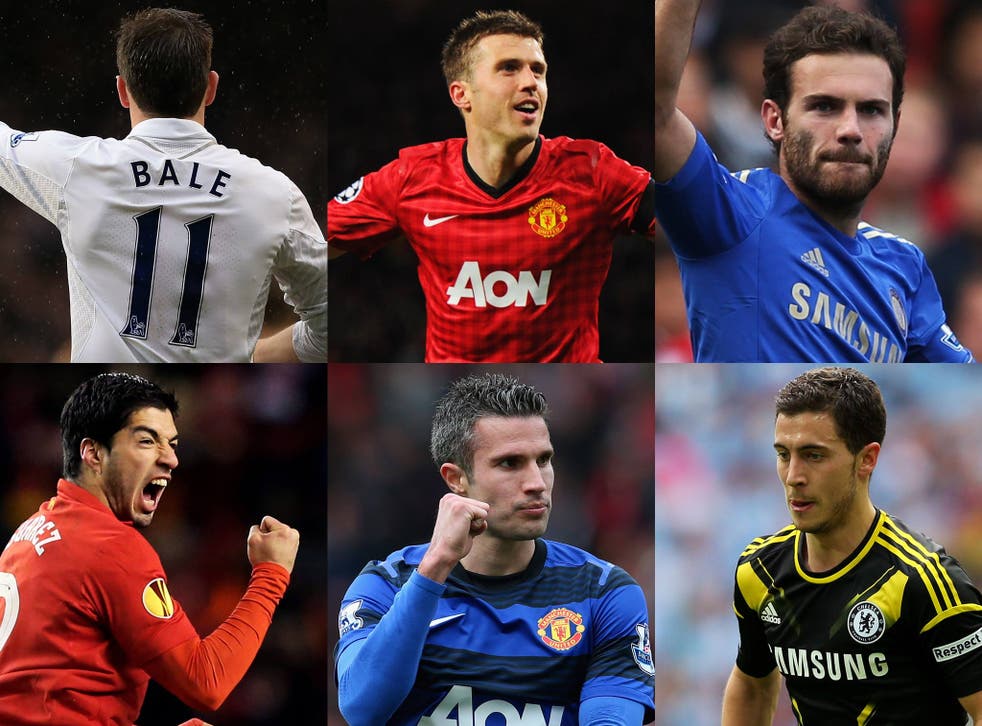 The nominations for the 2012/13 Professional Footballers' Association Player of the Year and Young Player of the Year have been announced.
The nominees for the Player of the Year are: Gareth Bale (Tottenham), Michael Carrick (Manchester United), Juan Mata (Chelsea), Luis Suarez (Liverpool), Robin van Persie (Manchester United) and Eden Hazard (Chelsea).
The nominees for the Young Player of the Year are: Gareth Bale (Tottenham), Christian Benteke (Aston Villa), Romelu Lukaku (West Brom), Danny Welbeck (Manchester United), Eden Hazard (Chelsea) and Jack Wilshere (Arsenal).
While the inclusion of Bale, Mata, Suarez and van Persie will have come as no surprise in the main category, the selections of Hazard and Carrick in particular are likely to raise eyebrows.
The Debate: Who should win the PFA Player of the Year award? Take part in our exclusive poll
The Chelsea youngster Hazard has enjoyed a strong debut season since joining from Lille last summer with the Belgian helping the Blues to the semi-finals of both the Europa League and FA Cup. Yet with Mata already representing Chelsea, some may claim other players were more worthy of inclusion.
The same will likely be said of Carrick who at 31, receives his first nomination. The Manchester United midfielder has played a key role in United's dominance of the Premier League this season, making a total of 32 league appearances. Yet with just one goal and four assists this season, others might feel aggrieved to have been overlooked.
Among those not on the list that might have expected to have been include Swansea City striker Michu, who has scored 17 Premier League goals in his debut season for the Welsh side, as well as three in their run to the League Cup title.
Aston Villa striker Christian Benteke, Arsenal's Santi Cazorla and Manchester City's David Silva are just some of the others who might have been included in today's shortlist.
The Debate: Who should win the PFA Player of the Year award? Take part in our exclusive poll
In numbers: The nominees (All figures relate to the Premier League)
Gareth Bale
Appearances 27
Goals 17
Goals per match 0.63
Shots 128
Assists 6
Michael Carrick
Appearances 32
Goals 1
Goals per match 0.03
Shots 16
Assists 4
Juan Mata
Appearances 29
Goals 10
Goals per match 0.34
Shots 51
Assists 14
Luis Suarez
Appearances 32
Goals 22
Goals per match 0.69
Shots 163
Assists 9
Robin Van Persie
Appearances 33
Goals 21
Goals per match 0.64
Shots 116
Assists 13
Eden Hazard
Appearances 30
Goals 8
Goals per match 0.27
Shots 50
Assists 14
Christian Benteke
Appearances 30
Goals 15
Goals per match 0.5
Shots 95
Assists 4
Romelu Lukaku
Appearances 29
Goals 13
Goals per match 0.45
Shots 69
Assists 4
Danny Welbeck
Appearances 25
Goals 1
Goals per match 0.04
Shots 32
Assists 4
Jack Wilshere
Appearances 20
Goals 0
Goals per match 0
Shots 12
Assists 5
Register for free to continue reading
Registration is a free and easy way to support our truly independent journalism
By registering, you will also enjoy limited access to Premium articles, exclusive newsletters, commenting, and virtual events with our leading journalists
Already have an account? sign in
Join our new commenting forum
Join thought-provoking conversations, follow other Independent readers and see their replies