Human rights abuses, questionable sponsors and Trump: how geopolitics are becoming the worrying root of football
The concerning question now is this: how clean is the sport?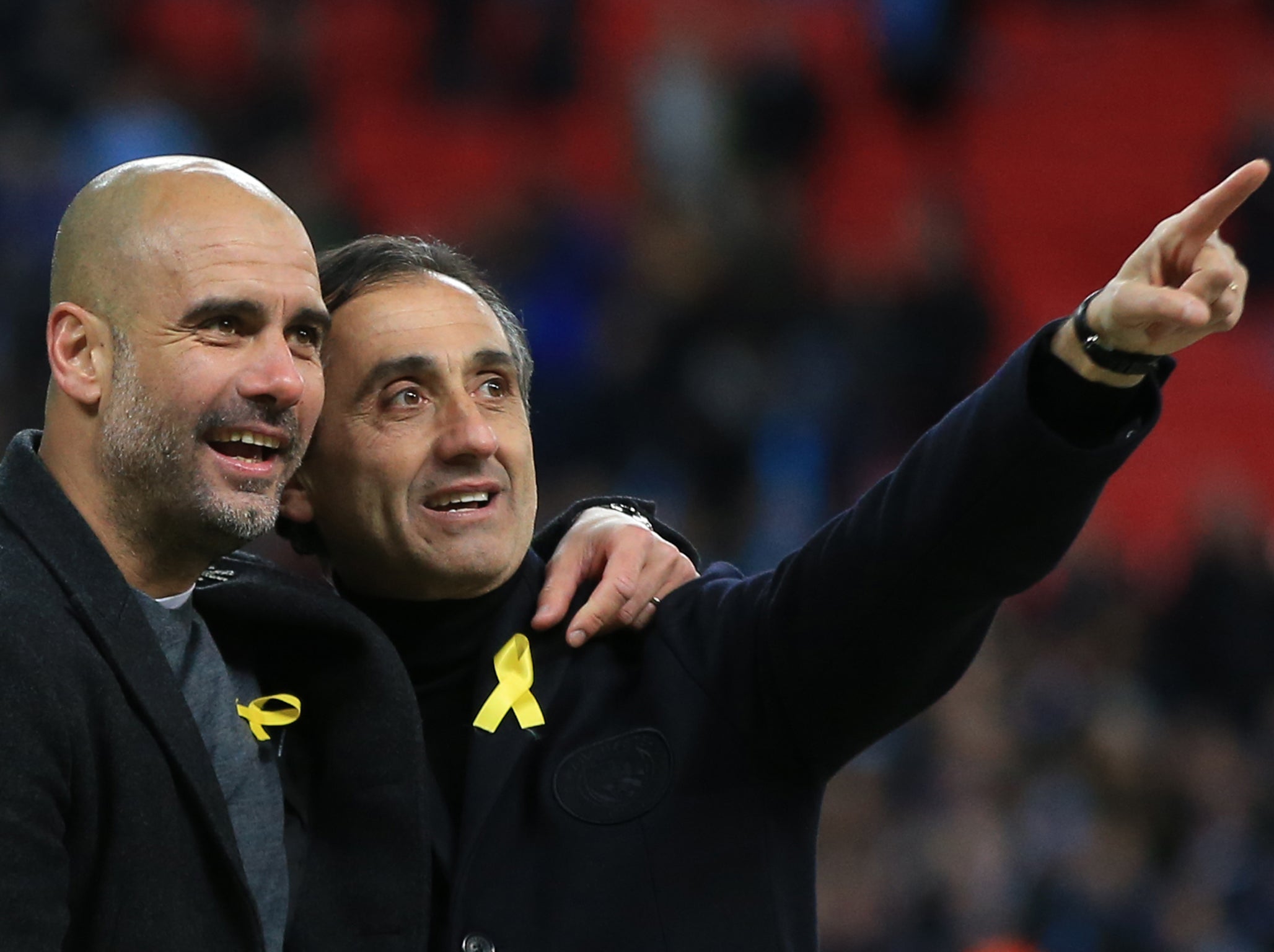 It was quite a notable shift, and maybe in more ways than one. After sounding so impressively impassioned as he discussed Catalonia's jailed politicians, Pep Guardiola was suddenly much less sure of himself when asked how he could reconcile these universalist "human" principles with Manchester City's Abu Dhabi owners and the abuses of human rights in the United Arab Emirates.
"Every country decides the way they want to live for themselves," Guardiola began. "If he decides to live in that [country], it is what it is. I am in a country with democracy installed since years ago, and try to protect that situation."
Put politely, it was an imperfect answer, but was a perfect representation of how compromised top-level football now is.
Guardiola didn't say anything beyond babble, really, yet moments like this start to make overt what has been an undercurrent in the game for a while now. They bring into central view what has for so long been sensed.
Football has entered a new world, because it is now so directly influenced by geopolitics, so appropriated. The main news has multiple times more background connections to the football news than ever before.
If you were to draw up a chart based on the most dominant political theatres, there really wouldn't be any area bar North Korea that doesn't directly touch the game at the highest level, that you couldn't place a club crest on. It would be similarly difficult to find a major club untouched, be that through direct ownership to commercial deals and every compromise that entails. A line can be drawn from the political persuasions of so many American owners in the Premier League, to Russian ownership of Chelsea, down to the current Qatar-UAE crisis and City, Paris Saint-Germain and so many others through sponsorship, to China, AC Milan and then right back under these clubs through work with agencies like Gestifute and on.
In turn, looking at football club ownership now gives you quite an accurate snapshot of where in the world you find the people who literally have more money than they know what to do with.
Just a few weeks before Guardiola inadvertently prompted such questions about City's owners, there were the responses given across town, when Manchester United discussed a half-year loss in the conference call for their latest financial results. They were put down to Donald Trump's December tax reforms, cited as one of most dramatic overhauls in US history. It was striking, when you stand back, to hear employees from a club with such workers' roots to so coldly state that such a controversial reform "should be beneficial to the club in the long term". The show just goes on.
A pertinent point is that it is no longer just the fluctuations of the global economy conditioning the game. It's much more embedded. What's more, the spread of such influence has driven even supporter-owned clubs to seek ever-greater avenues of revenue, and ever more interlinked commercial partners. Both Barcelona and Real Madrid have actively sought relationships with Gulf interests and opened themselves up to similar questions, while Bayern Munich count Doha's Hamad International Airport as a "platinum partner".
In terms of the kind of questions that come up here, consider Liverpool's main sponsors. It is just over three years since Standard Chartered had to pay $300m for lapses in its anti-money laundering procedures. Benjamin Lawsky, superintendent of the New York State Department of Financial Services, accused a unit of the bank of leaving "the US financial system vulnerable to terrorists, weapons dealers, drug kingpins and corrupt regimes".
The concerning question, when you really start to think about it, is how clean the game is; where the lines can be drawn; how deep the rabbit hole goes?
The current facts however sufficiently show how the sport has grown; how it has moved to another stage. It was fittingly first revolutionised by one of the most high-profile global politicians from the last few decades. Silvio Berlusconi's mid-1980s broadcasting model transformed the economics of the sport, driving the rise of the Premier League and the Champions League, and making it a properly international business. So many began to invest to make money out of it, until the game grew so big that other capital could be gleaned from it: political capital, power, image. It entered a more sophisticated next level, with the door arguably opened by Roman Abramovich's takeover of Chelsea.
In that, football is now merely on the same scale as so many other global mega-industries, so huge that it is inherently impossible to escape external interests. It is as compromised and conditioned as those of us in the media.
What is still different is how the game is used and followed; how it is thereby susceptible to what Amnesty International UK's director Kate Allen calls 'sports-washing' – how "wealthy regimes and cash-rich individuals often see sport as a means to polish up their own tarnished images".
"It's the acquiring of power and influence on the world stage," says Dr Paul Brannagan BA, MSc, PhD, lecturer in Sport Management and Policy at Manchester Metropolitan University. "It's what we call soft power – getting what you want through attraction rather than coercion.
"The reason sport is one of the most political tools around is that it attracts more of us than anything else. What is more global than a World Cup or the Summer Olympic games? There's nothing that grabs an international audience like it, and involves the same passion.
"These are great vehicles for long-term financial investment but what they also do alongside that is provide access to huge international audiences to get your message across."
This is something that human rights researcher Nick McGeehan has written about extensively in regards to Qatar's ownership of Paris Saint-Germain and Abu Dhabi with Manchester City.
"They're not making money out of these clubs," McGeehan says. "They latch themselves on to prestigious, high-value brands, whether it's football clubs or universities or museums, and these associations enable them to present themselves as progressive and tolerant, when the opposite is true."
There's also a deeper strategy to it, as explained by Christoper Davidson, Reader in Middle East Politics and a Fellow at Durham University.
"You have to put yourself in the mind of these states. Their nightmare scenario is Kuwait 1990, a situation that could have become an Iraq, without an international coalition. There's no surprise they're putting money into football clubs, art galleries, the London Eye… these aren't necessarily things that are going to turn a profit, but they are going to generate a lot of good will.
"You can't separate them out, it's all part of a package, a strategy to ensure survival. This survival includes economic diversification so they have a functioning economy for when the world stops using oil."
That's where some of the most visible brands at Champions League stadiums have come in. European football has already seen one hugely significant change in this regard. Up until around a decade ago, companies from the bread-basket region around southern Germany and Austria – Siemens, Audi – enjoyed what was proportionately the highest amount of commercial deals with major football clubs than any other area of Europe. The biggest football brand of all emphasises this. When Real Madrid met Bayern Munich in the Champions League in 2012, both clubs had the same proportion of sponsors from that area, with the famous white jersey adorned by Austrian betting company bwin.
The very next year, however, bwin were replaced by Emirates. It was the beginning, well, of an effective football brand grab by the Dubai airline. They have replaced German companies as football's most visible sponsors, and now have deals with Real, Arsenal, Milan, Benfica, Hamburg, Olympiakos and Paris Saint-Germain – as well as routes to and from those clubs' cities.
The fact they are ultimately wholly owned by the Dubai government, through the Investment Corporation of Dubai, adds the extra dimension to this.
"That is an example of soft power," Dr Brannagan says. "Emirates have become part and parcel of the game." Unquestioned, ubiquitous.
"It's 100% government-owned, trying to provide the UAE with an important source of non-oil government revenue," Davidson adds.
It is the last name on that list of clubs that is particularly interesting, and relevant to the bigger debates. PSG are a Qatari-owned club, yet are sponsored by a company from a country that has severed relations with Qatar, an issue at the centre of the ongoing Gulf diplomatic crisis.
"It's a slightly crazy one, that," Dr Brannagan says. "Ideally, and what I think will happen eventually is that PSG will be sponsored by Qatar Airways."
That would itself bring other issues, and brings us around to Guardiola. The Catalan is actually in a distinctive position in that regard. He has taken money from both sides of the gulf blockade, as manager of an Abu Dhabi-owned club and previously ambassador for the Qatar World Cup.
That position does still point to one of the key questions that comes out of all this. How ethically insulated can anyone in football claim to be? Where is this going next? How insulated will the game be from ripples in geopolitics? What will the ultimate effect be?
As regards the first question, just as football has become an industry too big to be unconnected to global issues, it is too difficult for anyone to be entirely consistent. The exact same principle applies to using an iPhone, or even using or working in the media, and a psychological cut-off point has to come somewhere. That's just the world. It is similarly difficult to expect people to psychologically detach from a club they have supported all their lives because of sudden changes in the background behind the team.
By the same token, is it realistic for Jose Mourinho to refuse Manchester United because of the Glazers' Trump donations, or Antonio Conte to criticise Abramovich's Vladimir Putin connections, if they really want to work at the top end of an industry that is no more ethically compromised than any other? There's also the fact that their heads of state themselves endorse these links.
McGeehan however feels Guardiola's statements on Catalonia put him in a different category.
"What Pep said is fine in isolation but the context is that he works for the Abu Dhabi government, whose deputy Prime Minister he thanked in the same speech, and was speaking on a platform provided to him by their money. If he'd said people in Abu Dhabi also deserve these rights, that would have really been something to admire, but he pointedly refused to do that. That's obscene hypocrisy. I do have a problem with these people being involved in the game. In terms of the Glazers or Standard Chartered, there are real and serious issues there, but Qatar and especially Abu Dhabi are at the other end of the scale. The Glazers aren't bombing Yemen. The involvement of dictators takes things to another level."
In terms of the potential effect on the game, too, there is an instructive example from the summer. The signing of Neymar could be a landmark in more significant ways than expected. Sources close to PSG say that one plan discussed at the club is to effectively "short-squeeze" the football market, and so inflate wages and transfer fees because they know in the medium term that maybe only City and United will be able to match that kind of financial power.
"This is exactly the type of thing we're talking about," McGeehan says. "It's artificially manipulating the markets so they come out on top, and with no regard whatsoever for the health of the game as a whole."
Then there's the more natural consequences, how clubs will now feel ripples of what happens in Russia, in the USA.
"Saudi Arabia and the UAE were basically given false promises by Trump," Davidson says. "That they could do whatever they wanted to Qatar, and then he quickly back-tracked when reality set in. So now we're left with this phoney war, long-running stalemate, harming them all, especially harming Qatar, because the government has had to bail out the national economy, but it will have repercussions for Qatari international investments… If I were involved in PSG, I would be worried about Qatar having to pull the plug on it at some point in the future. They've done it with other interests that did not make headlines."
The football headlines have never been so connected to the global headlines.
"We have to look at the mess that the 21st century has become, particularly in sport," Davidson says. It represents quite a shift.
Join our commenting forum
Join thought-provoking conversations, follow other Independent readers and see their replies