Glasgow City's Laura Montgomery: 'We still face negative views on women in sport'
Laura Montgomery has founded, guided and funded Glasgow City to reach this week's Champions League showdown with Arsenal. But, she tells Robin Scott-Elliot, the bigger battle is for acceptance against hardcore misogynist attitudes
Robin Scott-Elliot
Monday 11 November 2013 20:11 Comments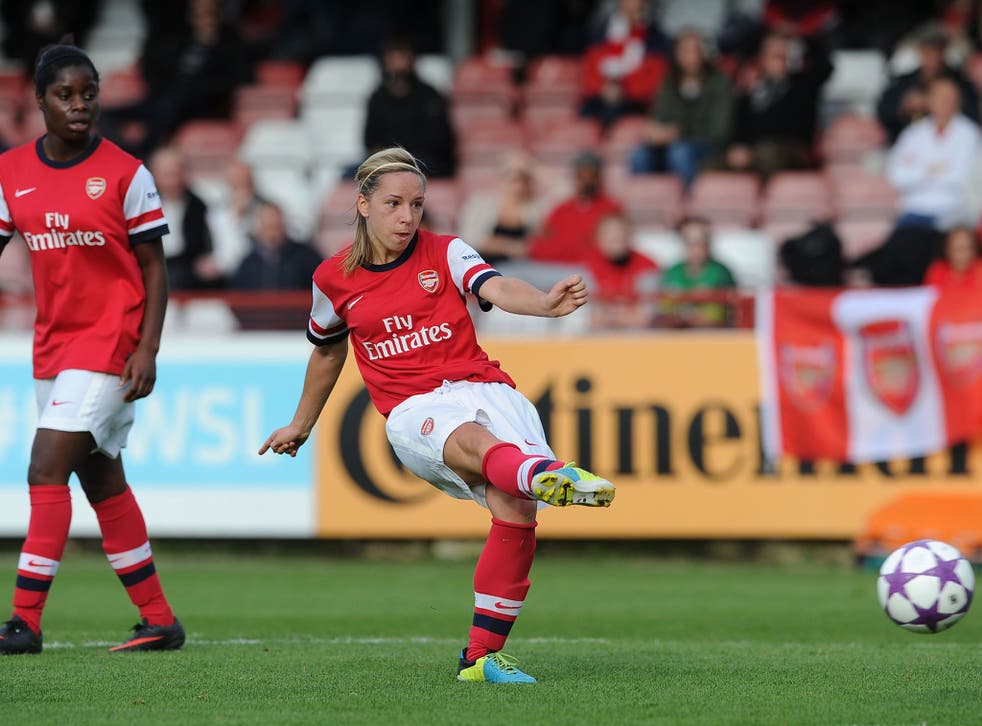 When Arsenal, England's most decorated club, were confirmed as Champions League opponents for Glasgow City it brought a certain degree of relief for Laura Montgomery, and probably a large amount for her bank manager. There is no attempt to disguise the challenge the Glaswegians face in tomorrow's home leg at their modest Petershill Park ground after a 3-0 reverse in London on Saturday – it is the biggest in the club's history, believes Montgomery – but drawing English opponents at least ensures her credit card will not take another battering.
Glasgow City are the dominant force in the women's game in Scotland, Rangers and Celtic rolled into one, and their domestic success has allowed them to broaden their horizons. It has meant European adventures, to distant shores, at times paid for by the credit cards of Montgomery and her co-founder, Carol Anne Stewart.
There is oil money here but this is not wealthy benefactor country. Both have "normal" jobs; Montgomery is a consultant in the oil business. This is the dedication of sporting pioneers: they founded Glasgow City and, if they must, they will fund it too.
Ask Montgomery what is the most she has put on her credit card to pay for flights for the team's trips and she laughs before answering. "Easily £5,000," she says. Has running the club cost her money? "Running Glasgow City has cost me a fortune! That's a personal choice – there are a number of things I might do, or pay for and not take money out of the club. It's my choice, having founded the club and Carol Anne is the same. For the love of it. It's our passion, the club we built."
Montgomery and Stewart have fought to get the club here, on and off the pitch, beaten opponents, counted every penny and confronted what Montgomery sees as "misogynist, negative opinions about women playing sport" and the "stupid male journalists" who practise such attitudes.
In September ,Tam Cowan, an alleged comedian, went to watch Scotland's women, or the "girlies" as he had it, play a World Cup qualifier at Motherwell's Fir Park and wrote in the Daily Record that the ground should be "torched" in order to "cleanse" it. The newspaper ran it as a personal viewpoint that did not reflect its stance, but nevertheless the fact a Scottish national newspaper printed the article is remarkable.
"Whether we [in Scotland] have differing attitudes or we just have stupid enough male journalists who think they can put that down in print and think that's acceptable [I don't know]," says Montgomery, the club's general manager. "Without doubt there's a number of really misogynist, negative opinions about not just women's football but women's sport and women playing sport. It's difficult to change attitudes.
"It has got an awful lot better than where it was. Why these attitudes exist I don't know. Is it a Scottish culture? Is it a British culture? Certainly, you look at countries like Germany and they don't seem to have the same problems. No doubt they will have a faction of the public that think the same but certainly not the size of the populace we have that have these negative attitudes.
"I think some of it comes down to promotion. If young kids start to see female sports stars in the paper then they don't grow up thinking there's anything wrong with it. Older males that are looking at it now have never seen women play sport, have certainly never seen women's football on television, and it becomes uncomfortable when they see it."
The 2012 Olympics boosted women's sport, and next year's Commonwealth Games in Glasgow may further aid the cause even closer to home. "It's good for girls to grow up seeing they can play sport, to see it is good to sweat, good to have muscles in your body and it doesn't mean you are unfeminine. The more girls that choose to engage in sport, a significant number of them will engage in football so it has to benefit us."
The Arsenal tie will be a more immediate benefit to Glasgow City, both in growing interest and financially. Arsenal, with their relative wealth and European experience, were always strong favourites. When it comes to Europe, City, 5-3 conquerors of Standard Liège in the previous round, are used to that. In their first group stage campaign in 2005-06 they lost three out of three and conceded 18 goals. Improvement has come, although last year's first-ever progress to the last 32 ended in a humbling 17-0 aggregate defeat by the German giants Turbine Potsdam.
City are amateurs, with the coach, Eddie Wolecki Black, the only paid member of staff, but Montgomery is exploring ways to reward players to try to prevent the best from moving on – former City midfielder Emma Mitchell is now at Arsenal, one of three who left for bigger clubs in the close season. City have bought a club flat to accommodate players and pay improved expenses.
But Europe remains costly. Uefa pays €20,000 (£16,700) for travel expenses once they reach the knockout rounds. By the time City arrived there via qualifying – a group stage hosted at one ground – they were already £15,000 down.
"If we get to the last 32 we probably lose about £22,000 every year playing in Europe," says Montgomery. "We have never had a tie as close to home as Arsenal and also with the fans' interest, we will fill the stadium and all the revenue benefits that come from that, I would like to think we will manage it within the realms of what Uefa give us for the first time ever – so that will be nice!"
It is 15 years since Stewart and Montgomery, then a young player unimpressed by what was on offer by existing clubs, founded City. They won the First Division in year one, 1998, and took their first Premier League title in 2005. This year they made it seven in a row without losing a game and such dominance has sent envious eyes looking south of the border. In the women's game Uefa does not bar cross-border leagues.
"We would be crazy not to think about it," says Montgomery. The Football Association has so far rebuffed any talk of adding a Scottish outpost to the Women's Super League. The Scottish game is to some extent on the up –Scotland, like England, sit top of their World Cup qualifying group – and the Scottish Government has provided funds towards paying the national side.
"It's changing here but you look down south at the Super League and I'm sure the fans would engage if you were bringing a Birmingham or an Arsenal up here every second week – whether it is ever possible, who knows?" says Montgomery. "We still have a long way to go.
"We had numerous meetings with Rangers when they wanted us to become Rangers Ladies and the fact is we just don't want to. We like having our destiny in our own hands. There has been far too many examples of when budgets need to be cut then the women's team is first to go. Look what happened to Charlton. Historically, some of the most successful women's clubs have had nothing to do with men's clubs, like Frankfurt and Potsdam. We have very passionate people who totally understand the women's game running our club and so far every step we have taken has been the right one and I wouldn't jeopardise the club by removing that."
Register for free to continue reading
Registration is a free and easy way to support our truly independent journalism
By registering, you will also enjoy limited access to Premium articles, exclusive newsletters, commenting, and virtual events with our leading journalists
Already have an account? sign in
Join our new commenting forum
Join thought-provoking conversations, follow other Independent readers and see their replies