Half & Barf: The scarves poking fun at modern football fans and 'corporate Johnnies' in it for the freebies
Dave Newbold, the creative force behind the designs, reveals his inspiration, explains why the originals have no place in the game and what the reaction to his scarves has been like online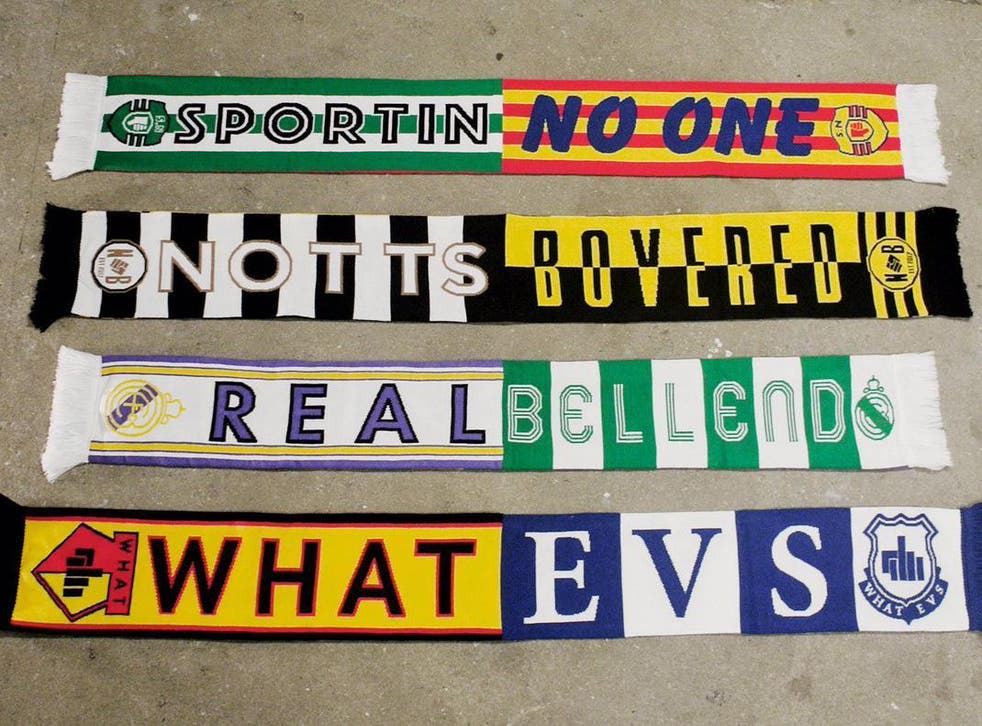 There is little else in modern football that draws as much ire as the half and half scarf: a piece of fabric bearing the emblems of rival teams, denigrated as the preserve of tourists and part-timers that no "proper" football fan would ever dream of wearing.
Well, now there is a sartorial fight back. Dave Newbold, an advertising creative and life-long Liverpool fan, has created the Half & Barf scarf - a comical and mildly offensive take on the originals.
Each design mimicks the logos of famous football clubs from around the world and bears a portmanteau dig at someone who might consider wearing a half and half scarf in the first place: 'Real Bellend,' proving to be one of the more popular choices among fans online.
"Half and half scarves always got on my wick," Newbold tells The Independent.
"I get it for kids wanting a memento, but a lot are worn by corporate Johnnies who are supporting no one and are just there for the freebie.
"I thought it would be funny to protest them using their own media of scarves. It was never aimed at clubs, just modern fans."
Newbold came up with the designs after starting a new job and learning the basics of screen printing.
"With help from colleagues I mastered the basics and luckily scarves have to be quite simple," he adds.
"Once I'd decided on the names and colours I kind of just started messing about mimicking team colours and logos."
The four designs he has used so far are twists on the crests of clubs like Everton, Real Madrid, Watford and Sporting Lisbon - showing a thumbs down or a middle finger in place of the original badge.
"I loved the idea of them looking like a half and half of two teams but then having a nice dig at the wearer," Newbold says.
"I heard someone ranting about them in the pub and how they made them sick, and where I'm from we say 'barf' not sick, so 'Half & Barf' kind of stuck."
If you were hoping to get a Half & Barf of your own, you had better be quick: Newbold says he has already sold about a third of his stock.
The idea has obviously caught on with like minded football fans.
"I do understand why half and half scarves exist, for kids and cultures who think there's nothing wrong with liking 5 teams!" Newbold adds.
"But for me pride, wit, rivalry and banter is what makes football so brilliant. It's like these half and half scarves ignore all that.
"They obviously sell well and there's a market for them as they're everywhere, but they're a bit cringey.
"It's amazing how much vitriol you see online around them. But I'd rather make fun out of them than rant and rave."
Check out all the designs on Newbold's website HalfandBarf.com
Join our new commenting forum
Join thought-provoking conversations, follow other Independent readers and see their replies