Halsey hails Mourinho after winning cancer battle
An unexpected friendship between the Special One and a Premier League referee led to an inspiring story of generosity and recovery
Patrick Barclay
Tuesday 10 April 2012 23:39 Comments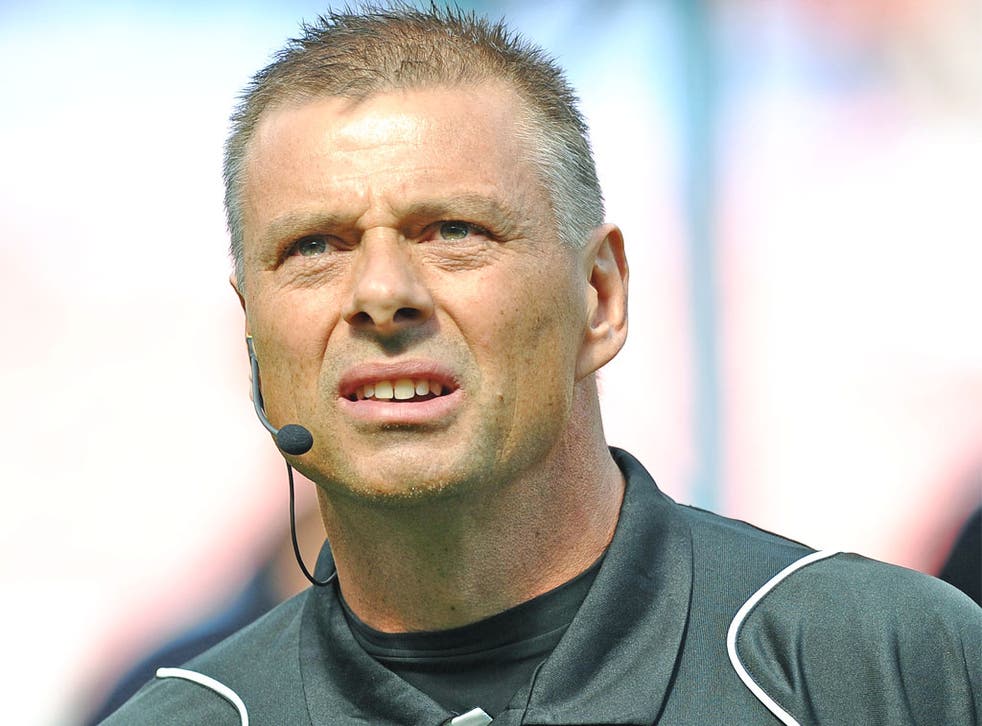 Compared with the life-threatening tumour Mark Halsey has survived it is not much of a worry, but something he must consider. On the one hand, he naturally wants his friend to come back to England after working abroad. On the other, he knows that it might end his own career. For his friend is Jose Mourinho.
You could call Halsey and Mourinho football's odd couple: the referee and the referee-baiter. Mourinho was dubbed "the enemy of football" by Uefa's refereeing overlord in 2005 and subsequently suspended after claiming that Anders Frisk, the official in charge of a Champions League match between Barcelona and Chelsea at Nou Camp, had been visited at half-time by the home manager, Frank Rijkaard. As recently as last week, Mourinho, now at Real Madrid, continued to imply that decisions involving Barcelona could not always be trusted.
Halsey, meanwhile, has always liked to be on amicable terms with players, managers and the game at large. Yet they have become so close that if Mourinho were to return to the Premier League next season, Halsey would have to drop off the referees' list.
We met on Easter Monday, on the dank afternoon before Halsey did fourth-official duty during Chelsea's 1-1 draw at Fulham. He was looking forward to another trip to Spain. Having spent a happy hour or two in the Real Madrid camp before their 5-1 victory over Osasuna in Pamplona, catching up with Xabi Alonso and teasing Sergio Ramos about his "silly yellow cards", he will watch both legs of Real's Champions League semi-final against Bayern Munich.
And might the final, if Real reach it, signal Mourinho's farewell to Spain? Halsey maintains discretion. But he doesn't argue with my suggestion that Manchester City, if they want to put Mourinho up against Sir Alex Ferguson next season, might obtain more joy than they have done on the field of late.
Halsey and Mourinho go back to 2003, when Halsey, a former semi-professional goalkeeper who had taken up refereeing and reached Premier League level in 1999, travelled to Porto with Graham Poll and two linesmen to be fourth official at a Champions League match. The opponents were Marseilles and he remembers being impressed by Didier Drogba. He didn't mind Mourinho's antics, either.
"You know what he's like," he says. "I used common sense. I handled him." After Mourinho joined Chelsea, there were a few congratulatory handshakes from the Special One and a few complaints, but nothing untoward.
For the last league match of the 2006-07 season, Everton were the visitors to Stamford Bridge. Halsey arrived early and was spotted by Mourinho, who invited him in for coffee: "We spoke about football and refereeing decisions for 20 to 25 minutes." Later that summer Halsey looked after Chelsea's Community Shield match against Manchester United. He remembers receiving a hug and a compliment on his performance. Within weeks, Mourinho was gone from English football.
The following year, Halsey was struck the first of two blows when his wife, Michelle, was found to have myeloid leukaemia. When Mourinho heard, he paid for Halsey, Michelle and their daughter, Lucy, to stay at a five-star hotel in the Algarve.
"Obviously," said Halsey, "I wouldn't have gone if he'd still been at Chelsea. But what can you say? He's been an absolute inspiration." A few months on, by which time Mourinho had taken charge of Internazionale, the Milan club visited Manchester United and the Halseys called at their hotel. In 2009, Halsey encountered his own crisis.
"I'd had an inkling in the April," he said. "There was something wrong. But I kept it to myself. Maybe I knew. Anyway, even though I wasn't feeling very well, I trained in readiness for the next season. I flew back from our place in Spain at the end of the summer to referee Tottenham against Barcelona in the Wembley Cup and again didn't feel good. It was after that that I went for a scan at the Beaumont Hospital and it revealed that I had a tumour. In my throat. The right tonsil."
He was terrified – and the news got worse. "I thought I was going to die because after the tumour had been taken out of my throat, I woke up to find Michelle crying her eyes out. She said the doctor was coming to see me and I could tell from her face that I was in trouble. The doctor said they had found more than they thought they were going to find. Within days, the tumour was growing back. I could feel it. By then it had been arranged for me to see Professor Tim Illidge at the Christie Hospital. He was blunt when I asked how long before I start refereeing again. 'You'll be lucky,' he replied. 'We've got a fight on to save your life.' The following day I started chemotherapy.
"All through my treatment, Jose kept in touch. I don't know how he found out, but he was quickly on the phone. Over three months, I lost 10 kilos and my hair. I sent him a picture message of me and he texted back that at least I was better looking than Ray Wilkins!"
In March 2010, having got over a serious infection that followed his treatment, he passed the referees' fitness test. His first match was between Leicester and Scunthorpe reserves. He progressed to League Two and began last season at Premier level with Blackpool's 4-0 win at Wigan. He was warmly received by the whole crowd. He now needs only to be checked every three months. Michelle is also in remission. Yesterday Lucy, who might have been an orphan, celebrated her sixth birthday.
Halsey takes nothing for granted now. While recounting the pleasure of visiting Fabrice Muamba in hospital and looking forward to supporting Stiliyan Petrov through his fight against leukaemia, he remembers Gary Ablett, who lost.
Halsey works harder than ever at his refereeing because he feels under greater scrutiny since the illness, even though the only evidence of a legacy is that, lacking saliva glands, he tends to keep his mouth moist by taking a swig of water. At 50, he has enjoyed an excellent season and with the FA Cup semi-finals coming up, will inevitably be one of those awaiting the nomination of the final referee. It would be well-deserved icing on Halsey's cake.
Register for free to continue reading
Registration is a free and easy way to support our truly independent journalism
By registering, you will also enjoy limited access to Premium articles, exclusive newsletters, commenting, and virtual events with our leading journalists
Already have an account? sign in
Join our new commenting forum
Join thought-provoking conversations, follow other Independent readers and see their replies