Helena Costa: 'Just judge me as a coach not as a woman'
First female to manage a top team gets Jose Mourinho's backing but she wants results to be all that counts
Robin Scott-Elliot Comments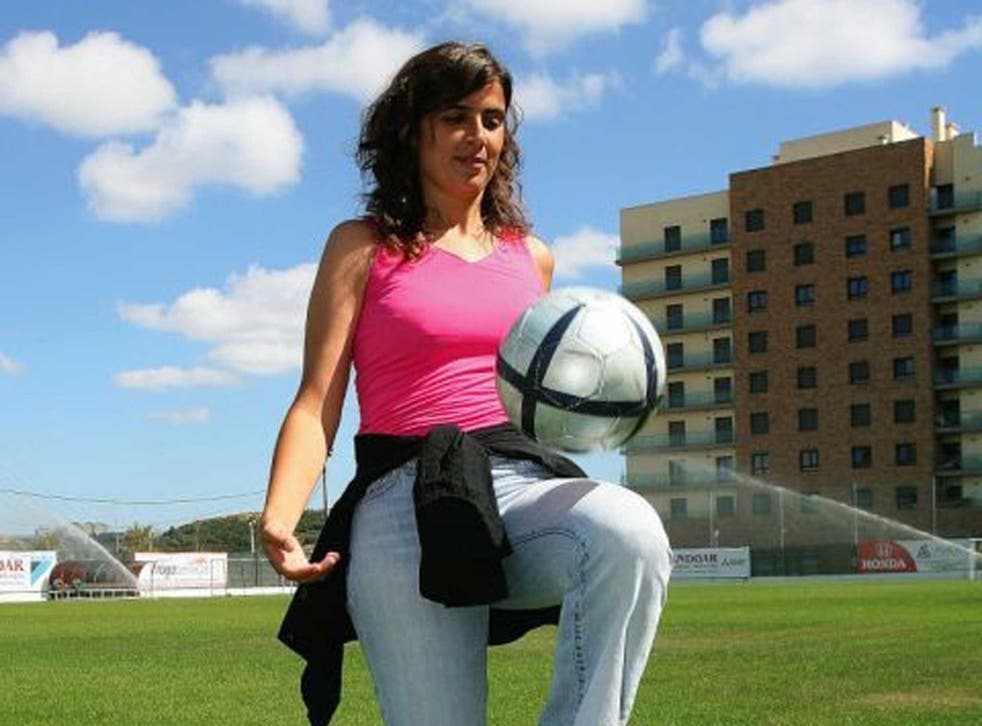 Helena Costa's life changed abruptly on Wednesday, the day she was earmarked to make sporting history. The time since has been a blur and it is still nearly two weeks before she officially takes over as coach of Clermont Foot and becomes the highest-profile woman in a man's world, the first woman to lead a team in one of the top two divisions of a major league.
"Anyone can ask any questions they want," she says of the day, a week on Thursday, when Claude Michy, the club's president, has invited the world's media to Clermont-Ferrand to see her introduced as the Ligue 2 side's new coach. Costa will not shy away from attention coming her way but she has one wish for the adventure ahead.
"I understand the media impact but in the future what counts is the work and the results," the 36-year-old Portuguese says. "So I'm asking everyone to look at me as a normal coach not as a woman coach – a coach who has to be evaluated by the job he or she does not by the fact he is a man or a woman."
It is wishful thinking, not least because this is unknown territory for a sport that does not have a great record of opening its arms to women. Carolina Morace lasted two games at the Italian third-tier outfit Viterbese in 1999. Costa has dealt with significant cultural challenges in her career, coaching women's football in Qatar and Iran, but this is something else.
"The media impact has been huge. Since Mr Blatter, Mr Wenger and Mr Platini spoke about me it has been even worse," says Costa and she laughs.
Some of the club's players have had their say as well, including one confessing he had searched online to see what she looks like.
"I cannot wait to be a part of it," said Anthony Lippini, a defender at Clermont. "I'm really curious. It will be a unique experience to be the first professional football team to be managed by a woman in France. It creates a buzz."
The buzz will do Michy, a former rally driver, and his club no harm. Their average attendance, with one game left of a season where they will finish in the lower reaches of France's second tier, is under 4,000. Costa's appointment has made Clermont Foot, for the time being, of more interest than their rather more illustrious sporting neighbours, the rugby club Clermont-Auvergne. Does Costa worry she is being used as a publicity stunt?
"No – that's exactly why I ask people to start looking at me as a coach, a normal coach," she says before admitting the accompanying interest aids all concerned. "It is a good thing for me of course, a good thing for the players, for the club, for the sponsors of the club, for the city. Now everyone is speaking about Clermont Foot. The president is a visionary in my opinion. It is good for everyone."
Costa is not a newcomer to men's football. She coached junior sides at Benfica over a 13-year period, including the year Jose Mourinho was there. She also spent time at Cobham studying Chelsea's academy set-up.
"This is a crucial moment for women coaches," said Mourinho, her compatriot. "It's crucial because if she succeeds [it] opens the door for more. During the history of football, there are little crucial moments where to succeed or not succeed has an impact in relation to the future."
Mourinho's path into management was a famously roundabout one. Costa's is in many ways more traditional. She has always been a coach, apart from four years as a scout for Celtic, her most significant involvement in the men's game. While studying for her coaching badges – she has her Uefa A-licence – at the Scottish Football Association's well-regarded course (which Mourinho also attended) she impressed the instructors so much that they recommended her to John Park, Celtic's chief scout. Celtic say she did an "excellent job".
"I am always grateful to Celtic – everyone is speaking about the fact I am the first woman to coach a professional men's team but I was also the first female scout of a professional men's team in the world. Celtic had the courage and nobody speaks about it," she says. "It was an amazing experience, a natural thing for me, for [Park] and for my colleagues."
She means that the men she worked with saw her only as a fellow scout, a fellow football obsessive.
"I have already coached men's teams so for me it is not a new thing," she says. While at Benfica she also took charge of Cheleirense, a men's team in the Lisbon leagues. Her recent jobs have been in the women's game, lastly managing the Iran national side. She relished that but this is what she has always wanted – "a target for my whole career".
"I am seeing the barriers breaking down – not all but some – and I am happy for that," she says. "I hope [women coaches] become natural. I hope it will get better.
"I sleep very well with pressure. I will just do my job in the same way with the same persistence and the same objectives. I want to win. I have always been like that and I will always be. All I am asking is for everyone to look at me like a normal football coach who is judged like the rest of them."
Register for free to continue reading
Registration is a free and easy way to support our truly independent journalism
By registering, you will also enjoy limited access to Premium articles, exclusive newsletters, commenting, and virtual events with our leading journalists
Already have an account? sign in
Join our new commenting forum
Join thought-provoking conversations, follow other Independent readers and see their replies