Henning Berg case: Blackburn admit being 'out of control and incompetent'
Rovers claim managing director has hijacked club in court hearing over Berg's £2.25m pay-off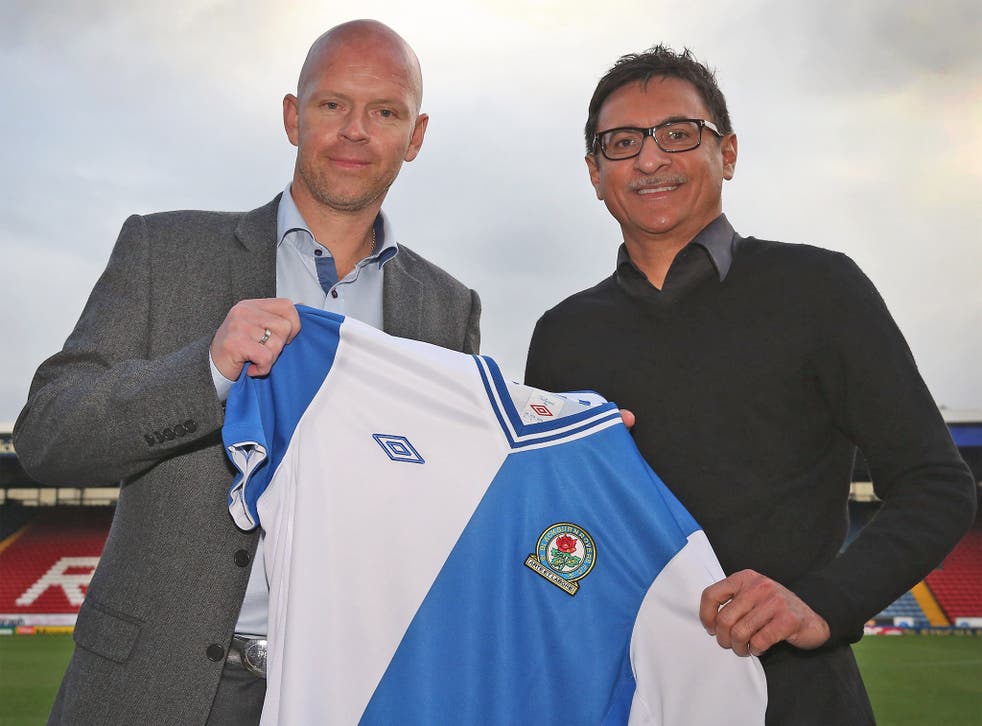 Blackburn Rovers admitted in court that they are a football club "out of control" and being run by a renegade managing director whom they claim they are powerless to suspend.
The club's lawyers conceded that the latest chapter in their efforts to avoid paying their sacked manager Henning Berg £2.25m in wages was a "shambles," but pleaded that their Indian owners were struggling to wrest control from India and at the mercy of MD Derek Shaw who is "in de facto control of the club and continuing to act without authority and his self-interest." But the Championship club, who are trying to prove that Shaw was acting without authority by agreeing a contract which entitles Berg to payment of his three-year contract in full, and not just 12 months, were pilloried in another day of deeply damaging High Court evidence.
The court heard that the Venky's empire's Rao family were perfectly entitled to suspend Shaw, under the terms of his contract, and that claims to the contrary were a facade. Judge Mark Pilling was deeply sceptical of their case – and particularly the fact that neither Anuradha Desai, her so-called "global adviser" Shebby Singh, nor any other member of the controlling family had provided any evidence to back up their claims about Shaw or the Berg contract.
Rovers' barrister Neil Berragan QC admitted "incompetence" on the part of the Indian owners. But the club was characterised by Berg's barrister, Paul Gilroy QC, as one which would "stop at nothing" to prevent the Norwegian – who was hired on a salary of £900,000-a-year – being "denied the money he is entitled to." Despite being condemned at the last hearing in this case for filing late and incomplete witness statements, another was presented by Rovers at 7.30pm on the eve of today's/yesterday's hearing.
Director Paul Agnew's witness statement, one of several documents lodged in an attempt to demonstrate that Berg was not entitled to his three years' pay, went "on and on and one" and did "not contribute anything," the court heard. Mr Gilroy also detailed how, having sacked Berg 57 days after hiring him, the club asked him to attend a meeting to explain their financial predicament to him. When the Norwegian declined, the club told him they believed he was about to breach a confidentiality agreement written into his severance deal and demanded access to "all his electronic devices," to investigate him. Berg had been subjected to a "scattergun of allegations" against him by Rovers since he had been sacked, Mr Gilroy said.
The League Manager Association deputy chief executive Olaf Dixon is ready to testify that the notion of Shaw, as Rovers managing director, not having the authority to sign the contract which offered Berg three years' payment in full, is unprecedented in his three decades in football, the court heard. Gilroy said that if Judge Pilling allowed Rovers to take its case to full trial would send "a chill wind through the entirety of professional sport and football in particular."
The case was "nothing short of a fiasco," Mr Gilroy told the judge. "You are being asked to accept that a professional football manager, when he enters negotiations to take the helm of a professional football club, sits across the desk from the managing director and then has to conduct an investigation into the authority of that person." Rovers sent Berg off to "don a track suit" and begin work two weeks before the contract was agreed, the court heard, which did not leave him in a position to interrogate its legality. Though the club claimed in court that Mr Shaw is being disciplined for overriding Mrs Desai's request for a 12-month severance pay clause, a Shaw statement on the Rovers website contradicting that fact was only removed from the site at 4pm yesterday/on Thursday.
"This is not good enough for a PLC, a football club, one of the founder members of the Football League and one whose name is engraved on the FA Cup more than any other at the end of the 19 century," Mr Gilroy said. "It was in the Premier League only a year ago; a multi-million pound business. To ask a High Court judge to recreate the fact and create a case [like this] is nothing short of a fiasco."
Judge Pulling reserved judgement until Monday on whether he will accept Berg's attempt to seek an immediate summary judgement on his £2.25m demands, rather than be put through a full trial. Mr Berragan said that by the time a trial was constituted, Mr Shaw would be removed in place of "a competent board of directors who take control of the club." Mrs Desai and her family, he said, were currently "seeking to exercise control (of the club) but are being frustrated in doing so." The hearing continues on Monday.
Register for free to continue reading
Registration is a free and easy way to support our truly independent journalism
By registering, you will also enjoy limited access to Premium articles, exclusive newsletters, commenting, and virtual events with our leading journalists
Already have an account? sign in
Register for free to continue reading
Registration is a free and easy way to support our truly independent journalism
By registering, you will also enjoy limited access to Premium articles, exclusive newsletters, commenting, and virtual events with our leading journalists
Already have an account? sign in
Join our new commenting forum
Join thought-provoking conversations, follow other Independent readers and see their replies