Ian Burrell: Now Portsmouth will finally be run by people who care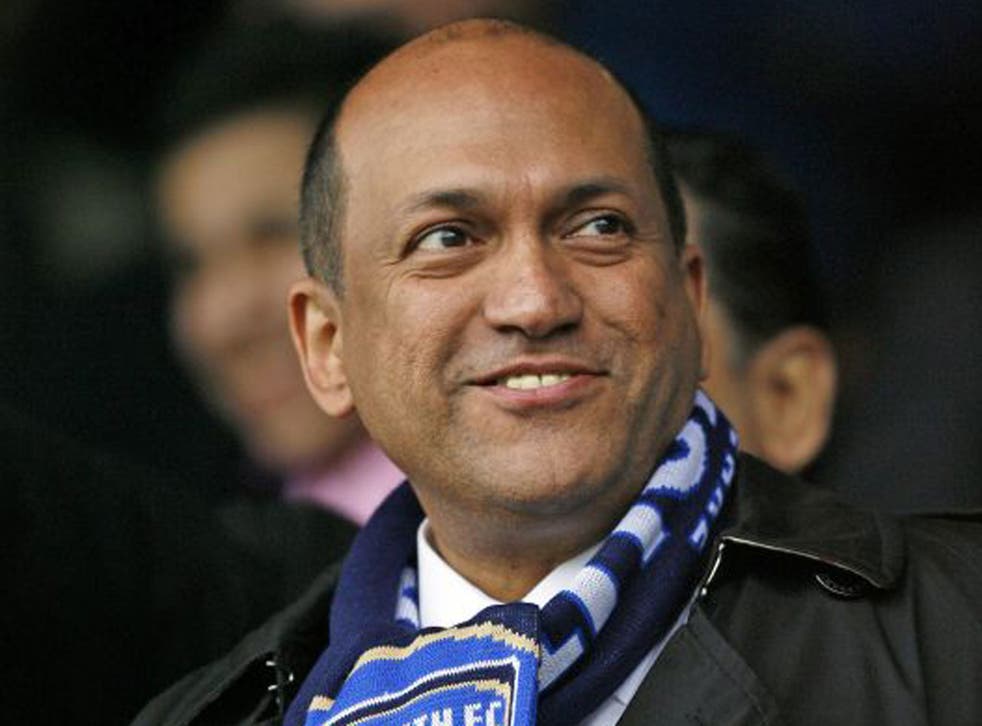 Today I'm looking forward to my first game as an owner of my football club. Not just me – thousands of other fans have forked out money for a share of Portsmouth FC and saved it from going to the wall.
We've paid more than cash. Over the past three years, since the club first went into administration, supporters have suffered the sleepless nights, the stomach acid and the grey hairs that come with watching the life being squeezed out of something you hold dear.
None of the three relegations we will have experienced over the past four seasons has been remotely painful in comparison to the long-running threat of the club closing altogether.But now that's over. A High Court hearing on Thursday saw a settlement between the Portsmouth Supporters' Trust (PST) and Balram Chainrai, the Hong Kong financier who repeatedly took the club to the brink of extinction.
Chainrai did not have a background in football and was rarely seen at Fratton Park during his various tenures. He took a chunk of tickets for the Royal Box at the 2010 FA Cup final against Chelsea and sat next to Prince William, despite being asked by fans to give those seats to the charities owed money by the club he had just put into administration. This astute businessman apparently invested £18m in Portsmouth when it was already in financial crisis in 2009. He has been chasing the money ever since – a debilitating process for the club that finally ended this week.
At last, Pompey is in the hands of people with an affinity for the team and the city it represents. It will be run by people interested in the sport, something that hasn't been the case for a while.
The simplistic argument that Portsmouth chased the dream of football success and strayed beyond their financial limits will never be accepted at Fratton Park. There were other motives.
Among the opportunistic "money men" who plonked their backsides in the directors' box – from Israel, Russia, the United Arab Emirates and beyond – none seemed there for the love of football. One reputedly asked whether the American time-out rule applied. Another took his wife shopping in Liverpool while Pompey were playing at Anfield. One Saudi Arabian owner probably never existed.
Portsmouth has, I'm afraid, become a byword for football mismanagement. But after years of fans from other clubs staring at us in horror, Pompey might have turned from the skeleton in the rusty gibbet to a beacon of hope for the future.
Our historic day in court coincided with news of a financial crisis at Bury. Blackburn Rovers seem trapped in a downward spiral similar to the one we've just pulled out of. Coventry City are also in peril and have sought advice from Pompey fans.
The PST was only formed as a safety net. But Pompey was such a basket case that there were no credible prospective buyers. Other stricken clubs may find themselves in a similar position. Our motto became "Trust or Bust". The PST chairman, Ashley Brown, and his team worked unpaid to get us home against the odds. We'll have Iain McInnes – a true Pompey fan – as our club chairman.
Having shamefully allowed Chainrai's 2010 sale of Portsmouth to Russian Vladimir Antonov (now fighting extradition on multi-million pound fraud charges), the Football League backed the PST's bid. The League rejected a bizarre late intervention from football fixer Keith Harris, who said he wanted to run Pompey – the club he helped Chainrai flog to Antonov.
The future won't be easy, as we can see from pioneer trust-run clubs like Exeter City. Pompey, a club with two English titles and two FA Cups to its name, must stabilise next season in League Two. Finances will be limited, no matter how many season tickets are sold in the heady atmosphere of our new independence. The club's new shareholders – like myself – must avoid infighting and keep our ambitions in check or more financial woe will quickly come.
But matchdays at Fratton Park have always been special. Even this season, as a ragtag squad endured a run of 23 games without a win, there was unstinting support for the players. And from here on, Pompey is not just our team, it's really our team. I can't wait.
Ian Burrell is a lifelong Portsmouth fan
Register for free to continue reading
Registration is a free and easy way to support our truly independent journalism
By registering, you will also enjoy limited access to Premium articles, exclusive newsletters, commenting, and virtual events with our leading journalists
Already have an account? sign in
Register for free to continue reading
Registration is a free and easy way to support our truly independent journalism
By registering, you will also enjoy limited access to Premium articles, exclusive newsletters, commenting, and virtual events with our leading journalists
Already have an account? sign in
Join our new commenting forum
Join thought-provoking conversations, follow other Independent readers and see their replies