Ian Herbert: Is Fergie's final legacy a complete disregard for the fourth estate?
Here the journalist bans are dished out like confetti as clubs wield their muscle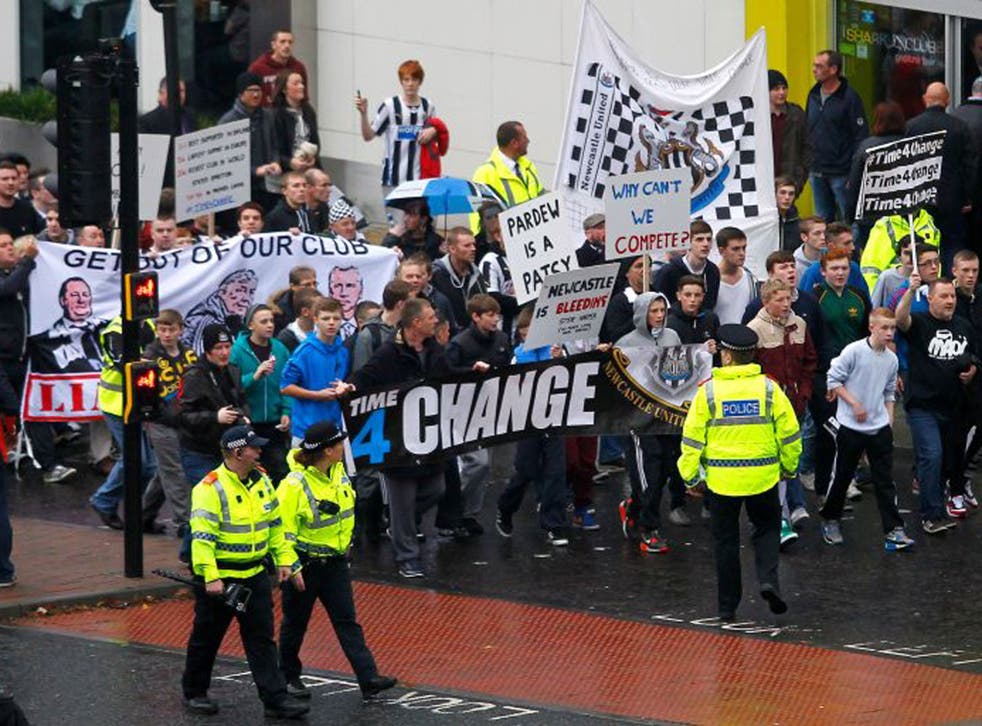 The beauty of Jon Snow's interview with Sir Alex Ferguson, last week, lay in the way the Channel 4 broadcaster confronted the former manager with all his own contradictions: he was the socialist supporter of rampant capitalist owners; the "God" with an extremely thin skin, as Snow put it. For those who have been involved for years in the wars of attrition which an audience with Ferguson entailed, the deepest fascination lay in the Glaswegian's need to hold in check the old familiar fulminations with his inquisitor – "Jesus Christ!", "No, no, no, no" and "Get your facts right" – because there were books to be sold.
You certainly didn't need to be a mind-reader to know that behind the forced smile Ferguson was making a mental note that where future interviews were concerned Snow was "fucking finished" – to quote another of his old favourites. Do your best if you're going to take Ferguson on, because you'll only be getting the one chance.
One man who knows that adage only too well is the Channel 4 journalist who was actually heaven-sent for Tuesday night's Channel 4 News interview – Michael Crick. Crick on Ferguson really would have been TV gold, though any such prospect vanished when he produced the best piece of journalism ever undertaken on the former Manchester United manager.
Crick's (extremely unauthorised) 2002 biography, entitled The Boss, showed him to be a man who knew Ferguson inside out. It was that which rendered the barbs Crick decided to toss in the direction of football journalists, on the day of the autobiography launch last week, all the more surprising. That fraternity were generally "too terrified to ask the right Qs" Crick tweeted, asking: "Will general reporters at today's Ferguson book launch press conf be a lot tougher than football writers?"
Well, as it happened, it was the sportswriters who tackled Ferguson at the Institute of Directors press launch on the Magnier/McManus dispute last Tuesday morning – and also on the "disappointment" the ex-manager must have felt at being unable to "control" Wayne Rooney. Crick's Twitter shots were cheap and certainly not smart enough to warrant a day of all-out warfare on social media. Neither was his implication that political journalists performed better amid similar journalistic constraints – as if MPs, with their perennial need of the publicity attendant on getting re-elected, are honestly comparable with football managers.
But Snow's interview – a vastly more revealing one than the audience Ferguson granted a gushing Charlie Rose in the United States – does raise the question of whether those who write on sport should allow this autocracy to go on. There were times over the years when Ferguson seemed to decide in advance what to say, with reporters in place as go-betweens, and there would have been less fear of the consequences of breaking his grip if the press had been willing to boycott Manchester United when some of the more ridiculous exclusions were doled out.
(The Daily Mail incurred four in 10 years. There were three in six for The Independent and a permanent exclusion for The Guardian's Daniel Taylor, for the temerity of writing a good – and actually rather affectionate – book This is the One about the process of covering United.) None of that would have happened on the Continent. Journalists in Milan memorably stood up en masse and walked out on one occasion after Jose Mourinho had taken his seat, a week after banning an individual journalist. Here the bans are dished out like confetti – two more in the last 24 hours – as clubs continue to wield their muscle in the most miserable ways.
At Sunderland's Stadium of Light, on Sunday, we were treated to the spectacle of the chief sportswriter from Newcastle's The Journal, Mark Douglas, being told by the visiting club's media manager that he could not put any questions in a post-match press conference, after he had asked Alan Pardew how he felt his team had played in the Tyne-Wear derby. The Journal, Evening Chronicle and Sunday Sun have all been banned from press conferences and matches at St James' Park, after covering a fans' protest march against Newcastle's owner, Mike Ashley, a week or so ago. A debate on the 500-strong march was carried on the Chronicle front page, with an editorial inside the paper, which was in no way partisan. The papers had known of the ban last week but had been trying to keep it in-house while they sought an accommodation with the club. To see the ban enforced on another club's premises was extraordinary.
News also surfaced yesterday of the ban imposed on the Stoke Sentinel by Port Vale, whose chairman, Norman Smurthwaite, has also taken what appears to be an unprecedented step, in demanding the paper pays out £10,000 a year for the privilege of covering the club. Their crime? Asking Mr Smurthwaite about delays in the arrival of limited edition third-choice shirts, after some of the 1,000 fans who paid £55 for them several months ago had told the paper that theirs had not arrived. The Sentinel's reporters and photographers are both now excluded.
You have to hope that the collective ranks of those who cover Vale will tell the club where to stick their matches and press conferences, though we know that won't happen. Just as it hasn't at Nottingham Forest, where bans are being handed out like there's no tomorrow. Clubs believe they can act with impunity because of the commercial dependence on football material shared by local and national media. But collective action is possible. The News Media Coalition got involved last season when there was a dispute about perceived changes to live blogging from games. Restrictions imposed by the Board of Control for Cricket in India prompted a similar blackout on photographic coverage of England's tour last year.
Press conference bans for individual journalists are more complex but simply require a spirit of solidarity to take hold at a local level. "We'd rather be banned than gagged," the Evening Chronicle's editor Darren Thwaites said yesterday and, though clubs may feel their local media is especially in thrall to them, the alternative diet of saccharine, uncritical in-house website material will soon reveal itself to be a desperately poor alternative to journalism.
No one pretends that a Premier League manager will be facing Snow's kind of inquisition. Diplomacy is part of this job, too. But it was hard not to observe Snow going to work on Ferguson last week – "How do you sleep with the debt your owners created?" and "How do you marry an admiration of raw capitalism with your politics?" – without being fortified in the belief that there can be another way.
Tendulkar maintains his class until the very end
The retirement of Sachin Tendulkar is a story with no angle, only an accompanying sense of anguish about the transience of the greats. He has provided cricket with 100 international centuries – 29 more than Ricky Ponting, the next best, and 51 in Test cricket – yet though the talk will be of numbers like that, when he walks out for the 781st time for India against West Indies in Mumbai next month, he will be most missed for the lingering reminder he provided of what Indian cricket represented in the days before the brashness of the modern age.
India's economy was a sixth of its current size when a schoolboy Tendulkar launched himself on international cricket, in Karachi, in 1989. The kind of telecommunications and rampant commercialism that would lead to him adorning Pepsi billboards across the land were unthinkable back then. Perhaps, in the final reckoning, he did not eclipse the great Sunil Gavaskar, who scored almost as many runs against stronger bowling attacks and in Indian sides with lower expectations. But Tendulkar has journeyed through two ages in India and, though rich beyond his wildest expectation, has emerged with modesty and thorough decency intact. Cricket – and India – will thank him for that.
Register for free to continue reading
Registration is a free and easy way to support our truly independent journalism
By registering, you will also enjoy limited access to Premium articles, exclusive newsletters, commenting, and virtual events with our leading journalists
Already have an account? sign in
Register for free to continue reading
Registration is a free and easy way to support our truly independent journalism
By registering, you will also enjoy limited access to Premium articles, exclusive newsletters, commenting, and virtual events with our leading journalists
Already have an account? sign in
Join our new commenting forum
Join thought-provoking conversations, follow other Independent readers and see their replies