Ian Herbert: Making Fergie talk is futile when there are many interesting voices at United
Wayne Rooney is the most articulate and when he stops, his team-mates take over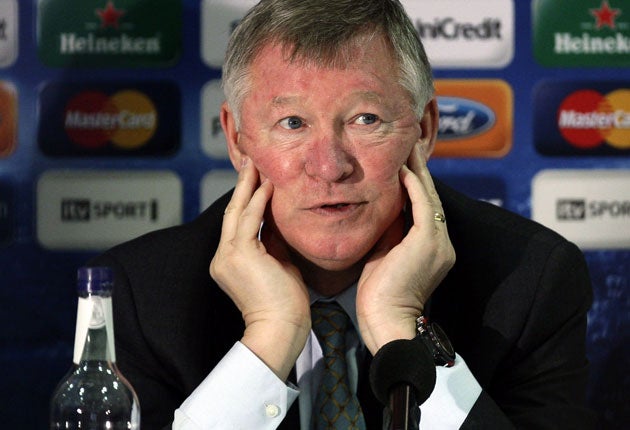 You'd expect a one-time apprentice's shop steward at the Remington Rand toolworks on the Clyde, who led a walk-out in protest over another union man's dismissal, to advocate the right of free speech in this country. But what about the right to silence?
We are about to find out because the Premier League wants to enforce Manchester United's contractual obligation to make Sir Alex Ferguson available to the BBC and others after matches. When they broached United on this delicate subject, a response came back along the lines of "give us a year – we'll talk to him." That was... about a year ago. This one's going to be interesting; the kind of encounter which, were ITV to screen it, might carry the "drama premiere" logo and a sponsor.
The BBC are not alone, when it comes to post-match exclusion from Ferguson. There's an elegant conference room laid out for him at Old Trafford but you'll only ever find the opposition managers in there, usually bemoaning a futile afternoon's toil. He didn't even show after United's home draw with Arsenal took them to the title last May. His thoughts after a home game are generally transcribed from the forest of dictaphones held up to a TV, tuned to United's in-house channel for the moment when his flushed countenance looms into view.
The Trappist stance, you remember, began six years ago in the wake of Father and Son, the BBC Three documentary that made allegations over son (Jason) taking advantage of father's influence while working as a football agent. Neither has life been entirely the same with the press since Chelsea's brief period of hegemony in the middle years of the last decade prompted a lot of talk about Ferguson being finished in the game. Hindsight is a wonderful thing. Those who believe it is time for him to be hauled back into line will welcome the notion of an official warning for the United manager, followed by fines of increasing magnitude. But any notion the Premier League has of dragging Ferguson back to the centre of the nation's footballing life is a delusional one.
If you want evidence of what happens to those who seek to push this individual into places and answers he is not amenable to, sample last Friday's morning press conferences where doubts about Wayne Rooney's availability for Saturday's trip to Bolton were an obvious talking point. No great powers of intuition there: Rooney left Old Trafford with such a pronounced limp after last week's Liverpool match that it was a wonder that wife Colleen, walking alongside, didn't offer him a shoulder. "Limping.... six days ago? Jesus! There's no problem." Ferguson blazed, wafting the inquiry away. But Rooney didn't play at Bolton. The story the manager offered on Friday was the one he chose to tell; of how solitary it still feels after all of these years to be the awa- team manager, wiling away the minutes until a 5.30pm kick when so much rests on a match. No great headline issue there, just one of the game's greatest conversationalists holding court. Something like that can't be written into a TV rights deal.
The Premier League may contend that the Champions League broadcasters get their tuppenny worth from Ferguson, though his appearances before the tournament's ubiquitous blue and white livery – the latest is at 3pm today at Bayern Munich's Allianz Arena – increasingly leave the impression that he's discussed the same opponents so often that he wonders what more there is left to say. The television clips never reveal the real story – Ferguson leafing through the match-day media pack during proceedings, murmuring away to the player selected to answer questions with him.
Yet for all that, his appearance generates a need for news to satisfy the media machine, even when there is none, and that's where the problems begin. Ferguson's words conveyed so little before the Champions League match in Milan six weeks ago that the story to go on was based on a facial expression: the hint of impatience he seemed to convey with a lingering Nemanja Vidic injury. Can a look really convey a story? Did his words really bear it out? It's too late for second thoughts, of course, once a story is published and the internet instantaneously propels it to every corner of the earth. It is, as Churchill put it, "halfway around the world before the truth has a chance to get its pants on."
Quotes are all a part of the theatre, of course, and even more so now that friendships between players and those who write about them are ruled out. We've travelled a long way since the days when Sir Matt Busby told his players to "treat the press the same way you would a policeman." But at times, the process of extracting meaning from nuance is a bit like being a Kremlin correspondent. The less said, the more extracted from the crumbs, the more the manager suspects the extractors, the less said... Which is why the Premier League should pursue something more meaningful than war with Ferguson.
It is entitled to demand something better than it is getting after matches from a club whose steadfast unwillingness to cooperate on the issue endears them to no-one. But leave the manager out of it. The Champions League proves there is a far more fruitful place to look – in the corridors outside the sides' dressing rooms where, under the terms of the tournament, players can also be asked to stop to discuss matches after games. It is here – in the mixed zone – that some of the new voices of Manchester United are being heard.
Wayne Rooney is arguably the most articulate of all of them. (Say all you like about his agent, Paul Stretford, but he has done something quite remarkable with him in the media training department.) And when Rooney stops, his team-mates seem more willing to take over, too. This elicits conversations with players like Jonny Evans and Rio Ferdinand, which are also particularly worth having. They are rarely laboured because no-one is forcing them. Perhaps these are the lines the Premier League should work on. A guaranteed conversation with United's captain or a senior player would bring far more meaning to a Saturday night than a manager who has been dragged to the microphone to talk.
Watmore's proposed cuts prove infectious
It might take a few weeks for a smile to break over the face of Ian Watmore but the front page of yesterday's Sunday Times must have threatened to bring one out. "Generals told to travel 2nd class" was the headline, Gordon Brown having apparently broached this topic with armed forces top brass. This was the same issue Watmore took up with blazered Football association personnel in the week before he decided he had had his fill as FA chief executive – and with some success, apparently. It's a reflection of the arcane ways of the FA – which turned over £261.8m in the financial year to 31 December 2008 but still ended up with a pre-tax loss of £15.3m – that its many grassroots officials are entitled to claim first-class rail travel to Wembley. This is the same FA that finds itself paying out tens of thousands a year on QCs bills. Watmore had tackled that in his last week, too – 48 hours before Sir Alex Ferguson described the FA's disciplinary system as "dysfunctional". Asked three days ago about this timing, Ferguson declined to comment. Never mind last week's faintly patronising murmurs of what good work Watmore was doing; regrets he's going, etc. Here was an individual with an outsider's eye on the world of football, with a desire to shake it from a lethargy.
Moyes puts himself in Mancini's corner
Someone draped a pair of boxing gloves around David Moyes' wing mirrors last week. It was a gesture in keeping with the way the Everton manager conducted himself in the aftermath of his handbags in Roberto Mancini's technical area. But there was a self-deprecating grin on Friday when he admitted that he'd waded in himself a few times, just like Mancini did, but offered some warm words for the Manchester City manager. City's millions have brought out the worst in opposition managers at times but Moyes only brought dignity to his club. "It's how you handle yourself and behave," he said, proving that bitterness never pays.
Join our commenting forum
Join thought-provoking conversations, follow other Independent readers and see their replies