Ian Herbert: Numbers coming out of Manchester United show landscape is changing under the Glazers' ownership. Maybe it's time for a truce?
The alternative course of non-engagement with the American owners is now hopeless
Ian Herbert
Monday 02 December 2013 23:46 Comments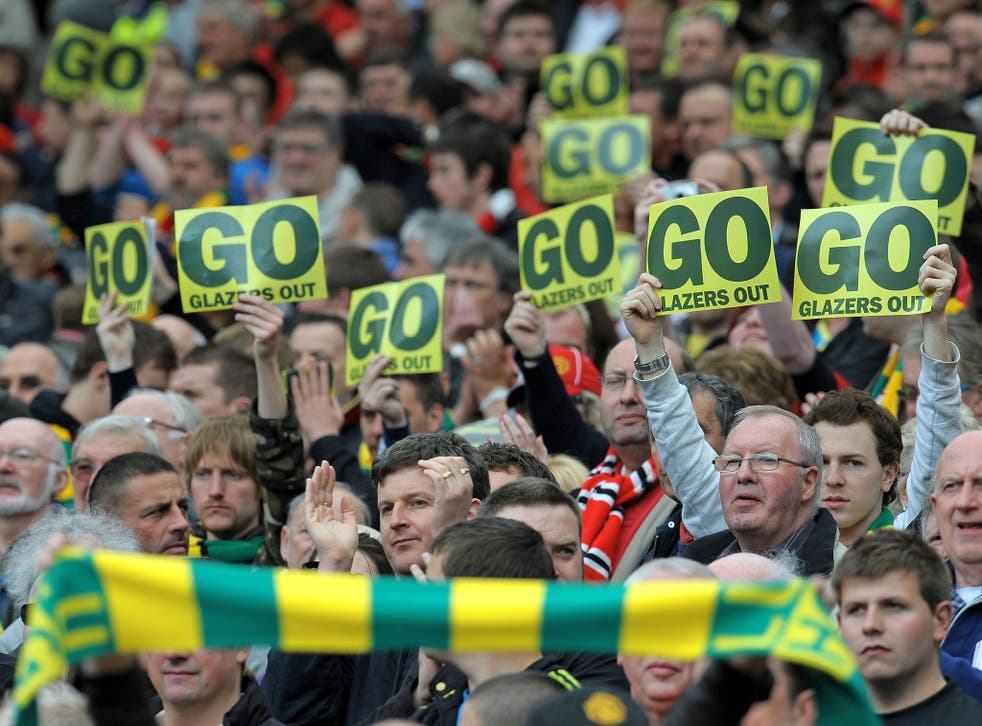 It requires a deep intake of breath to tell any Manchester United fans to put away their war with the Glazers. The loathing for those people is as indelible as the lamp post stickers on the approach roads to Old Trafford. "Love United, Hate Glazers," they state, in red and black ink, because the club's owners have bled the club of £600m, give or take a few million, in interest repayments, lawyers' fees and refinancing costs – the sum total of which has seen United disappear into the rear-view mirrors of Bayern Munich and Barcelona since they were crowned Champions League winners in Moscow five years ago.
The Glazers would have to answer for their sleight of hand, too, if a truth and reconciliation commission on their eight years at Old Trafford were held tomorrow. They have not submitted themselves to so much as a moment's personal accountability, so were able to backslide on the promise to put the proceeds of their putative Singapore Stock Exchange Initial Public Offering (IPO) into the club – a pledge which had mysteriously vanished when they repackaged the offer for the New York Stock Exchange two years back. One of the supporters who has led the battle to drive the Glazers out of the club once described competing with Manchester City whilst haemorrhaging debt payments as akin to driving a racing car full of concrete whilst up against a vehicle kitted out with extra powers of acceleration.
But the numbers coming out of United are telling us that the landscape is changing. The club's recent first quarter results confirmed the sense that the debt repayments are now manageable, with financial analyst Andy Green's typically shrewd reading of the figures charting the reduction in the annual cost of paying for the debt from £72m three years ago, to around £20m now. That's the equivalent to flogging off a Marouane Fellaini each season rather than a Cristiano Ronaldo, even though a residual debt of about £280m remains. The Glazers staked the club to buy the club and, somehow, have managed it. They have avoided the car-crash endgame of the Tom Hicks/George Gillett leveraged buyout at Liverpool, with chartered accountants' liquidity warnings and the Royal Bank of Scotland imposing executives to get them out in 2010.
The evidence grows that United have moved from a position of survival to one of expansion. This newspaper's revelation in August that they were seriously involved in an attempt to beat Real Madrid to buy Gareth Bale was one piece of that picture. United will seek to buy one of the world's top players next summer – a move which is based on the fact that winning the Premier League means far more than finishing third, when it comes to commercial deals, as well as broader merchandise and marketing spin-offs.
The club is also awakening to the value of engaging with supporters. This is not an altruistic exercise, it should be said. United's new chief executive, Ed Woodward, looks longingly at the Bundesliga match-day model, in which fans who love the club as well as the team flock to the stadium, buy far much more than their match ticket and generate an atmosphere he would die for. He wants the world to see that kind of compact between fans and club at Old Trafford, too, because of the picture it projects. How much superior a brand image than the perennial sense of suspicion and anti-corporatism that washes around social media every time a new high-profile United sponsorship deal is in the bag.
For those many fans set implacably against the owners who have stolen into their club and mortgaged it, the very idea of engagement is anathema – and that is why the Manchester United Supporters' Trust (Must) and the Independent Manchester United Supporters Association (Imusa) found themselves in complex territory, after Woodward sought meetings with them both, bringing an end to the ostracisation both groups faced during the David Gill/Sir Alex Ferguson years. Parties to both meetings have committed to confidentiality, though it is hard to avoid the impression that Woodward has given a deeply compelling sense of his own commitment to engage with them. Must argues that the ownership culture Woodward now seeks must be a two-way street, involving a component of fan ownership. It wants the Glazers' next share offering to include a component of shares that supporters may buy, with the proceeds ring-fenced for Bundesliga-style rail seats – a step towards an Old Trafford safe-standing section.
The understandable cynicism borne of the Glazer years led to criticism of Must's proposal from some quarters, when it was reported on these pages two weeks ago, and to observe the blizzard of hostility blowing the Trust's way was akin to viewing the response when the combatants of a war begin petitioning for peace. Must is too inured to the Glazers' ways to be too idealistic about this being anything other than a false dawn. The biggest unknown is how much sway Woodward actually has to persuade the Americans that fans should be permitted to own a share in the club. But the alternative course of non-engagement is, literally, hopeless. The Glazers will not be swept out of Old Trafford now. Their financial position is too secure to allow an insurrection to drive them away.
Week by week, we garner evidence of some extraordinarily disenfranchised supporters in Britain – forced by despotic foreign owners to swallow a change of colours, manager, name and, in the extraordinary case of Hull City's Assem Allam at the weekend, told that "they can die as soon as they want". Some of these proprietors actually make life with the Glazers look like a picnic. To begin engagement and secure minimal ownership at least creates the possibility of something meaningful happening at United. After a decade of nothing that must count for something.
Hearn seems to hold all the cards for Froch/Groves II
I didn't catch Garry Richardson's interview of Carl Froch on the BBC's Sportsweek until several days after the event. Froch's confident, isn't he? Not far away from Chris Eubank, as talkative boxers go, and to hear Richardson's typically adroit sparring with him – politely but deftly pushing things as far they would go – made for some more excellent sport.
It was when Richardson raised the prospect of a rematch with George Groves that Froch cut up rough, archly declaring that it was his promoter Eddie Hearn's decision whom and where he fought. Froch neglected to say that Hearn is Groves' promoter too – a fact that makes the controversy surrounding the way the last fight finished feel like a contrivance, whipping up the pay-day for a next contest.
Register for free to continue reading
Registration is a free and easy way to support our truly independent journalism
By registering, you will also enjoy limited access to Premium articles, exclusive newsletters, commenting, and virtual events with our leading journalists
Already have an account? sign in
Join our new commenting forum
Join thought-provoking conversations, follow other Independent readers and see their replies