India falling for the beautiful game
Inaugural ISL, which has its final on Saturday night, has been surprising hit in cricket-mad country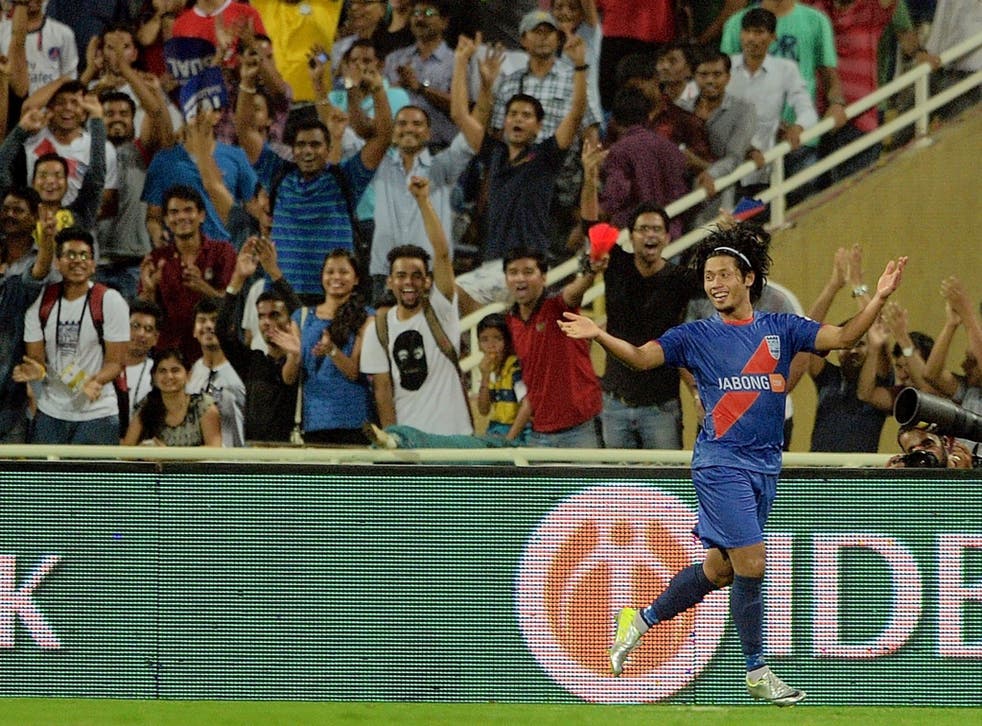 India's first experiment with top-level club football comes to a close this evening when Atletico de Kolkata face Kerala Blasters in the final of the Indian Super League, a tournament designed to kick-start a football revolution in the country where cricket is king.
Over the past 10 weeks the beautiful game has enjoyed unprecedented national attention as eight teams have battled it out for the right to be crowed inaugural ISL champions and help the game spread its tentacles across India.
The eight teams have been made up of fading stars of the European game and home-grown Indian players, financed by some of the country's most illustrious sporting, entertainment and business names. The ISL is a five-year joint venture between Rupert Murdoch's Star India, India's largest satellite television group, IMG and Reliance, one of India's wealthiest corporations. The likes of Alessandro Del Piero, Luis Garcia, Robert Pires and Alessandro Nesta have been paid in the region of up to £1million for competing in the groundbreaking competition.
Fifa president Sepp Blatter once described India as "a sleeping giant of world football" and the reaction to the ISL suggests it just might be waking up.
The level of football on display has been much better than anticipated, with many comparing it to the second tier of some of Europe's top leagues, a marked improvement on anything seen on Indian soil before, while crowds have averaged almost 25,000, the highest for any domestic league in Asia this year.
A staggering 400 million television viewers had tuned into the ISL at its midway point. The opening match, between Atletico de Kolkata and Mumbai FC, attracted a TV audience of 74.7 million, the highest for an Indian football match. The first week of the tournament was watched by a total audience of 170 million. In contrast, 87.6 million watched the first week of this year's Brazil World Cup.
Former England international goalkeeper David James will be hoping to secure his first managerial honours with Kerala Blasters but whatever the result in Mumbai's DY Patil Stadium tonight, if the ISL helps football to gain a firm foothold in India, then there is sure to be one winner:the Premier League.
It was no coincidence that a Premier League roadshow, led by Robbie Fowler and Peter Schmeichel, arrived in Mumbai last weekend as English football attempted to cash in on the ISL and further establish its own popularity.
If Indians are gradually learning to love the beautiful game then it is England's traditional top four, Manchester United, Arsenal, Chelsea and Liverpool, that occupy a special place in their hearts.
At many ISL matches there were more fans wearing the shirts of one of these clubs than those decked out in the colours of the team they had come to support. A live broadcast of the Manchester United v Liverpool match at last week's Mumbai event attracted a crowd of more than 30,000.
All top-level English games are televised live in India and each week around two million people in the country engage with the Premier League on social media. According to one Indian TV industry report, last year England's top football competition reached 155 million viewers.
Figures by the World Bank show that 42 per cent of India's 1.2 billion people consider themselves football fans. The total pay-TV audience in the country is estimated at 600 million. Viewing figures for the Premier League are set to increase following the introduction of match commentary in Hindi.
Premier League chief executive Richard Scudamore told an Indian newspaper: "The Premier League is increasing in popularity in India. We have been broadcasting it for quite some time but we have seen that interest level grow.
"I am pleased that the ISL has had a huge impact in India. Obviously cricket will be the No 1 sport in India forever in my view and we are not naive to think that is not the case. But there is a sporting atmosphere in India that people appreciate and it was only a matter of time before football started to take off."
Former England and Everton midfielder Peter Reid, who managed Mumbai FC, admitted that he was surprised by his experience in India.
He said: "I wasn't expecting the football to be as competitive and the crowds have been fantastic. The ISL has been very positive for the future of the game in India. Obviously there have been some teething problems but that's to be expected with any start-up league.
"Indian football fans are very knowledgable about the Premier League, particularly the top clubs, who enjoy a huge following. This is still an untapped market for them and could be very lucrative in the future."
It is not just the Premier League that senses rich pickings as a growing, wealthy middle class in India becomes increasingly interested in football. Atletico de Kolkata are a quarter owned by Atletico Madrid, who are building an academy in Kolkata and implementing a number of development programmes.
Internazionale are in partnership with Chennaiyin FC and are also building an academy which will be overseen by the Italian club's former player Marco Materazzi, who managed the south Indian team in the ISL.
While the ISL and the influence of foreign clubs has been welcomed, football analysts in the country insist that the focus must be on developing the game at the grassroots level.
India's leading football expert Novy Kapadia said: "The ISL and the passion for the Premier League merely glosses over the the chronic problems of Indian football. The main domestic competition is in a sorry state, the national team is a disaster and there are no meaningful facilities for young players."
For the moment, all eyes are on today's final. This being India, however, cricket is never far away. Kerala Blasters are co-owned by Sachin Tendulkar while Atletico de Kolkata are co-owned by Sourav Ganguly, and fans and media have dubbed it a clash between two legendary proponents of the game that is likely to retain top ranking however popular football becomes.
Register for free to continue reading
Registration is a free and easy way to support our truly independent journalism
By registering, you will also enjoy limited access to Premium articles, exclusive newsletters, commenting, and virtual events with our leading journalists
Already have an account? sign in
Register for free to continue reading
Registration is a free and easy way to support our truly independent journalism
By registering, you will also enjoy limited access to Premium articles, exclusive newsletters, commenting, and virtual events with our leading journalists
Already have an account? sign in
Join our new commenting forum
Join thought-provoking conversations, follow other Independent readers and see their replies