Is being ordered to play behind closed doors really a punishment?
Hungary will play Romania this week in front of a sparse stadium
Matthew Campelli
Wednesday 20 March 2013 15:03 Comments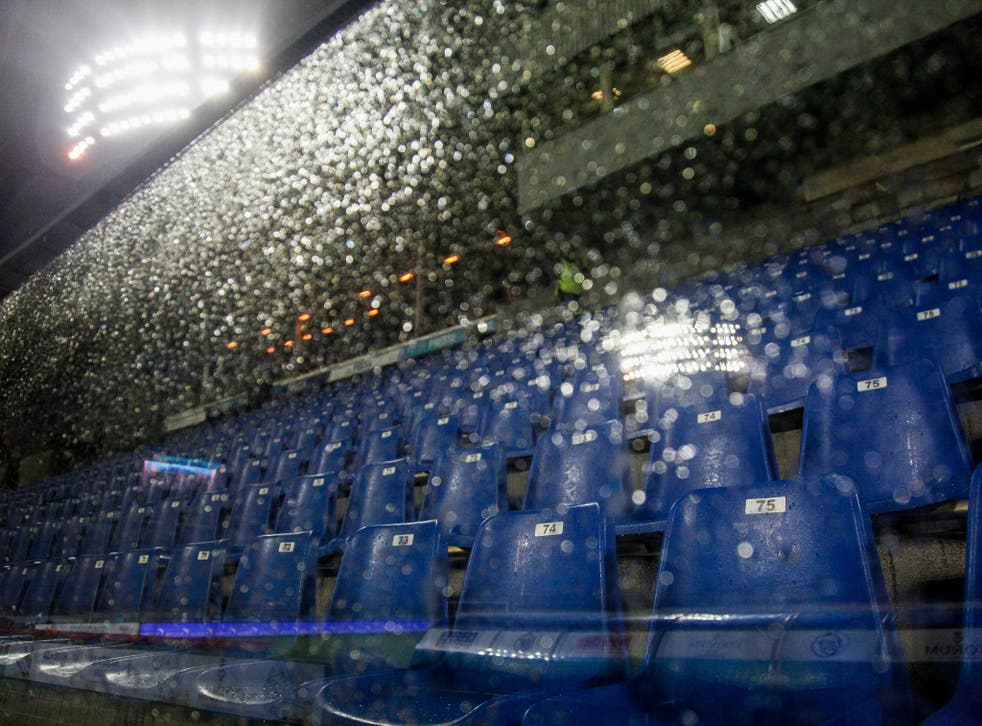 The war against racism in football continues this weekend as World Cup qualifiers replace domestic competition. This time Hungary are being punished for subjecting the Israel team to anti-Semitic chanting in last August's friendly international. The penalty? Friday's crunch Group D match against Romania will be played behind closed doors.
But is this measure enough for an incident that Fifa labelled "offensive, denigratory and discriminatory"?
The match is one of the most important in Hungary's bid for World Cup qualification - the hosts are second to Holland in the group with Romania just behind in third, although they both hold nine points. Because of the crucial nature of the meeting, the Hungarian Football Federation appealed the decision, but the judgement stood.
Compared to the possible sanction of a points deduction, that was suggested soon after the incident, perhaps Hungary can count themselves fortunate with the outcome. Fifa have stated that if future fan behaviour resembles the appalling scenes last summer, Hungary may be disqualified from upcoming competitions.
The logic behind such a punishment is that the home side will not hold such a territorial advantage, without vocal or intimidating fans – often a distraction for visiting teams. On a more practical note, a lack of spectators will eliminate the possibility of crowd trouble altogether. Certainly a financial blow will be felt but is it such a disadvantage for the penalised team? Have previous results suggested that the punishment is successful?
Inter Milan  - Champions League campaign 2005
Inter were ordered to play their three group home games behind closed doors after trouble erupted during a quarter-final loss to city rivals AC Milan in the previous campaign. In spite of the punishment, the Italian giants won all three games, scoring seven goals against Rangers, Porto and Artmedia Bratislava.
Zenit 1 – 1 Anzhi Makhachkala (December 2012)
The Russians were reprimanded after the opposition goalkeeper was injured by a flare during a home against Dynamo Moscow. As well as having to play big-spending Anzhi behind closed doors, they had to forfeit the previous fixture 0-3. Despite a lack of atmosphere, the game was hotly contested, while the visitors' manager Gus Hiddink suggested the punishment affected his side as well saying: "It's very difficult to play in such a cold weather and without any spectators".
Fenerbahce v BATE, Europa League (2013)
Punished after fans threw fireworks on the pitch during a match with Borussia Monchengladbach. Despite having an empty stadium, fans still managed to land flares on the pitch, and even though they played with ten men for over 87 minutes, the Turks still grabbed a 0-0 draw that contributed to an overall victory.
Register for free to continue reading
Registration is a free and easy way to support our truly independent journalism
By registering, you will also enjoy limited access to Premium articles, exclusive newsletters, commenting, and virtual events with our leading journalists
Already have an account? sign in
Register for free to continue reading
Registration is a free and easy way to support our truly independent journalism
By registering, you will also enjoy limited access to Premium articles, exclusive newsletters, commenting, and virtual events with our leading journalists
Already have an account? sign in
Join our new commenting forum
Join thought-provoking conversations, follow other Independent readers and see their replies