Jack Pitt-Brooke: Wenger's teams feel temporary, so no wonder captain decided to move on
Gunners are paying price for manager's recruitment policy adopted in '06 when club moved to Emirates
Jack Pitt-Brooke
Tuesday 16 August 2011 00:00 Comments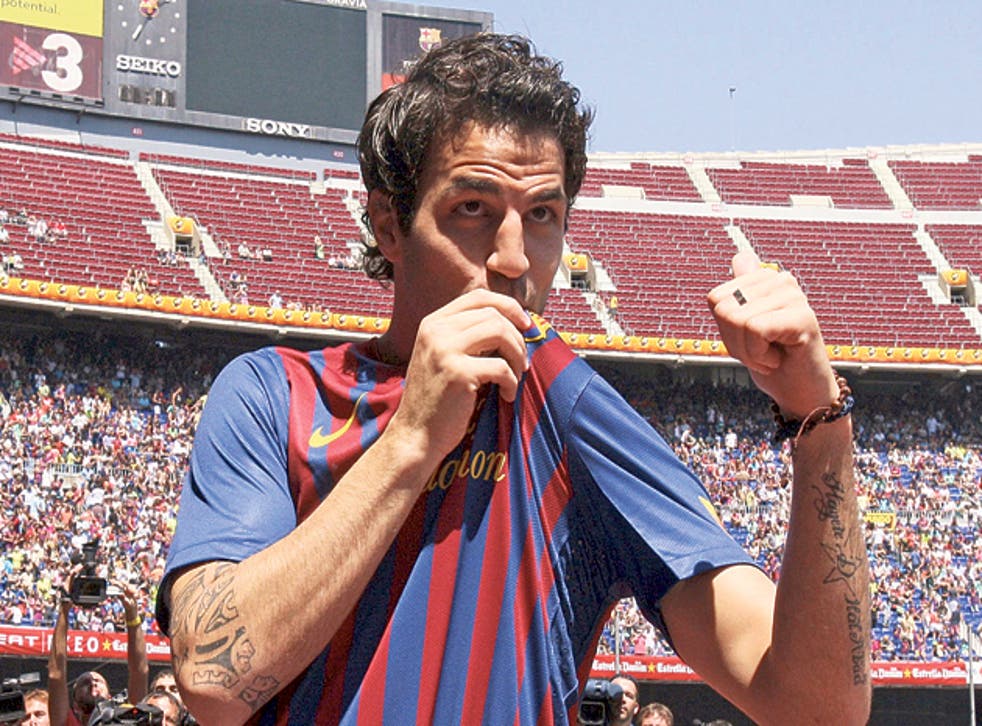 The departure of Cesc Fabregas means the end of more than just a tiresome transfer story. For years he was not merely Arsenal's captain, talisman and best player, but their tactical keystone. The team was arranged around him, and moved at his behest. Few modern English clubs have had such an ideological bent as modern Arsenal, and never has a player so embodied a system.
But now he is gone. And Samir Nasri, who represented the same distinct Arsenal style, will likely follow him. Fabregas and Nasri so epitomise Arsène Wenger's plans, that their exit feels like the end of a chapter.
The narrative of post-Invincibles Arsenal is well known. After completing one of the most remarkable achievements in the history of English club football in 2004, Wenger won the FA Cup in 2005 but, coinciding with the 2006 move to the Emirates, adopted new policies.
With the stadium needing paying for, Wenger adopted a self-sustaining model of recruitment. Players were bought as boys and sold as men, generating the required money. Fabregas is the best example, but Gaël Clichy and Emmaneul Adebayor also turned a profit. This meant that Arsenal teams had a provisional feel. But it was Fabregas and Nasri, born seven weeks apart, who were meant to stay and be the two-chambered heart of the side. The importance of the pair was even clearer when it came to the game itself. Possession football, as well as youth, was the post-Invincibles approach. Wenger abjured the athleticism of the 2003/04 team, valuing instead technique and patience.
For the last few seasons the side, playing a Barcelona-style 4-3-3, has been constructed around Fabregas.
Fabregas's response to the responsibilities thrust upon him rarely failed to astonish. From the age of 18, he was Arsenal's leading midfielder and chief creator. Everything that was good about Arsenal was good about Fabregas. From his technical perfection, to his understanding of space, to his zealotry about how the game ought to be played. The sense he was always a Barcelona player in a red shirt was not entirely damaging.
It was no surprise the best recent moments of Arsenal bore his authorship. He set up Adebayor for the win at Old Trafford in 2006. He scored from distance at the San Siro as Milan were knocked out of Europe in 2008. At the Emirates last season he masterminded the defeats of Chelsea, in which he scored, and Barcelona, in which he released Nasri to set up Andrei Arshavin's goal.
For all those moments, though, there were never the trophies which would have made it worthwhile. In an interview with Don Balon in April, the Arsenal captain bemoaned his club's approach. "We haven't been successful since 2007, despite playing good football," he said. "That's when you realise that it doesn't work." And while last season brought another challenge, the way it ended was dispiriting. Arsenal lost the Carling Cup final in the last minute, and went into a disastrous spiral. They won just three of their final 14 matches.
Most worryingly, Arsenal finished fourth in the Premier League, behind Manchester City, Nasri's likely destination. While Fabregas and Nasri have their own separate motivations for wanting to leave, there is a suspicion that, had Arsenal been better and won trophies, the midfield pair might have stayed. Nasri has already said this summer that he "came to England to get trophies" and that his priority was to "make a big career and to win titles". Wenger said in April, though, that "to be consistent at the top level is the most difficult and important thing in our job." For him, 14 years of Champions League qualification is more important.
The struggles of last season were no great shock either, for all of Wenger's insisting that Arsenal only lost due to "special circumstances". His team's flaws are well known – the mental fragility and the inability to win in difficult circumstances. Arsenal's spring collapse last year recalled their failure in 2007/08 when, five points clear at the top of the table with 12 games left, Eduardo had his leg broken and the team surrendered the title to Manchester United. Similarly, Arsenal retain an ability to fail to win games that United or Chelsea would always see out. The 4-4 defeat at Newcastle and a 3-2 loss at Wigan the best examples.
Finally, the sense that attractive football is the end, rather than the means, at Arsenal, seems to have left them less able to score goals when it matters most. Last season Arsenal failed to score at home against Newcastle, Manchester City, Sunderland and Blackburn. While United have the belief and the variety of options to overwhelm teams at the death, Arsenal often do not. If they fail to charm teams into conceding, they lack the nerve to force the issue.
Ultimately, the team built around Fabregas and Nasri has not been good enough to compel their interest. The pair were meant to be the future of Arsenal but now they are the past. For them, Arsenal was, in Patrice Evra's memorable phrase, "a football training centre" – a phase in their development but only that.
But Wenger has the foundations of an excellent team: the defensive triangle of Wojciech Szczesny, Thomas Vermaelen and Laurent Koscielny is their best for years. Jack Wilshere and Aaron Ramsey are promising. But the brain of the team has gone, and the wit may yet follow him out of the door. It is in rebuilding without them, and directing his team elsewhere, that Arsene Wenger finds his next great challenge.
Register for free to continue reading
Registration is a free and easy way to support our truly independent journalism
By registering, you will also enjoy limited access to Premium articles, exclusive newsletters, commenting, and virtual events with our leading journalists
Already have an account? sign in
Join our new commenting forum
Join thought-provoking conversations, follow other Independent readers and see their replies