James Lawton: Borussia Dortmund manager Jürgen Klopp masters the crying game to forge spirit that can shock Bayern Munich
Dortmund may be the underdog but did one ever come to Wembley with a more beautiful sheen to its coat or sharper teeth?
James Lawton
Saturday 25 May 2013 02:31 Comments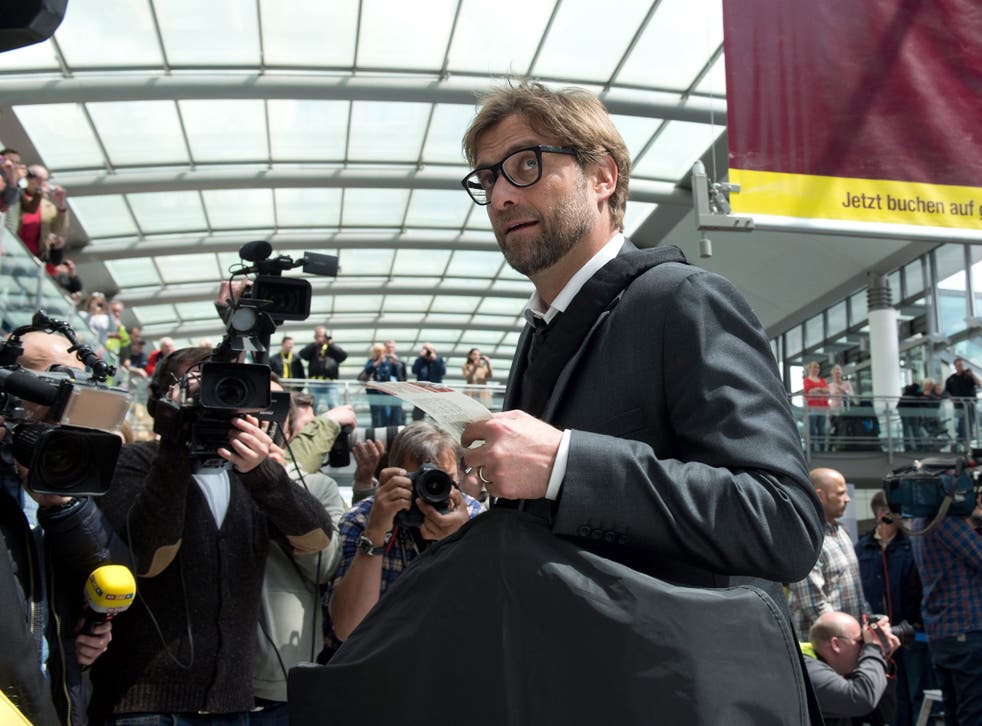 There is so much that is admirable about Bayern Munich you could almost feel guilty while rooting for their third Champions League final defeat in four years at Wembley tonight.
What, after all, is there not to like about Bayern apart from inordinate wealth and power? Even here, though, it is a bit of a stretch because when you look back at how they have acquired such strength it is mostly to do with a business model of impeccable soundness and a consistent willingness to follow the promptings of the great men in their extraordinary history.
Men, for example, like Franz Beckenbauer, chairman of the club's advisory board for the last 11 years, and Uli Höness, the current president.
Bayern have learnt classic lessons and taken the kind of advice and guidance that would have served well any football club who ever set their eyes on the peaks of the game. They do the right things and put their faith in the right people.
But then root against them tonight one must. Why? Because for them to win, Borussia Dortmund and their brilliant and thus far life-enhancing 45-year-old coach Jürgen Klopp must lose and in this quarter at least this would just not be acceptable.
Dortmund may be the underdog but did one ever come to Wembley with a more beautiful sheen to its coat or sharper teeth? It's not so easy to recall.
Did any football club ever display such luminous calm and brilliance when they annihilated Real Madrid 4-1 in front of 82,000 fans at the mighty fortress of Westfalenstadion hard on the news that their 20-year-old superstar Mario Götze had just been cherry-picked by all-mighty Bayern? Did any team make such an impressive onslaught on the Champions League as Borussia when they devoured their group opposition Real, Manchester City and Ajax? They might have been playing football from a different planet, a game of speed and touch and a wonderful tactical simplicity.
And there was Klopp rejoicing on the touchline, so close to his players that at times they seemed to be one. This week he explained that despite being on the wish list of so many of the world's most powerful clubs – and being reported to be seen as a natural-born successor to Arsène Wenger at Arsenal – he could not see beyond Dortmund for the next four years.
That represents a serious bite out of a mature man's life but Klopp suggests it will probably feel like no more than a mere inkling. He is not shy about revealing his capacity to weep. He did it when he heard that Götze was going and, he reported, three or four of his players had to share the Kleenex. He has grieved over what he considers Manchester United's failure to properly exploit the ability of his former player, Shinji Kagawa, over whose departure he also wept.
This week he recalled too the copious tears which accompanied his own departure from Mainz, where as man and boy he was a wholehearted player and then a mesmerisingly effective coach before joining Dortmund just a few years after they stepped back from the brink of bankruptcy, leading them to two straight Bundesliga titles and now this compelling challenge for the greatest prize in club football.
"Just as every player who works for Dortmund is a fan of the club, it was the same at Mainz," said Klopp. "When I was a player there we had 800 fans on rainy Saturday afternoons and if we died no-one would notice and come to the funeral. But we loved the club and we have the same feeling at Dortmund. It is a very special club – a workers' club.
"I left Mainz after 18 years and thought, 'Next time I work with a little less of my heart'. I said that because we all cried for a week. That was how long the goodbye party the city gave us lasted. For a normal person that emotion is too much.
"I thought, 'It's not healthy to work like this'. But after one week in Dortmund it was the same situation. To find this twice, to be hit by good fortune, is very unusual."
Some worry that Klopp might be a little bit too good to be true but ultimately the best guide to any coach's work is what happens on the field and if Bayern, under the veteran Jupp Heynckes whose farewell season under the shadow of Pep Guardiola has been so war-like it might have been set to the music of Wagner, walked away with the Bundesliga this season, their collisions with Borussia in the league both ended in draws. This prompts Klopp to say: "If we are in good shape – and it's all we need to think about – we can beat Bayern."
The bookmakers may dispute this emphatically – they have Bayern 3-4 and Borussia 10-3 – but even without the injured Götze, Klopp's possibilities cannot be easily dismissed, at least not by anyone who was around to see Robert Lewandowski strike four times against Real in a scoring master-class that will almost certainly also see him in the red of Bayern next season. Such a development will no doubt provoke another teary burst but first there is the moment of Wembley to seize.
Klopp asserts: "Bayern can beat anyone in a heartbeat – except us."
On another football man's lips that might be the emptiest of rhetoric but who can say he hasn't done enough to make it true tonight? No one, it has to be said, who has any rough idea of what constitutes a crying shame.
The conquest that James Hunt never knew about
It's a pity that ace Hollywood director Ron Howard's forthcoming film on the life and dramatic times of Formula One world champion James Hunt moved from production to editing before he heard of an incident which throws a bright light on the somewhat complex personality of the late great racer.
The details are supplied by Roberta Britton and need no adornment here.
She reports: "In 1986 I was driving up the A1 for a holiday in the north. The rain started and the wiper on the driver's side flew off. I took the first slip road and came upon what looked like a scrapyard. Thank God, here somebody might help me. I stopped and climbed out. A man was coming towards me in what looked like a one-piece silver suit. He had long blond hair and was very beautiful. I thought, 'Christ, he must be a spaceman or an angel'.
"I told him about the wiper and said I needed to get to a garage. He said that wouldn't be necessary. He went off, came back with a new wiper, fitted it, tested it and wished me a happy holiday.
"Not being a follower of Formula One, I speculated for many years on whether he was an angel or a spaceman. It was only years later when he died and I saw his picture in the paper that I realised my rescuer had been James Hunt."
The figure generally quoted in reference to Hunt's female conquests is almost invariably 5,000. Plainly, it should be 5,001.
City's American frontier may not be quite so final
Good luck to Manchester City and their plans to conquer "soccer's last frontier" even if some might say they still have quite a bit of work to do on the old one at home.
However, they will receive no harm from a cautionary tale. It came when players like Pele and Johan Cruyff and George Best were doing their bit for the cause and a hat-trick by the late New York Cosmos star Giorgio Chinaglia against Tulsa Roughnecks famously usurped Yankee slugger Reggie Jackson's place at the top of the sportscasts.
At around about the same time more than 100,000 fans attended a soccer match at Montreal's Olympic Stadium. This inspired the then North American Soccer League chief Phil Woosnam to say that the National Football League would be small fry within the decade. Thirty-odd years on, City will no doubt need quite a bit more patience.
Register for free to continue reading
Registration is a free and easy way to support our truly independent journalism
By registering, you will also enjoy limited access to Premium articles, exclusive newsletters, commenting, and virtual events with our leading journalists
Already have an account? sign in
Join our new commenting forum
Join thought-provoking conversations, follow other Independent readers and see their replies