James Lawton: Frank Lampard's heart is a boon to an England team short on optimism
The Chelsea midfielder has had more consistent nights but he was a force of commitment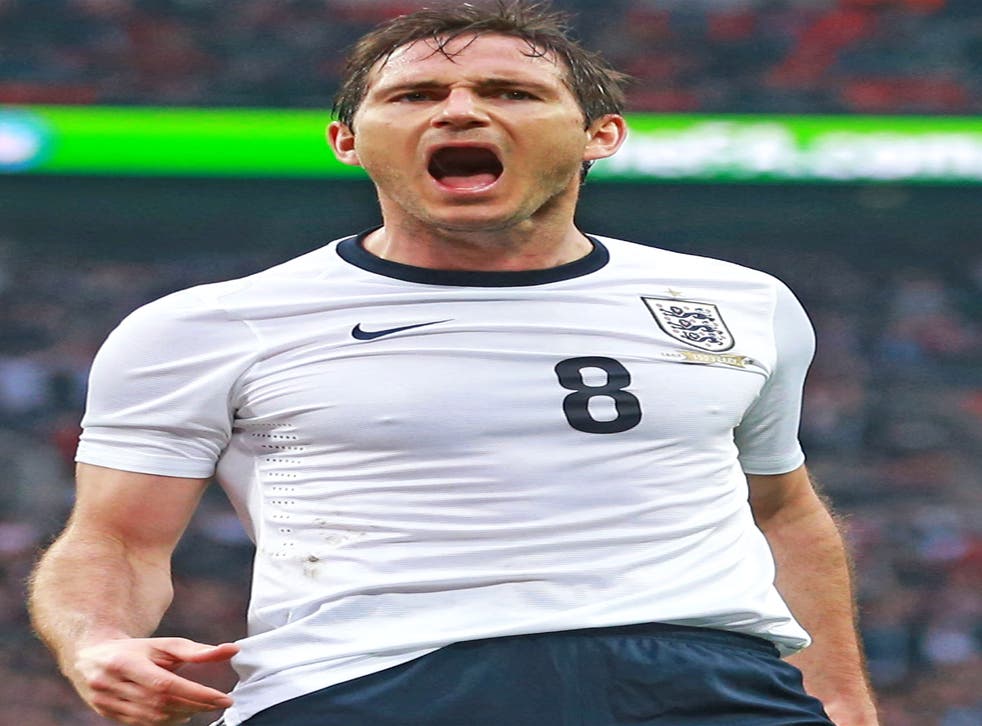 In all the pressure on England to prove that they have the credentials not only to be significant contenders in next year's World Cup but the nous and the spirit to make it there, there was at least one question to encourage a hint of optimism.
It was hardly filled with originality but in some mostly dire circumstances it did offer at least one point of light.
You will remember the question easily enough. It asks if anyone was ever more reluctant to leave the heart of the action than the 34-year old Frank Lampard?
It is hard to imagine. His reaction to the idea that he had become surplus to needs at Stamford Bridge was to smash Chelsea's scoring record.
Tonight he was England's de facto captain as his Chelsea team-mate Ashley Cole found himself rather sheepishly in the middle of ceremonials surrounding his first home appearance since winning his 100th cap.
Cole agonised over his place in the official acknowledgement of an extraordinarily consistent international career and he was no doubt relieved by the warm reception of a Wembley crowd which has in the past elected him somewhere close to the status of public enemy number one. By contrast, and as usual, Lampard forced himself onto centre stage, scoring his sixth goal for England in his last six appearances.
He reminding his compatriots that they will shortly be examined no less demanding a place than Rio de Janeiro's palace of football fantasy. At least their presence in the weekend friendly is guaranteed.
Wembley's nearest thing to fantasy in recent years was the Champions League final between Bayern and Borussia Dortmund last weekend but at least the old place was on its best behaviour 18 years after the last match with the Republic of Ireland was wiped out by hooliganism. England manager Roy Hodgson had pleaded for a display of respect from the fans and he got his wish.
This was splendid relief but unfortunately Hodgson's ability to persuade his players on the need for some kind of evidence that the World Cup qualifying challenge and the need for a more meaningful journey to Brazil next year was just as pressing seemed to be rather more strained.
Lampard warded off the looming threat of a shattering blow to morale when he brilliantly injected himself into the heart of a wavering Irish defence for an equaliser 10 minutes after West Bromwich Albion's Shane Long had stunned England with perfectly judged header on 13 minutes.
The England full-back Glen Johnson was ambushed by a superb cross from Everton's Seamus Coleman and Long gave Joe Hart not the semblance of a chance.
Lampard's response was to attach himself to a cross from Daniel Sturridge and slide the ball home. It was the essence of the Lampard game, displaying that capacity to seek out points of danger which will always be the mark of a superior attacking midfielder.
He eventually accepted the armband from Cole early in the second half but it was the merest formality. Lampard has had more consistently coherent nights but as always he was a force of commitment without which his team would have been in even more serious trouble.
Lampard's strike should really have ignited England after the most underwhelming start, one in which Michael Carrick worked hard to create a thread of creativity alongside the aggressive running of Lampard.
There were moments, as there should be against an Irish team whose slender range of individual talent has been coaxed so hard for five years now by the old Italian tactician Giovanni Trapattoni.
What we didn't have though was anything like a firm suggestion that one team might automatically occupy a superior rung of the football ladder. Wayne Rooney, who was supposed to make so many points in his own defence after a season of such severe trial, showing flickering of class, inevitably enough. Theo Walcott had one moment of menace to chill the Irish defence but his cross was scooped away in the most desperate circumstances.
Sturridge, before his worrying injury, performed with customary sleekness when a scrap of space became available, but there wasn't so much of this as Trapattoni's men doggedly refused to conceded the existence of anything resembling a clear barrier of either class or ambition.
Ireland have some reason to believe that they have the ambition and the heart to follow in the wake of Germany on the way to Brazil but their guarantees are hardly in place. They have to fight every inch of the way, but then so do England. In the second half they worked hard enough and created a number of chances but still there is a desperate shortage of inspiration and authentic conviction. We know about Rooney's talent but his commitment remains something of a mystery. But then that didn't exactly make him an odd fellow in this England team.
Register for free to continue reading
Registration is a free and easy way to support our truly independent journalism
By registering, you will also enjoy limited access to Premium articles, exclusive newsletters, commenting, and virtual events with our leading journalists
Already have an account? sign in
Register for free to continue reading
Registration is a free and easy way to support our truly independent journalism
By registering, you will also enjoy limited access to Premium articles, exclusive newsletters, commenting, and virtual events with our leading journalists
Already have an account? sign in
Join our new commenting forum
Join thought-provoking conversations, follow other Independent readers and see their replies