James Lawton: German class has Manchester derby day razzle dazzle looking cheap
Beckenbauer called Dortmund's Reus and Götze the best classic duo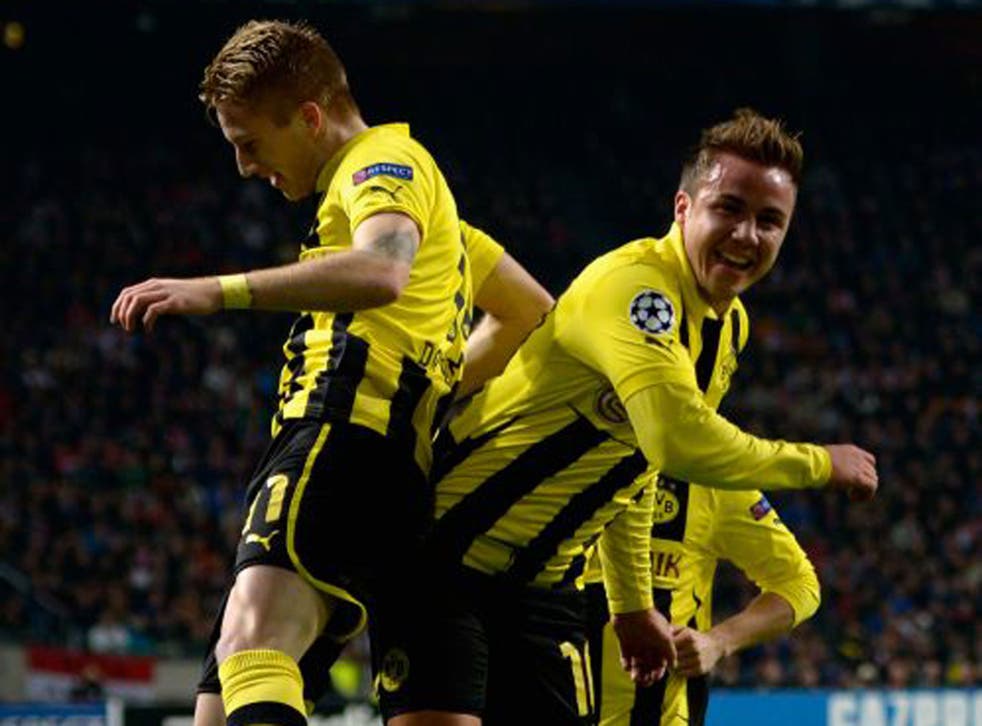 Where would you rather be this weekend, at the Etihad Stadium in east Manchester or an even colder Westfalenstadion deep in the Ruhr?
A no-brainer you might say when weighing the dramatic potential and tribal passion of first-placed Manchester United and their nearest rivals and reigning champions Manchester City against that of the meeting of the Bundesliga's third and 15th-ranked clubs.
But then we could machete our way through all that old Premier League hype about the most exciting club football in the world, the most sure-fire spectacle, the most arresting thrills, and widen the debate a little. Where, for instance, would we be more likely to see the football of enduring quality, based on classically rigorous defence and midfield fluency?
Where would we see rather more of a nation's best young players? Where would we have the stronger sense of a game whose proponents had a much better chance of competing with the likes of Barcelona and Real Madrid at the top of European football?
They are rather different questions to those concerning Premier League razzle dazzle, are they not, and where do they lead us? They take us to the Westfalenstadion, surely. They take us to Borussia Dortmund against Wolfsburg.
True, there will be no Sergio Aguero or Mario Balotelli or Robin van Persie, no £30million-plus imported exotica, but there will be 23-year-old Marco Reus and, three years his junior, the midfield prodigy Mario Götze.
Götze could be on the move next month, if reports are true that United and Arsenal are especially besotted by his precocious skills, but for the moment he and his German team-mate are the most conspicuous of the home-grown products who, with a few extremely able if relatively modest priced foreign mercenaries, have pushed Dortmund into the front rank of Champions League contenders.
Reus cost Dortmund £15m. The forward is rated by many hard judges potentially the best player produced in Europe for some years. He moves with bewitching certainty, and if he was a colt you would want to see him at Epsom or Longchamps and have his number on your ticket.
In the latest Champions League odds, Dortmund are in fourth place at 8-1, behind Barca (5-2), Real (3-1) and Bayern Munich, with United at 10-1 and Arsenal way back at 33-1. Dortmund, German champions for the last two years, currently trail Bayern by 11 points in the table, but there is a strong feeling they have, with some very good reason, targeted the great prize of Europe.
Finishing ahead of Real Madrid, Ajax and Manchester City so comfortably and stylishly in the Group of Likely Death was certainly an impressive statement by coach Jürgen Klopp and his young team.
It was also a stunning endorsement of those who believe that the good housekeeping and investment in the progress of their own best young players has left German football much the strongest challengers to the masters of the international game, Spain.
Against City, who fielded a strong team despite their ambivalence about trailing away to the lost reaches of the Europa League, a weakened, already qualified Dortmund explored the possibilities for much of the first half and then concluded it was impossible not to win. Their ferocious Polish striker Robert Lewandowski started on the bench but was soon enough queuing for a few pot shots of his own. Before he left, Reus produced a couple of moves of exquisite touch and power.
It left City and the English football they conquered in the spring looking a long way from adequacy at the highest level of the game, which was already depressing enough before Sir Alex Ferguson gave a witheringly honest assessment of his team's defensive frailties and fuelled still more discussion on the malaise of Wayne Rooney with fresh comments about the player's less than ideal body shape.
The pressure on Rooney to redeem himself will no doubt be one source of major intrigue at the Etihad. It is certainly something he has tended to achieve in the derby action. Two years ago, from deep in a wilderness of poor form, he produced his phenomenal bicycle kick. At the start of this year, and after being dropped and fined for indiscipline, he made an extraordinary impact as the FA Cup holders City were knocked out in their first defence of their breakthrough trophy.
Yet the very need for Rooney, the English player of his generation by such a distance, to prove that his best isn't already over can only add to the idea that the challenge facing the Premier League's top game is not so much in creating excellent performance but a touch of credibility.
Certainly the expectations in the Ruhr are of a rather higher order.
Of Dortmund's first-team squad of 35, 22 of them are German. At City there are 10 Englishmen and 18 foreigners. It is just one telling comparison. Another is the great Franz Beckenbauer's assessment of Reus and Götze. "Among classic duos, there is nothing better in all of football."
Imagine that at the Etihad, a classic combination of two young Englishmen.
First, though, it is necessary to find two to rub together.
Uefa's Euro plan just another sacrifice to the god of money
Much anger is being spent on the outrageous plans of Uefa to dilute further the quality of the Champions League, which is already seriously overpopulated by no-hopers, and make the European Championship so spectator-unfriendly that the least ruinous way of watching them will be to reach for the channel changer.
However, we shouldn't forget football's financial endgame was grotesquely seized by the world authority several years ago.
No matter how much the plans of Uefa president Michel Platini drip with commercial opportunism, however deeply they drain incentive for the kind of fan participation which, against all expectations was so frequently uplifting in places like Kiev and Gdansk last summer, they still leave us some way short of the cynical horror of Fifa's decision to take the 2022 World Cup to Qatar.
That football had the nerve to proceed with such a plan should have told us all we needed about the prime motivation of those who control the world's most popular game, whether they do it from Switzerland or the headquarters of the FA and the Premier League.
Money is the god, the justification for each new assault on the idea that football has some higher purpose than the turning of profit. You may say this is too damning and bleak a verdict, but you had better speak up over the sound of the rustling green stuff.
Cook's mistake only shows how opponents have run out of answers
There is not a lot more to say, for the moment at least, about the rise and rise of England's cricket captain, Alastair Cook, except perhaps that when he was run out yesterday it must have been of huge relief to India that he was still capable of revealing an odd moment of vulnerability.
One of his predecessors Nasser Hussain tells us, with splendid candour, that he was underwhelmed when his Essex coach and former Test batsman Keith Fletcher told him that the boy was destined to be one of the great players.
Hussain says he saw a less than spectacular "nurdler". Fletcher recognised the most vital quality in a world-beating sportsman. It is an insatiable desire to learn and to improve and grow stronger at the broken places that are inseparable from youth.
What odds that we have seen Cook run out in a Test for the one and only time, at least on account of his own miscalculation? We shouldn't expect them to be too generous.
Join our new commenting forum
Join thought-provoking conversations, follow other Independent readers and see their replies