James Lawton: German winning machine Bayern Munich restored to full power against Juventus and ready to go distance
Bayern Munich side look a good bet to put recent Champions League lapses behind them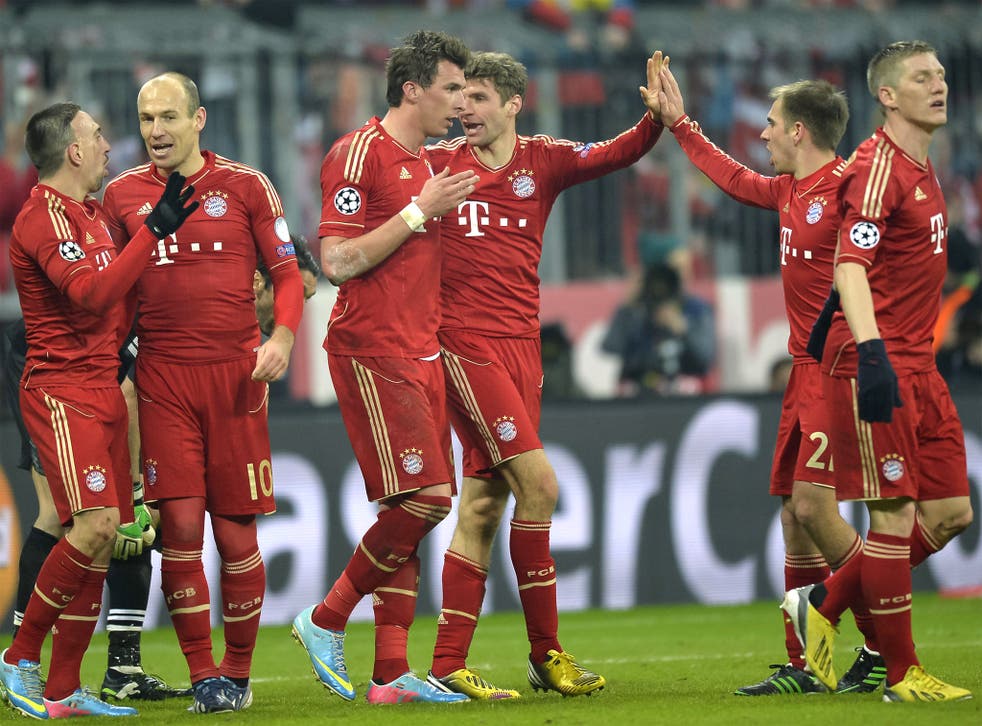 Bayern march on beyond any slight evidence that they might be a team who once again have reached the limits of their ambition.
They have a formidable record in the later stages of the great competition but it is one with a tendency to run out of oxygen. They have gone 12 years since winning their last European title and for all their virtues they have been in danger of qualifying as the nearly men. Superior inhabitants of such a category, no doubt, but still weighed down by the possibility.
However, tonight such as Franck Ribéry and Arjen Robben, exultant clearly at his early call as a substitute, looked like major talents who might just have been sniffing the chance of a winning performance down the road.
Juventus were in the end engulfed and they cannot be sanguine about their chances at home, trailing two goals and without the encouragement of one gleaned away from home.
Bayern's need to reimpose some authority at the highest level meant that the most intriguing Champions' League question was surely in Munich rather than Paris, despite David Beckham's latest success in proving that his career is pretty much beyond all rational analysis.
This immutable fact was proclaimed once again when the battle-hardened Carlo Ancelotti started Beckham in the PSG midfield against Iniesta and Xavi, though the aura of Goldenballs is perhaps not as overwhelming as it used to be, at least not in the mind of a man who likes to think himself as something of a legend of his own.
Zlatan Ibrahimovic shoved Beckham aside at a free-kick but it was perhaps a small price to pay for a quite extraordinary career resurrection as the last Englishman to stand on the biggest stage in club football.
In Munich the big issue was whether the Bayern machine which spluttered so alarmingly in the second leg against Arsenal had been restored to full working order by their swansong veteran coach Jupp Heynckes.
There was some indication of this in the 9-2 slaughter of Hamburg and the evidence was augmented within a minute when David Alaba's speculative shot ambushed Gianluigi Buffon and rent some of the most impressive defensive proofing in the history of European football. It wasn't too long before we knew Bayern were indeed the best of their old selves.
Juve have risen from the dead these last few years and they arrived in Bavaria bristling with well-founded defiance after nine undefeated Champions League away games and five consecutive clean sheets on foreign soil. The Old Lady of Italian football, closing in another Serie A, could hardly have been in more vigorous health. However, the answer to the big question landed on their heads like a mountain slide. Yes, it was a rare mechanical failure by the powerhouse of the Bundesliga as Arsenal fought so desperately for life last month.
With finishing a little more clinical, Bayern and their knowing old coach, who has been made restive by the widespread belief that the arrival of Pep Guardiola in the summer will usher him off to his slippers and his dotage, would have made a stunning statement about their ability to move beyond recent disappointments in the Champions' League final.
Bayern's second goal from the admirable Thomas Müller, set up with perfect vision by the equally impressive Mario Mandzukic, was the confirmation that Bayern's concentration of mind had indeed survived a stream of missed opportunities, that kind of wastefulness that can undermine the most confident of performances.
Bayern not only went a long way to wringing the life out of Juve, they reminded us powerfully of the gap between the leading teams of Europe and those of the Premier League when they arrived at the Emirates stadium in that mood of unbreakable authority. Their football is both creative and relentless and it proceeded with hardly a missed beat even after the departure of one of their major forces this season, the emerging superstar Tony Kroos.
Juve coach Antonio Conte had the look of a beaten man when Müller slid home the second goal and it was a mood that darkened still further when Stephen Lichtsteiner joined Arturo Vidal on the yellow cards that will exclude them from the second leg. Conte did all he could, throwing on fresh strikers in Sebastian Giovinco and Mirko Vucinic, but he did not do so with that lift of the shoulders which signals a man who truly believed he could alter seriously his fate.
Bayern were just too powerful to permit that degree of optimism. They are third favourites behind Barça and Real Madrid and tonight they look the best value. Old Jupp may be on his way but he odds are not so high now that he will go quietly.
Join our new commenting forum
Join thought-provoking conversations, follow other Independent readers and see their replies