James Lawton: Gerrard earned all of his caps – Beckham can't say the same
There has been no easy ride home, no soft touches, no gratuity caps
James Lawton
Tuesday 13 November 2012 13:00 Comments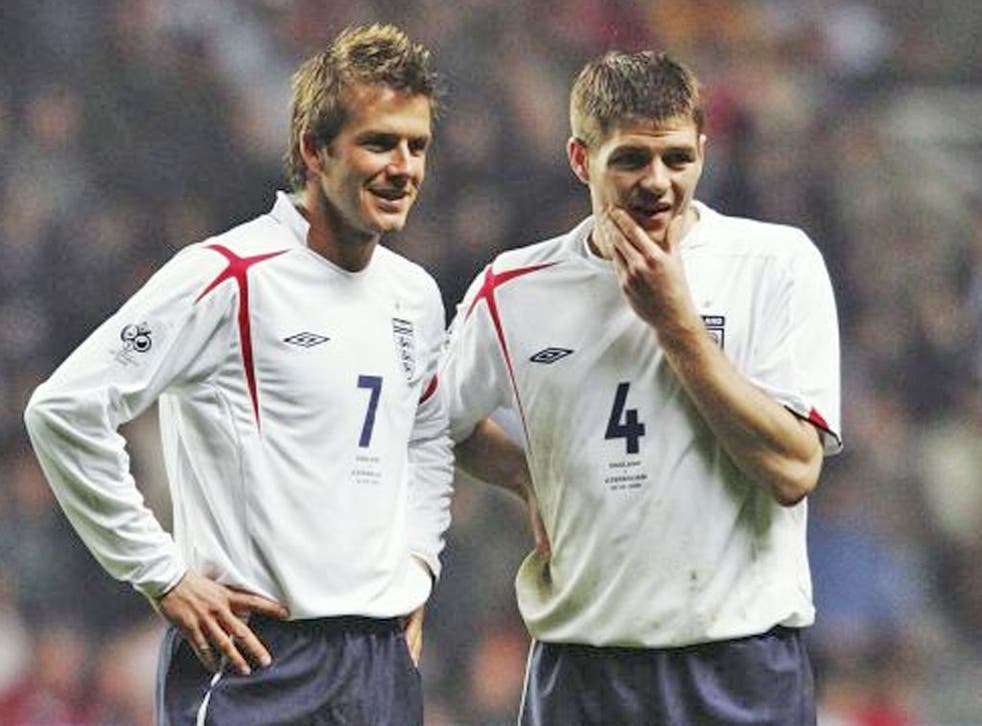 Of all the tributes heaping on Steven Gerrard, the one that does him most credit is that at 32 he still plays with the rage of a kid obsessed with the need to prove himself.
There are reasons for this of course – and not all of them are to do with the driving force of his nature that carries him into his 100th appearance for England in Stockholm on Wednesday night.
It cannot be easy, for one thing, to be the last of the Golden Generation, the gang of celebrity footballers who were supposed to end 40-odd years of deeply ingrained mediocrity. Nor can it help that if we take away the wild events of a night in Istanbul seven years ago, Gerrard has had a career-long quest to help Liverpool become the kind of team they used to be.
There is also the additional pressure that whatever the final total of his England caps, it will not come even vaguely close to the number of times he has been described by some of the great figures in contemporary football, and not least Jose Mourinho, as one of the world's outstanding midfielders.
There have been times, of course, when a huge chasm has opened up between that assessment and performance, especially in an England shirt. Indeed, the hammer on a series of England coaches has been the charge that they have failed to draw the best from him, and especially when he has been in the company of Frank Lampard.
Yet there has been an unbroken thread in all of this. It has been the astonishing application, and apparently inexhaustible ambition of the player himself. Most ennobling of all has been his willingness to both stay with Liverpool through one false dawn after another while at the same time answering an apparently endless list of varying demands from the coaches of the national team.
There has been no easy ride home for Steven Gerrard, no soft touches, no gratuity caps. When David Beckham was Gerrard's current age – and yet to be wafted on a gale of sentimentality to his record 115 caps for an outfield player – he walked away from Real Madrid for the rich pickings of minor league football in North America and the fiction that it was a place where a front rank international player could maintain such status.
It is hard to imagine Gerrard taking such an option, and certainly not on Sunday afternoon at Stamford Bridge when he ran through injury in Liverpool's cause.
Before Fabio Capello began handing Beckham the cameo roles that carried him so far beyond such magnificent England centurions as Bobby Moore, Bobby Charlton and Billy Wright, he was asked if a similar campaign to hand out career-service caps to iconic players would ever take hold in his native Italy. "Never in a million years," said Capello, who also might have pointed to the fact that such Azzurri legends as Franco Baresi, Marco Tardelli and Alessandro del Piero finished well short of such totals.
Yet Beckham – you had to believe – would have made it all the way to South Africa but for an injury. So he became an ambassadorial coach.
The profile of Gerrard is somewhat different, of course. Mourinho applied most pressure on him to leave Liverpool after Chelsea rushed to two straight Premier League titles but if Liverpool's favourite son agonised, he did not yield to the temptation. Recently he mused that if he ever left Anfield it might be in answer to some last promptings from the Special One. This, of course, would hardly make for the end of pressure, but it might just bring the reward of being united with the midfielder he rates most highly, former Liverpool team-mate Xabi Alonso.
Reality, no doubt, is much more firmly attached to the possibility that Gerrard will make his last stand on behalf of Liverpool. It would certainly be much more consistent with that willingness to fight on in the most unpromising circumstances, and maintain a loyalty to a single cause, despite annual discouragement, which has long been quite remarkable.
A less enduring spirit might have declined, with thanks, the invitation of England's new manager Roy Hodgson to return to the captaincy after being discarded when Capello decided to re-instate John Terry. Yet, if Gerrard carried wounds into the European finals in Ukraine this year they were concealed in a series of performances which were filled with commitment.
The effort hardly settled the debate over claims that Gerrard is, or ever has been, one of the world's great midfielders. In comparison to such as Spain's Andres Iniesta and Xavi Hernandez, and Italy's Andrea Pirlo it might be said that while such players relentlessly shape games, Gerrard's best threat is to impact on them with sudden and explosive effect.
For a considerable spell in the mid-Noughties he made this his special challenge whenever Manchester United formed the opposition, and it was a habit which made Sir Alex Ferguson one of his most respectful admirers.
In the last few days, Hodgson has been at pains to salute his captain, pointing out that the possession of 100 caps, in any context, any reward system, amounts to nothing less than a hell of a player. No one, however filled with fine tactical theory, could begin to question such a status when applied to Steven Gerrard. He may have belonged to the golden generation which became lost but it was never a reason for the rage to die.
Tevez is right on Neville. Is he a pundit or a coach?
It is not always possible to endorse every declaration of Carlos Tevez but in a debut column this week he did strike at least one note of sweet logic.
He complained that Gary Neville's role as an assistant coach of England and the nation's fastest-rising pundit is essentially incompatible.
Of course it is. Neville's professional view isn't always easy on the system – at least one conditioned to such hoary old notions that in certain circumstances diving is not an act of wisdom but another example of outright cheating – but there is no question that he has deserved his rush to prominence in the TV booth. But then at what point is he compromised? It is the moment he is required to try to balance his separate roles. Then, we can probably guess who will be the loser. It will be the subscriber who pays for the straight goods – the kind, ironically, still supplied by the best in the business, Tevez's least-favourite analyst Graeme Souness.
Souness, you have to suspect, earned Tevez's disapproval when he said that failing to follow the orders of your coach in the course of a Champions League tie was the ultimate crime of an alleged professional.
Poppy debate shows football can be rational
Could it just be that in football there is some danger of an outbreak of rationality?
This is the implication of the muted response to Sunderland player James McClean's decision not to wear a poppy on his shirt to mark Remembrance Day.
The reaction has brought two benefits.
One is the avoidance of the kind of ghastly, simple-minded controversy that came last year when Fifa said that the England team should observe the regulation that forbade the wearing of political, commercial or religious emblems on team kit.
Much more importantly, someone may have remembered that the whole point of the ultimate sacrifice made by so many brave men and women was a world where freedom of choice was not a concession but an inalienable right.
'Get Me Out Of Here' is Haye's motto
There was a call for some weary resignation when the press release landed with the news that "David Haye is ready to rumble".
However, the resolution which was so notably absent on the one occasion he stepped into the ring with an authentic heavyweight, Ukraine's Wladimir Klitschko, should not be quite so elusive this time.
Haye's latest assignment is I'm a Celebrity – Get Me Out Of Here, which, come to think of it, was pretty much the message from the ring on that dismal night.
Register for free to continue reading
Registration is a free and easy way to support our truly independent journalism
By registering, you will also enjoy limited access to Premium articles, exclusive newsletters, commenting, and virtual events with our leading journalists
Already have an account? sign in
Join our new commenting forum
Join thought-provoking conversations, follow other Independent readers and see their replies