James Lawton: It will take more than sporadic brilliance to save Rooney's relationship with Ferguson
Wayne Rooney was in superb form yesterday but Sir Alex Ferguson's mention of Gazza is a warning that the striker would do well to heed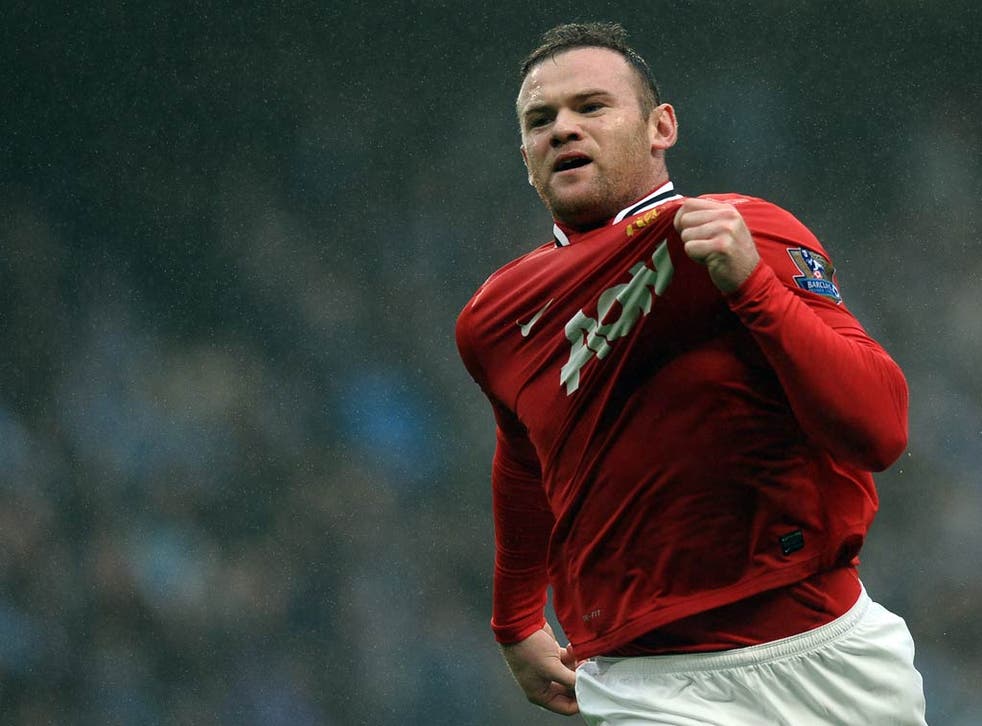 No one ever said that Wayne Rooney was likely to leave Manchester United any time soon because he is no longer a magnificently gifted football player.
This self-evident fact yesterday burst, almost predictably, in the faces of Manchester City as Rooney scored two goals, one of them a magnificent header after superb approach play, before displaying a badge-kissing passion for the club which was not quite so evident until the last 48 hours. Not, certainly, when he was dropped from the team and fined £200,000 for being physically incapable of contributing properly to a training session.
It meant that you did not have to read Glaswegian shorthand to understand the point his manager Sir Alex Ferguson was making even in the first rush of euphoria over United's dismissal of FA Cup holders and Premier League pace-setters City. Before welcoming a "magnificent" contribution from Rooney, Ferguson revealed that he had in the last few days presented to his player the spectre of Paul Gascoigne.
The sub-text could hardly have been more explicit had it been daubed by a graffiti artist rather than an ultimately hard-headed football man. On the field Gascoigne was so often the kind of dream Rooney was when he illuminated the drizzle of east Manchester. Off it, he became impossible to work with – even for a man as sympathetic to the pressures on a football celebrity as former England manager Terry Venables – and a permanent magnet for distracting attention.
No, there was not a fatted calf for the prodigal son in the moment of his latest glory – only the inevitable acknowledgement of the quality of what everyone had seen and the clear implication that it will take more than sporadic brilliance to restore to rude health a seriously damaged relationship with his manager, one which happens to be almost certainly the most important he is ever likely to have as a professional.
When Rooney is as good as he was against City of course you have to head off to somewhere like Barcelona or Madrid to see better but when he is bad, as he was against Newcastle last week, you have an equally arduous journey to see worse.
If Ferguson was less exultant than he might have been yesterday after a huge lifting of immediate pressure, it was quite possibly because of his sense that the disruption caused by Rooney's behaviour since his Boxing Day night celebration had contributed to some considerable extent to the loss of six points at a crucial point in the title race. The Cup victory was hugely welcome, no doubt, but did it clear away all the other collateral damage? Ferguson would surely have been a little rash, and even complacent, to say that.
He was, though, candid enough about the severity of his disappointment over his team's second-half performance, which saw a 3-0 lead and a man advantage shrink almost to nothing against superbly re-arranged opponents. It was hard to decide which aspect of City's game was most impressive after referee Chris Foy – he of the recent disastrous distortion of the Stoke City-Spurs game – so grotesquely took away a competitive edge by giving a red card to Vincent Kompany after 12 minutes. Roberto Mancini's half-time tinkering, which saw the disappearance of David Silva and Adam Johnson and the installation of a five-man back line, had the hallmark of an Italian maestro of defence. It would have been merely a memorable act of containment but for the brilliance of Sergio Aguero's challenge to Rooney as man of the match.
Rooney got it for the most persuasive of reasons – a dynamic shaping of the game with the early breakthrough and the sharpest of reactions when his penalty shot was saved and he was still able to create a three-goal margin.
The truth is that Ferguson will not be dwelling too happily over much else in United's life-giving victory, and perhaps least of all the distinctly mixed results of the decision to call back Paul Scholes from retirement. As iconic symbols go, Scholes grows a little larger each day – his autobiography passed the 100,000 sales mark recently – but his return to the field was not overwhelmingly happy, especially when he surrendered the ball without serious pressure before the huge-hearted Aguero brought City back to within a goal.
By calling back Scholes, Ferguson announced to the football world – and his American owners – his concern about United's skeletal midfield as he attempts to fashion his 13th title triumph. It was the surest indicator of serious United action in the January transfer window. With Ryan Giggs struggling to inflict his old influence, and Scholes plainly a lion of the past rather than the present, United have rarely looked more in need of the engine-room refurbishment promised by the move for Wesley Sneijder last summer.
Had they not been so stretched by the banishment of the brilliant defender Kompany and had available such as Yaya Touré , Mario Balotelli and Edin Dzeko, City must now believe that they would have had the means to have recovered from the early impact of Rooney.
Mancini was near speechless when asked about the Kompany decision – he plainly saw it as one of his more surreal experiences in football. Rooney had plenty to say before Foy made his decision, which came after it was clear Kompany had won the ball and Nani was, without protest, turning in an attempt to re-gain possession. This, too, is the football of today and having scored a brilliant goal, and kissed the badge so warmly, Rooney was plainly in no mood to let any advantage slip away.
Ferguson, perhaps not surprisingly, endorsed the dismissal, saying that if Kompany had connected with Nani, United would have had a fresh and serious injury problem. But of course the connection was with the ball and what United had was an advantage that was in the end poorly exploited.
However, they do have Wayne Rooney interested again, even if it may be a little early to do more than pray it is something a little more permanent than a fleeting condition.
Join our new commenting forum
Join thought-provoking conversations, follow other Independent readers and see their replies