James Lawton: Moores' Liverpool lament is a self-pitying testament to football men's follies
His letter makes a surreal mockery of his role in the catastrophic ownership of Gillett Jnr and Hicks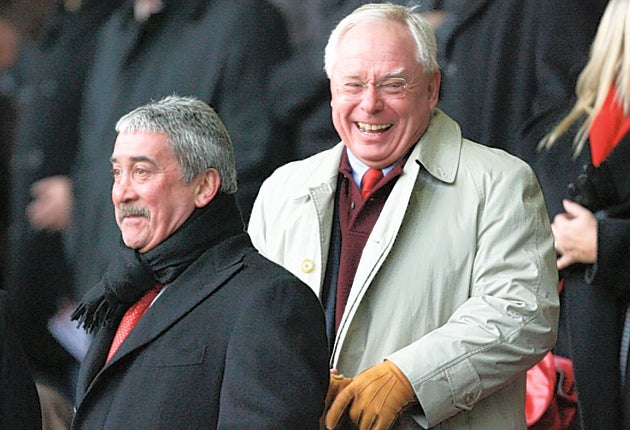 David Moores, the man who sold out Liverpool and earned himself £88m, chose an odd time to demand publicly a solution to the problem he created.
Not only did his 3,000-word letter to a national newspaper make a surreal mockery of his own role in the catastrophic ownership of the Americans George Gillett Jnr and Tom Hicks, it also invited fresh ridicule for the outlandish proposition that only football people should run football.
This is the campaign banner of those on the FA Board who will today argue for a rule change defying the government-backed belief that, despite the Lord Triesman fiasco, the need for an independent chairman of the ruling body of the national game remains as vital as ever.
Leave football to those who know best? If we want to count the reasons why not, we can make few better starts than with Moores, a leading inheritor of the family wealth created by the Littlewoods empire and a position of respect and affection in Merseyside football bequeathed by generous support to both the leading clubs.
Moore's father Cecil and his uncle John believed passionately that what was good for Liverpool and Everton was also of huge benefit to the community on which all their business success was based.
So much has changed, of course, since the days of tycoon benefactors distributing a little bit of Saturday afternoon cheer, but who then who could represent this more chillingly than someone such as David Moores, or Lord Sugar, who, despite claiming that getting involved in football was a waste of his distinguished life, still left Tottenham counting up a very nice little earner indeed, even though it fell somewhere around £50m less than Moores' haul.
The former Liverpool chairman, whose analysis of the club's vertiginous dive from the top level of English football pointedly excludes even a half- sentence of criticism for the role of his appointment Rafa Benitez (100 signings, at an acknowledged cost of £250m plus a number of undisclosed fees), offers himself as some kind of victim.
"It's been hard sitting on the sidelines as the club I love suffers one blow after another," he says. Then it is pass the handkerchief time when he declares: "If they have a conscience or nobility they must step aside."
This, of course, is something they are attempting to do with a desperate but unpromising passion, understandable when you remember that £350m plus debt has to be accounted for before they accomplish the point of the exercise.
No doubt the power brokers at the top of English football will march on in the belief that they know best and that fears about the future of a game swilling in TV largesse reside only in the overheated imaginings of people like the Uefa president, Michel Platini.
Meanwhile, we can only linger over some of the more remarkable aspects of Moores' self-serving account of how he set in motion a deal that has the brought his family's legacy so near to obliteration. He explains that while Thaksin Shinawatra sailed through the Premier League's fit and proper persons test in buying Manchester City, he did not quite pass ethical muster as far he was concerned on his Anfield watch. Moores also claims that due diligence was followed in the acceptance of the bid from Gillett and Hicks – both Gillett and Rothschilds, who were acting on behalf of the Americans, saying that Hicks was "good for the money".
Leave football to the football men, some say. That's what they did with Liverpool Football Club. Let's hope it survives the experience.
Join our commenting forum
Join thought-provoking conversations, follow other Independent readers and see their replies