James Lawton: Spain may shoot themselves in foot at Euro 2012 as passing game turns in on itself
Winning football cannot for ever be sustained by art for its own sake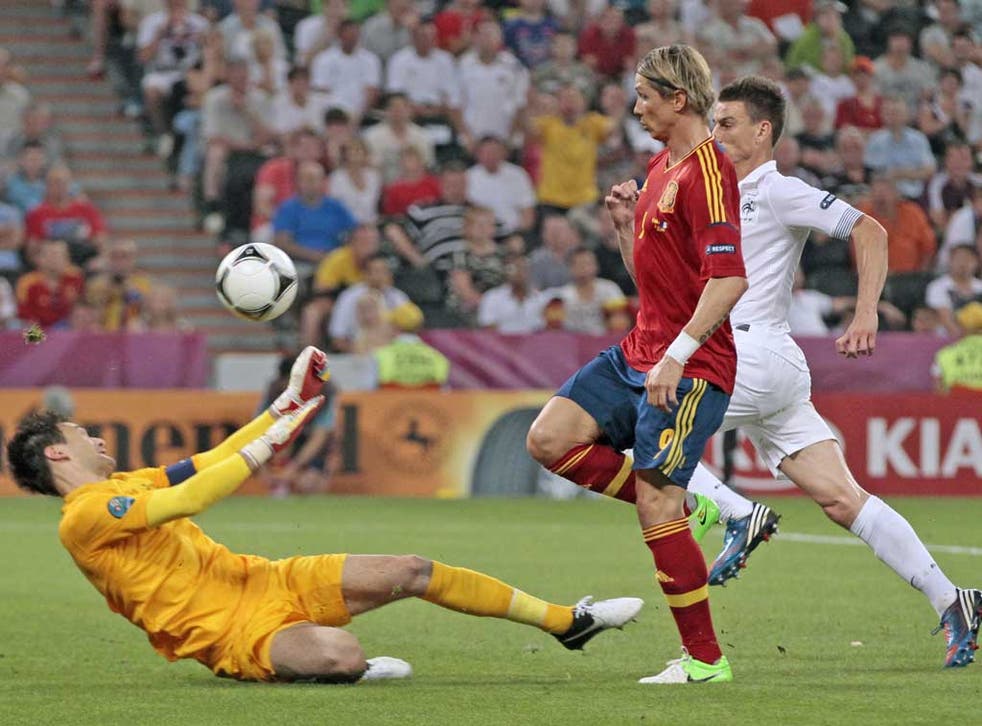 Still the rhapsodies play on for Spain, still the TV analysts – including the hard-bitten Roy Keane – drool like kids in a toy shop. It is a beautiful ideal, of course, technical brilliance applied to the task of passing all opposition into a daze as they move towards the unprecedented goal of three successive major championship titles.
Of course, La Roja still play on the side of the angels, still show us fabulous accomplishment as one crescendo of tiki-taka follows another. But then there also has to be a growing sense that if Spain are on the point of making history, it is with a game turning in on itself, one that increasingly looks as if it is celebrating an aspect of the game – relentless possession and passing – for its own sake.
The statistics here, as they did in the World Cup two years ago, continue to show a huge imbalance between Spain's control of the ball and their ability to inflict killing damage.
Against a profoundly disappointing – almost passive – France on Saturday night, Spain required a late penalty from Xabi Alonso to wipe away the possibility of some late eruption from someone like Franck Ribéry or Karim Benzema. It was even more perilous against Italy in a 1-1 draw, and Croatia set many problems as they threatened the Spanish route to the quarter-finals. Only the utterly outclassed Republic of Ireland felt a touch of matador steel.
Now the Spanish coach Vicente del Bosque has to worry about the potential of Cristiano Ronaldo to do to Spain what he did to Barça in La Liga in Wednesday's semi-final.
Most of all, though, he has to be concerned about the German juggernaut which cuffed aside Greece in the opening quarter-final despite coach Joachim Löw's decision to rest some key players.
Spain beat Germany in a World Cup semi-final in Durban two years ago but that was a younger, less confident Germany – even though they had eviscerated England and Argentina in their two previous games. It is also true that it wasn't some exquisite creation which brought Spain's solitary goal. It was a late lunge at a corner-kick from Xavi by the old warrior Carles Puyol.
A Spain-Germany final here next Sunday is still the dream of this tournament which in many ways has exceeded expectations. But it is also one which some suspect will be the opportunity of such as Mesut Ozil, Bastian Schweinsteiger, Thomas Müller and Mario Gomez to show that winning football cannot for ever be sustained by art for its own sake.
In some ways we have not moved on from the World Cup final in Johannesburg, when Spain beat a Netherlands of dismaying, brutish negativity – but only late in extra time with a goal from the player of the tournament, Andres Iniesta.
The little man from La Mancha remains brilliant, but somewhat less dominant here and certainly he and Xavi and Cesc Fabregas have failed to convince anyone that playing without a recognised striking forward is a policy that can work indefinitely at the highest level.
There were plenty of reasons to celebrate Spain in South Africa – as there will be here if they win again – but the uncomfortable truth after victory over the Netherlands was that in seven games they had scored – against opposition which included Honduras, Switzerland and Paraguay – a mere eight goals.
Four years earlier, the Italian winners praised mostly for the superb defence of Fabio Cannavaro, scored four more, and in 1970 the team still most widely recognised as the greatest World Cup winners of all, Brazil, scored 19 despite playing the fine former World Cup finalists and future European champions Czechoslovakia, reigning world champions England, and former champions Uruguay and Italy. They also played a game less under the old 16-team format.
Damn statistics, you say, but in football the ones concerning goals will always be rather important. In Spain's case they could even determine a place in history.
Join our new commenting forum
Join thought-provoking conversations, follow other Independent readers and see their replies