James Lawton: Time for Fenway to back Brendan Rodgers if Liverpool are serious about renaissance
Rodgers can only yearn for the striking potential of other teams
James Lawton
Sunday 04 November 2012 09:08 Comments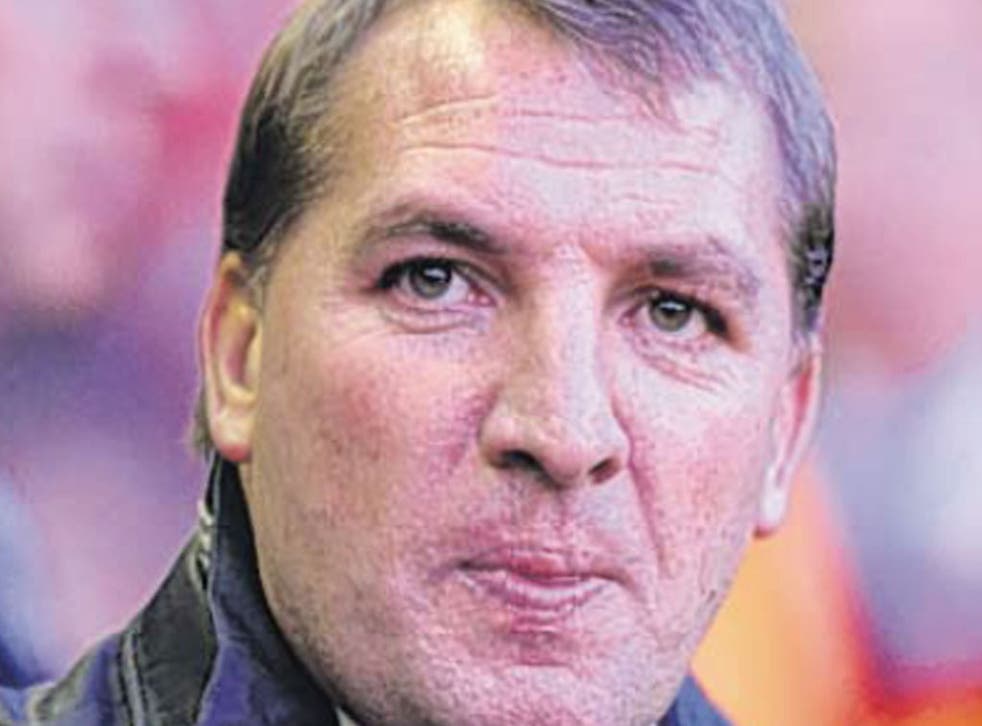 If anyone is listening back in America, someone with a minimum understanding of the challenge facing the man who has been entrusted with the job of reviving Liverpool, a message of some urgency needs to be absorbed very quickly.
It is that if Brendan Rodgers has recently been displaying signs of extreme frustration he has a very good reason.
He is plainly a man who understands what is required at Anfield. He knows how Liverpool should be playing and yesterday we again had evidence that he has implanted in the dressing room a powerful and at times thrilling sense of how to go about it. But it will be no good until he is given the means not to finish the job – that will surely take more than one foray into the next transfer window – but move it forward with a degree of certainty that so much of his team's work deserved.
They should have pulverised Newcastle United and you have to believe they would have done so if Rodgers had not been left so short of resources in front of goal.
It's true he has the resident genius of Luis Suarez – and whoever said that the foibles of the Uruguayan's nature ever disguised quite outstanding ability – but around the man who took his goal superbly yesterday, there is a collective failure to properly support his thrust and his astonishing control that is becoming an open-ended nightmare.
Shortly after Suarez erupted so brilliantly under the 70-yard ball of Jose Enrique to score the equaliser after 67 minutes, he produced skill almost as prodigious to lay on the easiest opportunities for Jonjo Shelvey. The response was poor and entirely in keeping with the pattern of Liverpool's campaign. Suarez is keeping it alive – yesterday's was his 10th goal of the season and his fifth in his last five Premier League games – and the idea of another suspension, the risk of which he is apparently incapable of avoiding, is surely the permanent shadow over his manager's professional life. The American owners, who are so proud of the way they returned the Boston Red Sox to some of their old glory, need to understand they have left their football manager without an asset which would be the death of any baseball field manager's hopes of a successful season.
The Fenway Sports Group, appalled by the profligacy of their first significant journey into the transfer market, have simply left their man without a bull-pen. Whatever devastation worked by the lead pitcher Suarez, Liverpool remain devoid of anything like a corps of clean-up men.
Yesterday Suarez just about completely destroyed the composure created by Yohan Cabaye's beautifully struck goal – one that for a while threatened to deliver Newcastle their first Premier League victory at Anfield in 18 years. But it was a breakthrough that lacked the underpinning of significant support. Steven Gerrard offers the threat of a dynamic intervention, Raheem Sterling continues to offer waspish brilliance, but elsewhere Rodgers can only yearn for the kind of striking potential much more evenly distributed in a team like, say, Newcastle.
In the wait for the kind of transfer moves Rodgers so desperately needed in the summer after his decision that Andy Carroll had no place in the football that he believed represented Liverpool's best chance of renewal, it is possible only to see the point made by the iconic Ian St John recently.
The man who shaped with Roger Hunt the tradition that delivered such finishers as John Toshack, Kevin Keegan, Ian Rush, Robbie Fowler and Michael Owen, said that watching the football on which Rodgers made his name was so much easier on his nervous system than anything he had seen in many years – and this was quite separate from the team's position in the league.
Yesterday Liverpool opened with an impressive surge that was something more than prettiness for its own sake but of course it would have been betrayed yet again but for Suarez's superb resolve to produce so much of the best of himself.
Curiously, some believe that to condemn the player for the copious evidence of the other side of his nature is to also disregard his potential to cement his place as one of the most gifted players in the history of the club. His work yesterday was stunning even by his own impressive standards of virtuosity. He tormented Fabricio Coloccini to the point of distraction – and the earning of a sure-fire red card. His movement unhinged the entire Newcastle defence in a few lacerating strides.
He was the player around whom any manager could hope to build an empire. However, one player never made a significant football team and it is something the Americans really need to understand. The need to put bodies into that empty bull-pen.
Register for free to continue reading
Registration is a free and easy way to support our truly independent journalism
By registering, you will also enjoy limited access to Premium articles, exclusive newsletters, commenting, and virtual events with our leading journalists
Already have an account? sign in
Join our new commenting forum
Join thought-provoking conversations, follow other Independent readers and see their replies