Jamie Carragher: No going back for Liverpool's working-class hero
Many felt that Jamie Carragher, who retired from international football under Steve McClaren, was just the sort of player to thrive under Fabio Capello. But, the Liverpool defender tells Ian Herbert, he has no plans to change his mind
Saturday 09 February 2008 01:00 Comments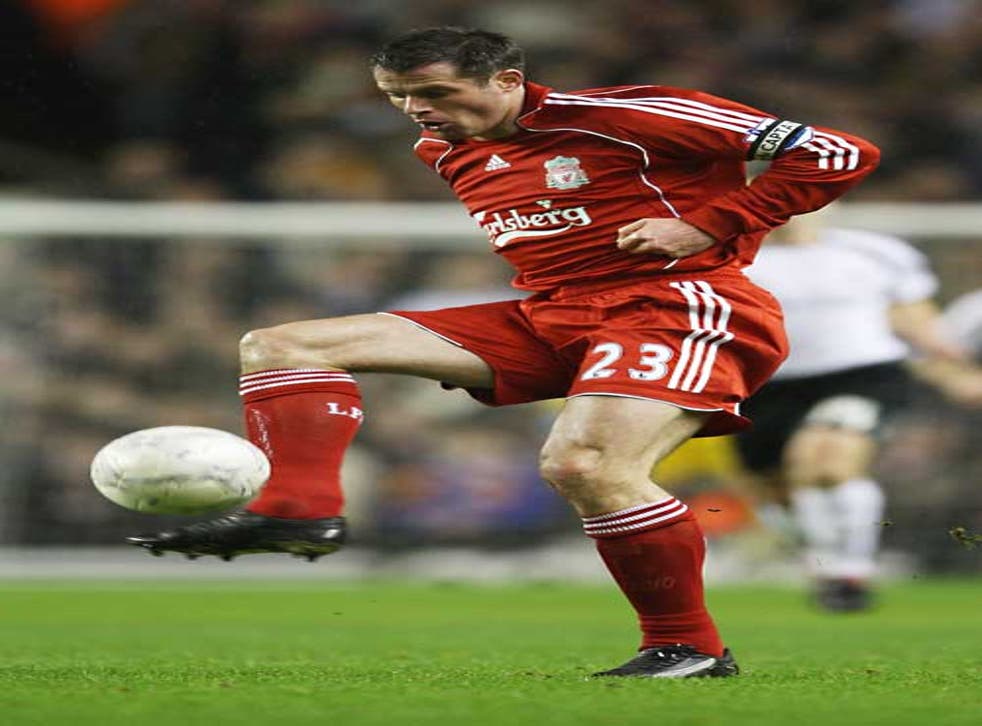 Cut from the same cloth, bound to the same cause, worlds apart. As Steven Gerrard prepared to assume the England captaincy last Wednesday afternoon, his footballing soulmate Jamie Carragher was 200 miles away, walking through a new home for women with learning disabilities back in Liverpool. If the defender was trying to put thoughts of the international career he has given up on out of mind, then he did not succeed for long.
When Carragher moved on to a nearby community centre, to meet more individuals for whom football is a bright spot in otherwise difficult lives, he was asked a straight question: "Why did you retire from England?" And you would swear there was a trace of indignation about what he was missing on that, of all days. "Because they didn't pick me," he replied.
The defender – so loved in these parts that the community centre audience is more at home with its rendition of "We all dream of a team of Carraghers" (to the tune of "Yellow Submarine", of course) than their belated "Happy Birthday" – insists he does not yearn for the England set-up from which he retired last year, having slipped behind Jonathan Woodgate and Ledley King in Steve McClaren's pecking order.
But while Gerrard, barely two years his junior, is seemingly moving to new heights under Fabio Capello, Carragher is contemplating the closing chapters of a Liverpool career in which there is much ambition still unfulfilled.
McClaren called Carragher up several times asking him to reconsider his international retirement but the 30-year-old makes light of a question about contact with Capello. "I think some of the other players are struggling to have that," he says. "It's been a useful week. With all the games, it's very rarely you get the chance to do proper training at Melwood."
But though Carragher had tomorrow's vital match at Chelsea to prepare for, he will never be convincing when discussing the benefits of not playing and his phone calls to Gerrard before Wednesday's game – "I'm trying to find out the team," he explained – revealed that if football is being played, then that's the place he wants to be.
That said, there was nothing in Carragher's approach to his afternoon's work which suggested he would rather be somewhere else. He's in the leafy surrounds of the Woolton Priory, a far cry from Marsh Lane, six miles across the city, which bisects the two places where Carragher first discovered football – the Brunswick Boys' Club's fields and those of St James RC primary school. But the needs of those who are here to see him, as part of one of the Premier League's Creating Chances projects, are no different. He is here to open sheltered accommodation for a group of parents whose children, who have learning difficulties, now need to live independently. They have spent over a year fund-raising to convert the Priory lodge and to secure a two-year lease on it.
The occasion presents challenges which would be beyond some players; like trying to understand what some of those who will eventually live in this place are trying to say to him. He handles it consummately and it is a similar scene down the road at the Alderwood Resource Centre a little later where a fan for whom speech is difficult summons a lot of courage to tell Carragher that Pepe Reina is his favourite goalkeeper. A lesser player would smile and nod, but for Carragher one man's effort warrants another: "I think Pepe has just broken Ray Clemence's record for clean sheets so that shows what a good keeper he is."
Gerrard would probably have smiled, if he were here. Same old Carra, always trotting out some football stat or other – this one about Reina's 50 clean sheets in 92 games, eclipsing Clemence who took 95. "Carra is a student of the game," Gerrard says of his friend in his autobiography. "Any football quiz, he is there, bloody Mastermind, cleaning up."
When Carragher finally sits down to talk, he seems relieved to be here, connecting with the outside world, after the crazy last few months of £350m refinancing deals, leveraged buy-outs and other Anfield controversies. "It's important to be here," he says. "With the Premiership, the new TV deal, more money and players earning more money, I think people worry – and it may be true – that we're losing touch with the man on the street. I think most footballers are from the street so I think it's important that we keep that link," he says. "It's a working-class game."
A game whose beginnings, for Carragher, were to be found in Stanley Park – a place which Liverpool's co-owners might view as the site of their new £300m stadium but which has a more fundamental importance for Carragher. "It was the Vernon Sangster stadium on Stanley Park that I played my first game," he has just told his audience. "I was seven or eight." That was back in the days when the Liverpool scout Harry Hodges first spotted him playing up front for St James' Primary and took him on as a striker. Hodges recalls being told by Steve Heighway to listen to, rather than watch one of Carragher's first practice matches at Melwood. "All you could hear was this loud voice shouting, 'ee are, ee are, ee are', asking for a pass. When I looked towards the pitch, there was Jamie running down the channel."
Not much has changed there then, even if Carragher did drop back to defence when he turned professional. Yet for all the great times and places – the Ataturk Stadium, Istanbul, 25 May, 2005, foremost among them – Carragher's story is laced with far more disappointments than the lack of faith England managers have shown in him.
He would not, for one minute, swap the European Cup Liverpool have for keeps for a first league title in 18 years – "No, no, no," he says. "The European Cup's the biggest trophy you can win as a player." But would he trade it for the kind of prolonged domestic supremacy which Bob Paisley's sides enjoyed? "Maybe if someone offered me three league titles I might swap," he says.
Carragher declared three years ago that it would take Rafael Benitez three years to make a challenge for the trophy Anfield so badly wants, but February has come around with that familiar chasm between Liverpool and the Chelseas of this world and Carragher is not denying that the thought of a title never materialising has been creeping into his mind. "The seasons fly by," he says. "I can't believe we are already in February. It only seems like yesterday we were on the pre-season trips, getting to know all the new players, and suddenly [here] we are, looking at the finish line. It seems to go very quickly so I don't think you can look too far ahead and say, 'Oh, we'll do it then.' You want to do it as quickly as possible because otherwise it'll be four or five years down the line and I'll be getting pensioned off."
In the tradition of Marsh Lane boys, who don't pull their punches, Carragher puts the blame down to Benitez's group of players whose shortcomings, he believes, mean that Liverpool must buy more this summer. "It's no particular this or that, it's just that other teams have played better than us and we've just got to improve as individuals and as a team. If United or Arsenal win the league, they won't be waiting for us to buy a few players to catch them up. They'll be looking to improve themselves, we'll be looking for new players in the summer."
That's no foregone conclusion, since the Americans' £30m annual debt repayments seem likely to wipe out any club profit, and in the short term Carragher is not even optimistic that Chelsea can be "reeled in" to secure Liverpool a chance of third place.
"We're closer to Aston Villa, Portsmouth and Manchester City on points than we are to the top three," he says. But a couple of games could change everything? "Yes, and they can also send you the other way," he says. "Especially when you're playing your rivals."
It is a sign of how far his club have come from what is known at Anfield as "the Liverpool Way" – an unwritten ethos based on modesty and quiet industry – that this interview proceeds on condition of no questions about the club's owners and Carragher will only go as far as to say that this season, with its vocal anti-American protests and ongoing efforts to raise money to buy out Tom Hicks and George Gillett, has at least illustrated the club's connectedness to its grass roots. "With all the money involved now, the game's gone away from its roots," he says.
Any threat to his club's lifeblood is a threat to his future, since Carragher is already forming plans to stay in the game, despite his colourful move into the Liverpool night scene with his Café Sport England venue, with its focus on healthy food and family friendliness, where essential staff uniforms include No 23 jerseys and his own pre-match meal (chicken and pasta) is on the menu. There's no disguising the influence, here, of his long-term partner and wife of two years, Nicola.
"I would hope to stay in the game in some capacity," Carragher concludes. "I don't know [exactly how] because I'm still concentrating on my football. But the game's the only thing I've known since I was a kid and I would love to stay involved."
And before all that though, there is some achieving to be done, lest his career concludes with too many might-have-beens. "I'm proud of my 500 appearances but the main thing [now] is to win trophies," he says. "When I'm finished, I want it to be trophies that we're talking about, more than appearances."
Register for free to continue reading
Registration is a free and easy way to support our truly independent journalism
By registering, you will also enjoy limited access to Premium articles, exclusive newsletters, commenting, and virtual events with our leading journalists
Already have an account? sign in
Join our new commenting forum
Join thought-provoking conversations, follow other Independent readers and see their replies