Johan Cruyff dead: 14 things you didn't know about the Dutch legend
The Netherlands never lost a match in which the 'total football' legend score for them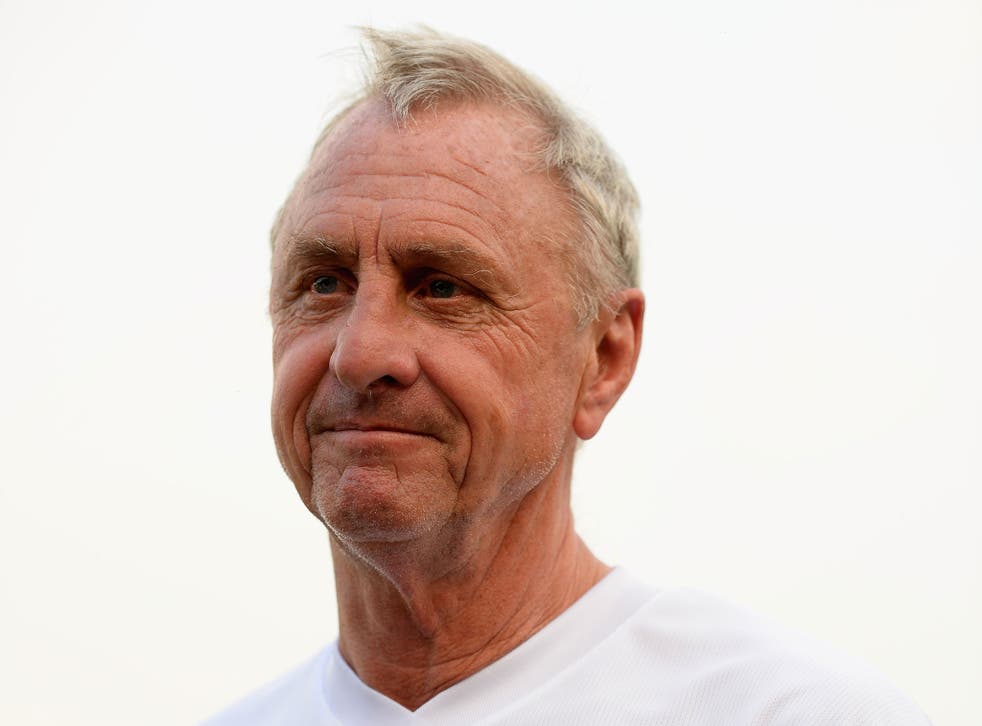 Johan Cruyff, the greatest Dutch footballer of his generation, has died at the age of 68 of cancer.
Famed for wearing the number 14 shirt in a time when the authorities tried - and failed - to force otherwise, the former Ajax and Barcelona forward helped typify the 'total football' which guided the Netherlands to the World Cup final in 1974.
He was also considered an exceptional manager, winning four Spanish titles and the European Cup in charge of Barca in the early 1990s after two KNVB Cup successes with Ajax, the club where he joined the academy as a 10-year-old.
A short statement on his official website read: "On March 24 2016 Johan Cruyff (68) died peacefully in Barcelona, surrounded by his family after a hard fought battle with cancer.
"It's with great sadness that we ask you to respect the family's privacy during their time of grief."
The Dutch FA added: "Words can hardly be found for this huge loss.
"The greatest Dutch footballer of all time and one of the world's best ever. Our condolences go to his wife, family, friends and the entire football world at home and abroad. We wish everyone a lot of strength in this difficult time."
14 things you didn't know about Cruyff...
1. Johan Cruyff joined the Ajax academy at the tender age of 10-years-old but initially preferred to play baseball. Only when coaches urged him to choose football five years later did he focus on his Ajax career.
2. The forward made a scoring debut for the Amsterdam club, during the 3-1 defeat to GVAV, before being a part of the side which finished in their lowest position since the inception of professional football in the Netherlands.
3. Cruyff refused to conform to the rules from a young age and insisted upon wearing the number 14 shirt despite the Dutch authorities demanding he wear a shirt adorned with a number between one and 11.
4. In a league match in November 1970, the academy product scored no less than six goals for Ajax during an 8-1 demolition of AZ Alkmaar as his star continued to rise in Dutch football.
5. In the summer of 1973, after establishing himself as one of the brightest talents in the world, Cruyff joined Spanish juggernauts Barcelona for 6 million guilder, a record fee at the time.
6. His preference to wear the number 14 caused yet more controversy ahead of the World Cup in 1974, a competition in which the Netherlands were beaten finalists, as Cruyff refused to follow plans which insisted numbers be decided by alphabetical order. He would have worn the number one shirt otherwise.
7. Cruyff immediately endeared himself to the Nou Camp faithful by handing his newly-born son a Catalan name, Jordi, before helping Barcelona to their first La Liga title since 1960.
8. After a sparkling display during a 5-0 defeat of arch rivals Real Madrid, a New York Times journalist wrote that Cruyff had done more for the wider Catalonian public than any politician.
9. Before leaving for Los Angeles Aztecs at the age of 32, Cruyff actually played two games with Paris Saint-Germain in 1975 but only agreed because he was a fan of designer and club president Daniel Hechter.
10. Cruyff almost signed for English side Leicester City in 1981 and was reportedly keen on joining up with manager Jock Wallace at Filbert Street but, after three weeks of talks, signed for Levante instead.
11. Back for a second spell at Ajax, the Dutch legend was so incensed that his club had refused to offer him a new contract in 1983 that he joined bitter foes Feyenoord – where they later won Eredivisie for the first time in a decade.
12. The Netherlands never lost a match in which Cruyff, who notched 33 goals in 48 appearances for the Oranje, was able to get his name onto the score-sheet.
13. Cruyff told journalist Antoni Bassas on Catalunya Radio in 1978 that he retired from football not because of his dwindling abilities but because he and his family had been subjected to a kidnap attempt in Barcelona a year before the 1974 tournament.
14. A distant planet that was previously numbered 14282, now carries the name 'Cruijff' to honour the Ajax, Barcelona and Netherlands legend.
Join our new commenting forum
Join thought-provoking conversations, follow other Independent readers and see their replies