Johan Cruyff dead: Barcelona can pay greatest tribute to their hero with new stadium
Naming their new ground Estadi Johan Cruyff would be a fitting homage to the father of the modern side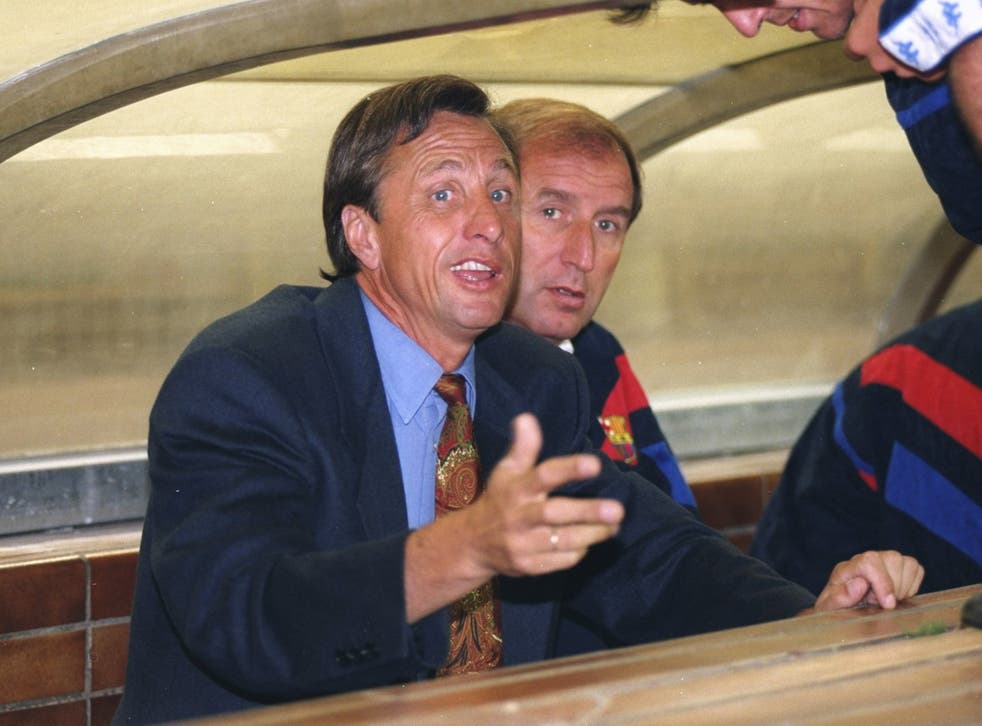 Work on Barcelona's new stadium is due to begin in two years with Nou Camp Nou the current working title. After the death of the most important figure in the club's history on Thursday, already there were supporters calling for his name to be immortalised in the naming of the new ground. Estadi Johan Cruyff would be a fitting homage to the father of the modern Barça.
No one has ever meant so much to one club. When the Dutchman took over as manager in 1990, Barcelona had only ever won the Primera Division 10 times in its history and were six European Cups adrift of Real Madrid, having never lifted the biggest prize in club football.
With Cruyff in charge they won the next four La Liga titles and beat Sampdoria at Wembley in 1992 to win their first European Cup. Since 1990, Barcelona have won the league 13 times – more than they won in the BC era: Before Cruyff.
His team-talk ahead of that 1992 European Cup final win remains the unwritten first commandment at the football club – "Salid y disfrutad" (Go out and enjoy yourselves), he told his players. They have followed that mantra ever since. His successors in the technical area are spared much of existential style crisis of other managers at other clubs because at Barça there is only one way to play, one non-negotiable philosophy. Cruyff enjoyed himself at Barcelona as a player, too. Right from his first appearance in a 4-0 home win over Granada in 1973, in which he made the first goal and scored twice. Barcelona won their first league in 14 seasons at the end of that campaign, beating Real Madrid 5-0 at the Santiago Bernabeu en route to the title.
"The thing about great teams," he once said, defining his belief in always playing off the front foot, "is that they start games with the score at 0-0, thinking they have lost two points and they have to go looking for them." He also said: "It's braver to have a style and stick to it than to win a title."
Having a style and sticking to it – his style – has often been what has brought the club titles. He also gave them a dogged determination and a belief that they could take on the might of Europe that they lacked before he turned up with his three European Cup-winners' medals from his days at Ajax.
Johan Cruyff - life in pictures

Show all 12
He may never have joined them had the Dutch side got their way and sold him to Real Madrid. He resisted, insisting instead on joining compatriot Rinus Michels in Catalunya and changing a club, a team and, above all, a mentality. Winning was possible even against the might of Madrid.
That 5-0 scoreline from his first season as a player at the club may not seem so special now, coming as it does in an age when Pep Guardiola has managed a Barça team to a 6-2 victory at the Bernabeu and Luis Enrique to a 4-0 win there at the start of this season, but these were very different times.
Sixty seconds of applause is planned on minute 14 of Barcelona's next game, which is at home to Real Madrid in a week's time. The club will open a space at the stadium today so that people can pay their respects. On Thursday, there were already red roses appearing at the entrance to the ground.
The club shop was also busy selling No 14 shirts as if the old maestro had just signed for the club and his glorious career was about to start over. If only.
Join our new commenting forum
Join thought-provoking conversations, follow other Independent readers and see their replies