Johan Cruyff tribute: How we fell under the Dutch master's spell in the 1970s
'So Johan Cruyff was human? No, not really.'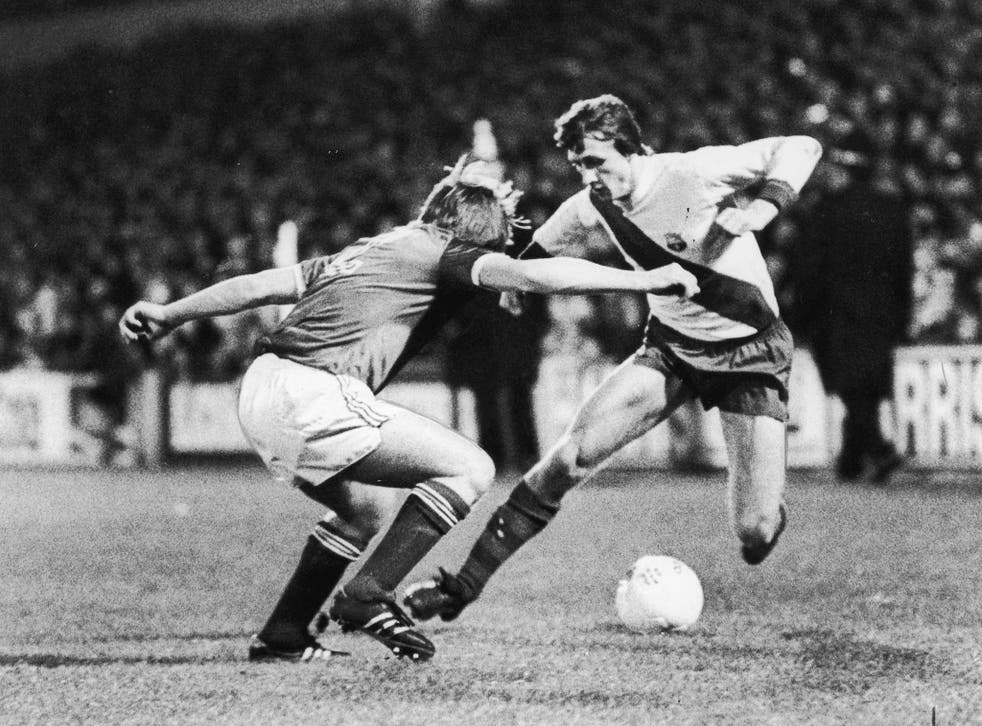 Looking back, it was really quite enterprising of whoever it was who decided that it might be worth organising a coach trip to Wembley so that a bunch of students could go and see England take on Holland. This was Birmingham University, in 1977, and my friend David and I were quick to sign up.
Like countless others, we'd both fallen in love with the Dutch team that should have won the 1974 World Cup, and thus it was that on a dank February afternoon we skipped whatever lectures we might have had and found ourselves trundling down the M1, heady with the prospect of seeing Johan Cruyff and the other gods of Total Football.
It was my first time at Wembley but it wasn't Cruyff's. He'd played there for Ajax against Panathinaikos in the 1971 European Cup final, the first of the Amsterdam side's three successive triumphs in the competition. Back then I was a football-mad 13-year-old lucky enough that my introduction to the game had comprised a series of indelible TV moments – the 1966 World Cup, Celtic's 1967 European Cup victory (the first by a British club), Manchester United's European Cup victory over Benfica the following year, and then the 1970 World Cup in Mexico, complete with the traumatic disappointment of England's exit at the hands of West Germany.
Johan Cruyff - life in pictures

Show all 12
As younger football followers are doubtless bored of being told, in those days you hardly ever got to see live football on television. There was the FA Cup final and the big international tournaments and that was pretty much it. One exception was that 1971 European Cup final, I assume because of where it took place. So some three weeks after Arsenal had beaten Liverpool in the FA Cup final at Wembley, the BBC was back, on a warm evening in early June, to show the champions of the Netherlands take on the champions of Greece. If I'm honest, neither team meant much to me – why would they – but it was an opportunity not to be missed.
Ajax stood out not so much for their superior fluency but for their apparent youthfulness and air of rebellion. Maybe it was their long hair, but they appealed because they seemed to be part of the same world as the most happening music of the time – Pink Floyd, the Doors, Led Zeppelin. Like those bands, they were pushing back the boundaries. And in their eye-catching strip of white shirts with a broad red panel down the front, they were modernity personified, the coolest team around.
It requires a viewing on YouTube to be reminded of the details of the match and the role that Cruyff played in it. He didn't score in Ajax's 2-0 win but he had some great moments and he revelled in Wembley's wide open spaces. How would he perform on the same pitch six years later?
David and I didn't have great tickets. We were low-ish down at one of the ends, looking straight up the left-hand touchline. On the plus side we were afforded a perfect view of a piece of Dutch magic that I can still see in my mind's eye – not a Cruyff Turn but a moment when Wim Rijsbergen, one of Holland's central defenders, cleared danger by curling an exquisite pass round an advancing England forward. It looked like the ball was going out of play, but then – like a swerve shot in snooker – it arced inwards, arriving perfectly at the feet of a team-mate. Central defenders just didn't do things like that. They still don't. This was Total Football not in the free-flowing, interchanging-of-positions sense, but in the sense of every player possessing every skill.
My recollection of Cruyff is that he seemed to just stroll around – a mesmerising presence whom an England team that included Trevor Brooking, Stan Bowles and Kevin Keegan couldn't get near. He started the move that led to the first Dutch goal in an easy 2-0 victory, and it's a curious fact about the match that the scorer on both occasions – Jan Peters – was a player who did not figure in either of the Dutch teams that lit up the 1974 and 1978 World Cups.
The England team at this time was at an extremely low ebb – under Don Revie's managership destined to miss out on a second successive World Cup finals. I sometimes wonder if this is a factor in the reverence with which those of us of a certain age hold Cruyff and Dutch football generally. The 1970s were a long dark fallow period for England supporters. We were ready to bestow our favours on whichever team took our eye, and at the 1974 World Cup that process didn't take long. Why couldn't England play like that? It was pointless even asking.
On the coach trip back to Birmingham in the early hours, plenty on board were bemoaning another inadequate England performance. David and I – possibly not untouched by football snobbery – could only feel the warm glow of having witnessed something special from the Dutch.
We knew we were blessed, and it was our amazing good fortune that we didn't have too long to wait for it to happen again. Only a year later, Cruyff was back in England, playing for Barcelona at Aston Villa in the Uefa Cup. David and I were still students at Birmingham – by now in our final year – and here was the great man playing just down the road. Fantastic. No 250-mile-round coach trip needed this time. I went with David and two other friends and we stood at the Holte End and marvelled once more.
We were well placed to see Cruyff, some 20 yards out, drill a low angled shot past Jimmy Rimmer to put Barcelona ahead midway through the first half. In the second, at 2-0 up, he took a knock and was substituted, and Villa Park, heaving with a capacity crowd of 50,000, reverberated to the sound of applause as he left the field. That Villa succeeded in drawing the game courtesy of two late goals somehow seemed less of an achievement with Cruyff no longer on the pitch.
YouTube brings back another extraordinary moment from the match. A cross comes over from the Barcelona right, and Cruyff, controlling the ball instantly, proceeds to bamboozle the entire Villa defence with a jink, a feint, and a dribble, before – and this is where you really had to rub your eyes – scuffing his shot wide. So Johan Cruyff was human? No, not really.
Sporting memories have a way of staying with you like no other. And for me, none are more powerful than the memory of seeing Johan Cruyff at such an impressionable age. I guess that's doubly true of my friend David. Some 25 years after we made our Cruyff pilgrimages, he wrote 'Brilliant Orange: The Neurotic Genius of Dutch Football', a much acclaimed book on its publication in 2003 and much referenced since Cruyff's death was announced. It's probably time we went to see some football again.
Join our new commenting forum
Join thought-provoking conversations, follow other Independent readers and see their replies