The Independent's journalism is supported by our readers. When you purchase through links on our site, we may earn commission.
John Barnes: John Terry is guilty of 'unconscious racism'
England and Liverpool legend says Chelsea captain should be allowed to play for England again if he wants to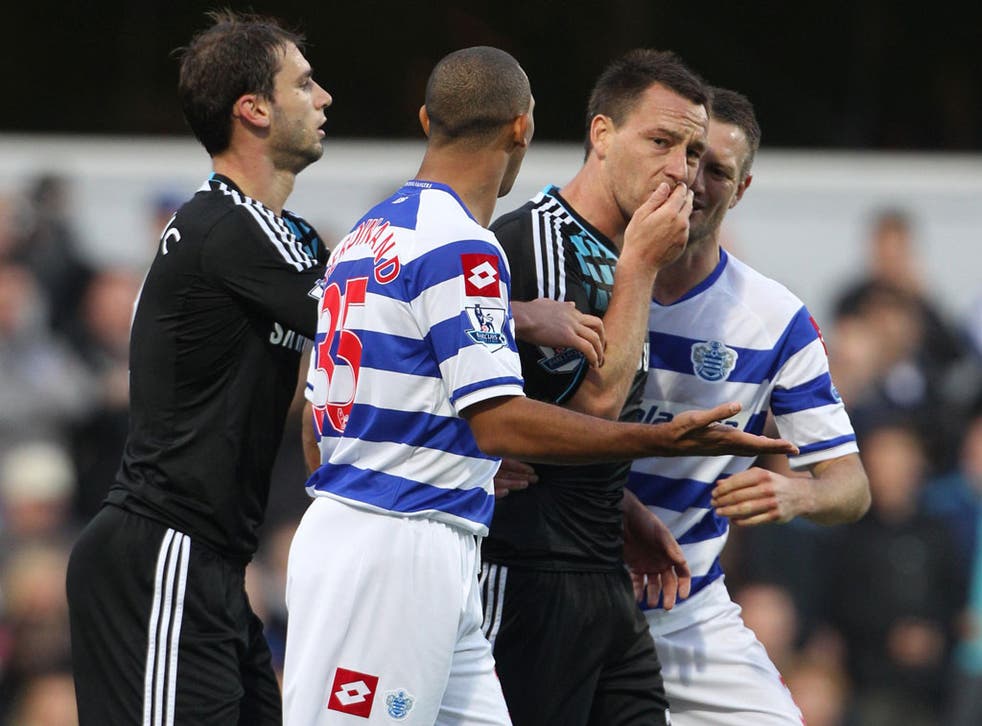 The former England international John Barnes, one of the nation's pioneering black footballers, said last night that John Terry should play international football again despite an independent commission finding the player guilty of racially abusing Anton Ferdinand.
Terry, 31, was given a four-match suspension and a £220,000 fine by the four-man regulatory commission who found him guilty of a racial insult directed at the Queen's Park Rangers defender Ferdinand in Chelsea's Premier League fixture at Loftus Road on 23 October last year.
Terry, who was cleared of a criminal charge relating to the same incident in July, responded with a statement from his representatives that he was "disappointed" with the verdict but would consider the commission's full written reasons before he made a decision on whether to appeal.
Barnes, who won 79 England caps between 1983 and 1995, said that Terry was guilty of "unconscious racism", a condition he claimed was widespread in society. He said Terry, who announced his retirement from international football on Sunday night, should be allowed to play again for his country if he made himself available once he had served his suspension.
Barnes, below, said: "You serve your punishment and that should be that. Absolutely. Luis Suarez can play for Uruguay again. Of course [Terry] can play for England again. I don't think it's an issue for him to play for England again. The FA's decision has no bearing on that at all.
"I would never, ever say John Terry is a racist, but I would say John Terry is no more or less racist than anyone else. I actually have a bit of empathy with John Terry. Ninety-nine per cent of us, me included, are unconscious racists, because we have an opinion on someone based on history, what we have seen, and what we've seen on television.
"If a man turned up in a turban to manage Liverpool when I was playing for them, I would question him. If a white German, who I've never met, turned up to manage Liverpool I'll question him – but not as much as I would question the man with the turban based on the fact that 'he's from India – so what does he know?'
"People say things without realising. I've had this discussion with a lot of old players from Liverpool and they all say, 'I never called anyone a black this or black that.' I understand that because people do not even realise they are doing it. If John Terry did it I think he probably would not even remember doing it where a conscious racist would remember."
Terry's punishment differs to that of Luis Suarez who was found guilty of breaking the same Football Association rules, E3(1) and E3(2), last year and given an eight-match ban and a £40,000 fine. In the written reasons for Suarez's punishment, the commission hearing his case said that the repetition of the word "negro" was "significantly more serious than a one-off use" and his ban was increased accordingly.
In the case of Suarez's fine, the commission reported that they took into account "information... about his weekly salary" when coming to their decision. It is understood that the same consideration was made when judging the size of Terry's fine.
Should Terry choose to accept the verdict today he will miss the game against Arsenal tomorrow and Premier League matches in October against Norwich City, Tottenham Hotspur and Manchester United. He would, however, be permitted to play in the Champions League against Nordsjaelland and Shakhtar Dontesk. In that scenario, he would return for the Carling Cup fourth-round game against Manchester United at the end of next month.
Terry was cleared of a charge of racially aggravated abuse at Westminster magistrates' court on 13 July, when a senior district judge ruled that he could not be sure that the phrase "f****** black c***" was uttered as an insult. Terry has always maintained it was a sarcastic exclamation directed at Ferdinand after the latter had first accused Terry of having said it.
Terry has 14 days to lodge his appeal from the receipt of the written reasons from the FA. He claimed the governing body, who acted as the prosecution in the case, had made his position as an England international "untenable" by pursuing the charge. The FA is yet to disclose who sat on the panel although the identity of one member – Stuart Ripley, the former Blackburn Rovers and England winger, now a solicitor – has leaked.
Terry's statement noted he was "disappointed that the FA regulatory commission has reached a different conclusion to the clear not guilty verdict of a court of law". There was no comment from the Ferdinand family. Chelsea said that they would make no comment until the process, including a potential appeal, was completed.
John Barnes was speaking ahead of ESPN's live and exclusive coverage of Man United v Spures at 4.30pm on Saturday. Visit www.espn.co.uk/tv for details.
Timeline: Trial & Tribulations
23 Oct 2011 Terry releases statement denying he made a racist slur against Anton Ferdinand during Chelsea's defeat at QPR after videos circulate on internet.
1 Nov The Metropolitan Police launch a formal investigation.
1 Dec Scotland Yard say they have passed a file to prosecutors.
21 Dec The Crown Prosecution Service charge Terry with racially abusing Ferdinand.
28 Jan 2012 The FA cancels pre-match handshakes before FA Cup tie between QPR and Chelsea.
3 Feb Terry stripped of England captaincy for a second time. Fabio Capello resigns in protest.
13 July Cleared at Westminster magistrates' court of making a racist insult to Ferdinand.
27 July Charged by FA with using abusive and/or insulting words and/or behaviour to Ferdinand. Terry requests personal hearing.
23 Sept Announces retirement from international football.
Register for free to continue reading
Registration is a free and easy way to support our truly independent journalism
By registering, you will also enjoy limited access to Premium articles, exclusive newsletters, commenting, and virtual events with our leading journalists
Already have an account? sign in
Register for free to continue reading
Registration is a free and easy way to support our truly independent journalism
By registering, you will also enjoy limited access to Premium articles, exclusive newsletters, commenting, and virtual events with our leading journalists
Already have an account? sign in
Join our new commenting forum
Join thought-provoking conversations, follow other Independent readers and see their replies