John Ruddy blames 'hack' for sick Alton Towers Smiler joke on Twitter
The once-capped England goalkeeper has apologised for the insensitive tweet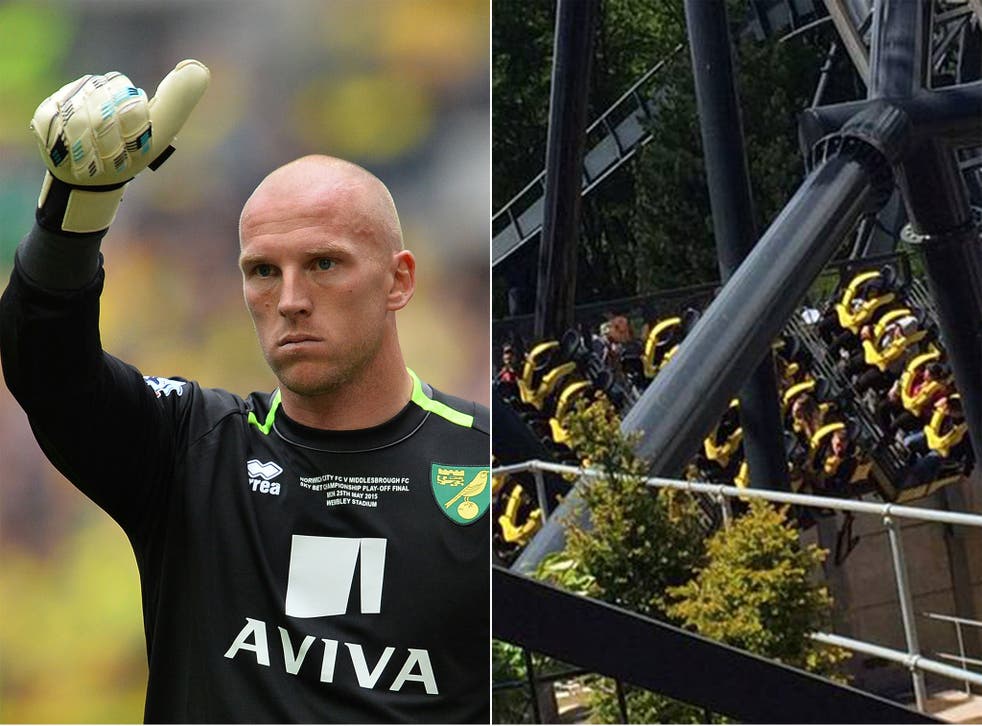 John Ruddy has said his Twitter account was hacked after an insensitive post regarding the accident at Alton Towers appeared on the Norwich City goalkeeper's account.
The sick joke appeared on Ruddy's account last night, hours after 16 people were hurt - four of which suffered serious leg injuries - when two carriages collided on the Smiler ride at the Theme Park.
It read: "Buzzing for @altontowers next weekend...at least I won't need a fast pass for smiler!"
It was removed just minutes later and Ruddy hastily apologised, claiming his Twitter account had been hacked.
"Apologies for that tweet that appeared on my feed, it would seem once again someone has managed to get into my account. I can assure people I am not the type of person to send tweets like that out," he wrote last night.
Ruddy's account was seemingly hacked in January, with a number of offensive posts being made.
The once-capped England international, who gained promotion to the Premier League with Norwich last month, continued: This is not the first time my account has been hacked. I changed accounts because of the last time....
"As a parent myself I can only imagine what people have gone through today and my heart goes out to them...
"Anyone who knows me knows I would not be that insensitive."
Three teenagers and a 27-year-old man were taken to hospital after the carriage they were riding in hit a stationary cart sitting empty on the track after a test run.
One passenger has since been discharged from the Royal Stoke University Hospital and a Health and Safety Executive investigation is under way.
The Smiler, which cost £18 million and boasts a record-breaking 14 loops at speeds of over 50mph, had previously been closed twice because of safety concerns since it opened.
Register for free to continue reading
Registration is a free and easy way to support our truly independent journalism
By registering, you will also enjoy limited access to Premium articles, exclusive newsletters, commenting, and virtual events with our leading journalists
Already have an account? sign in
Register for free to continue reading
Registration is a free and easy way to support our truly independent journalism
By registering, you will also enjoy limited access to Premium articles, exclusive newsletters, commenting, and virtual events with our leading journalists
Already have an account? sign in
Join our new commenting forum
Join thought-provoking conversations, follow other Independent readers and see their replies