Jon Toral: A road less travelled – Barcelona to Brentford
Jon Toral joined Arsenal at 16 yet is now happy to be playing in the Championship after four knee operations almost ended his career. But he tells Jack Pitt-Brooke he still dreams of being a top Gunner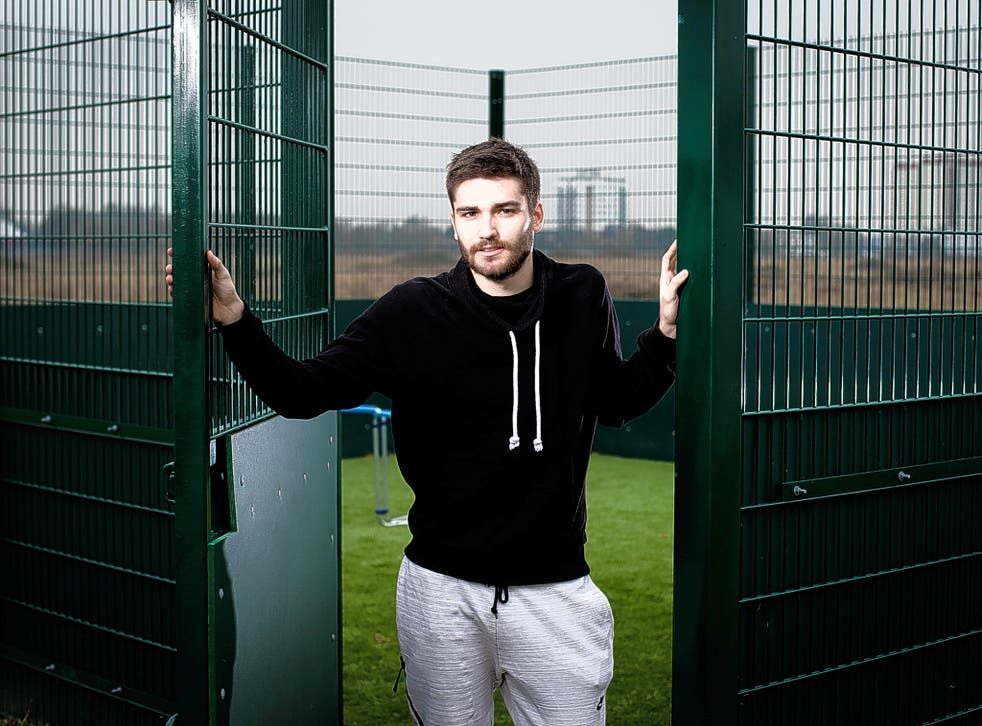 Is this what Jon Toral envisaged? Four years ago he left the Barcelona academy for Arsenal, along with his close friend Hector Bellerin, following the path of Cesc Fabregas. Toral has just turned 20 and while his "footballing brother" Bellerin is playing for the Arsenal first team, the midfielder is out on loan in the Championship, learning senior football, trying to drag Brentford to promotion.
If there is any sense of frustration or disappointment it is kept firmly in the past. Because Toral is delighted to be at Griffin Park, a useful part of a successful team, playing just his second uninterrupted season in England. After four knee operations between the ages of 16 and 18, and thoughts of quitting, every session and every game means more. This might not be precisely what was predicted for him, but Toral is loving it.
"No one likes to get injured and it was a tough start for me," reflects Toral, when asked if this is what he expected. "But now I have passed that, and I don't think about injuries any more. I am enjoying football now, hoping the season finishes well and that we can do great things."
Toral was speaking before the announcement that manager Mark Warburton will leave at the end of the season, and whether or not that knocks Brentford off the road to promotion remains to be seen. But there is no doubt that he is comfortable there.
This is his first feature-length interview with a national newspaper, conducted in an office Portakabin at the training ground, cramped between the A4 and M4. It is a long way from La Masia, Barcelona's fabled footballer factory, which Toral walked out of in 2011.
Toral had been one of the stars of Barça's Under-16 team which won the global Nike Cup at Old Trafford in August 2010. He was a tall, powerful goalscoring midfielder compared to Frank Lampard. His "great friend" Sergi Samper, now on the fringes of the Barcelona first team, provided precocious intelligence alongside him. Bellerin was a little right winger. Arsenal were interested in all three.
Barcelona had offered Toral a contract to join the Under-18s but his heart was set on a move to England, the switch that had turned Fabregas into a world-class player almost a decade before. Bellerin, independently of Toral, made the same decision.
Barcelona president Sandro Rosell described Arsenal's approach as "a little immoral", Arsène Wenger reminded him in turn how many teenagers the Barcelona academy signed from elsewhere, and of the fact that Toral's mother, Sheila Harper, is from Doncaster. "When a player who is half English and Spanish wants to join us," asked Wenger, "why should we turn him down if it's all legal?" Arsenal paid Barcelona £300,000.
It was the type of spat that is a feature of the modern trade in teenage footballers. Toral is not especially keen to talk about it – "it's not for me to say, I just want to play football" – but it is clear that for all the controversy of the move, and the difficulties since, he is still pleased he came to England.
"Obviously it was not easy to leave your country at such a young age," he says softly, with a slight Spanish accent, "but my dream was to play in England, I had the option to do that and I went for it. And I don't regret anything."
But in Toral's final weeks in Barcelona, in May 2011, he felt a problem in his right knee. It was a problem with the lateral meniscus – "it is a genetic problem, the meniscus is too lax, it moves too much" – which required surgery. Toral's agent Pere Guardiola took him to Dr Ramon Cugat, the famous Barcelona knee surgeon who saved the career of Pere's brother Pep, as well as operating on Xavi, Carles Puyol, Fabregas, and many more who played football in the city.
Toral was still recovering when he joined Arsenal later that summer and, in February 2012, after just a few games for the Under-18s, he required a second operation on that knee. "Obviously that was a setback," he says.
That summer of 2012, when Toral was preparing for his second season at Arsenal, he felt the same problem, in his left knee. It needed the same surgery, prompting another lay-off and the first fears that Toral might not make it as a professional footballer.
"That was the biggest let-down for me, knowing that my other knee was not right as well," Toral remembers. "Knowing what you have to go through, you think, 'Is this for me? Am I ready for football?'"
Toral stuck with it, though, made a few appearances for the Under-18s and Under-21s before, in early 2013, having his fourth and final knee operation, still just 18. He thanks his "family, agent, friends, girlfriend, everyone at Arsenal" for helping him through the long lonely lay-offs. The 2013-14 season, in Arsenal Under-21s, and this one, at Brentford, have been injury-free.
"Since then, it has been fine and I haven't had any more problems," Toral smiles. "I feel great. Obviously I have to warm up properly and do lots of extra work on the muscles around the knee, gym work, weight work, and on my quads and hamstrings just to protect it. But if you worry about it, it's when you get injured again. You have to not think about it any more. It's over, it's part of the past. You have to go forward, play your game and enjoy your football."
That is what Toral has been doing this season, making 22 Championship appearances, most of them from the bench, and learning the demands of adult professional football. He is 6ft and well built but the physicality has still been far beyond anything he experienced in the Under-21 league. "It's a man's game now and you have to get used to it quickly," he says. "The pace of the game is frenetic and you have to learn the tempo."
There have been special moments – one brilliant goal against Bolton Wanderers stands out – but what has most impressed Warburton is how Toral has learned new skills. "Jon is a fantastic manipulator of the football," says the manager, "but if there was a weakness when he came here it was the defensive aspect – how to press, where to press, the angle of approach, everything that Jon has demonstrated he can do so well. He's got a fantastic career ahead of him."
As much as Toral is enjoying life in the Championship – he has even moved into a flat near Griffin Park – Arsenal remains his priority. His contract expires this summer and Arsenal have an option to extend it, which Toral hopes they will take up.
"I keep in touch with [transfer chief] Dick Law and [chief scout] Steve Rowley," he says. "They call me, asking how everything is going. I am finishing a contract this season and Arsenal have a preferential option. I work hard every day here at Brentford but my goal is that Arsenal give me a new contract for next season. I am working for it."
There is a very obvious incentive for Toral. His best friend Bellerin, with him at La Masia and then at Arsenal, unencumbered by injuries, is currently the first-choice right-back for the first team. Bellerin, who turns 20 next month, will likely start against Crystal Palace in the Premier League today and then against Monaco in the Champions League on Wednesday.
Toral is "very, very happy" for Bellerin, and would love to play alongside him next season.
"For a great mate to make it there, you know it's possible," he smiles. "You have to work hard like he has done and prove it when given the chance. He's done that, it's great for him, and it's time for me."
--
Where are they now? Toral's youth team-mates at Barcelona
Sergi Samper
The central midfielder, who Toral says has "Barcelona DNA", has already broken into the Barça first team, starting Champions League and Copa del Rey games this season, as well as making his debut for Spain Under-21s.
Hector Bellerin
After a successful loan spell at Watford last season, Bellerin has broken into the Arsenal first team this year while Mathieu Debuchy has been injured. He has started seven games and scored his first senior goal in the 5-0 defeat of Aston Villa.
Jean-Marie Dongou
The Cameroonian striker attracted the interest of Brighton last season. Has made his full debut for the Barça first team, but is still a regular for Barcelona B.
Alex Grimaldo
Still 19, left-back Grimaldo is a regular for Barcelona B and has made his debut for Spain Under-21s.
Pol Garcia
The tall centre-back left Barcelona for Juventus in 2011. This season he has been a regular on loan to Vicenza in Serie B.
Keita Balde Diao
Arguably the most successful at senior level, the forward left for Lazio in 2011 and is now in his second full season in the first team in Serie A.
Join our new commenting forum
Join thought-provoking conversations, follow other Independent readers and see their replies