Jordan Nobbs interview: 'It's great that the game's been promoted, I think a lot of the players have improved from that'
The Arsenal and England midfielder discusses the rise of the women's game
Matt Dathan
Wednesday 01 May 2013 13:39 Comments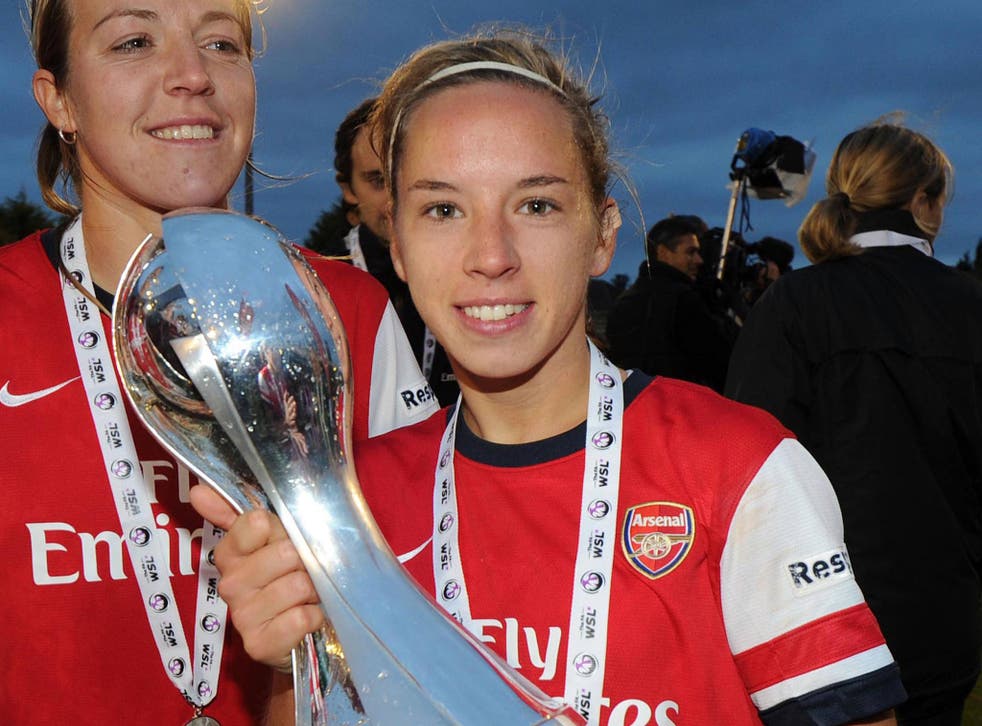 At the heart of Arsenal's midfield is a young English footballer who dictates the tempo of games and whose energetic and creative performances have been rewarded with a regular call-up to the England squad. You would be forgiven for thinking Jack Wilshere is the subject, but these attributes also describe the PFA Women's Player of the Year nominee, Jordan Nobbs.
Like her male counterpart, Nobbs is setting the game alight. But unlike Wilshere, she is doing so for a team that dominates the domestic game; Arsenal Ladies have won nine consecutive league championships and five of the last seven FA Cups.
And the 20-year-old from Stockton-on-Tees is doing so at a time when women's football is finally taking off. After the Olympics last year, when almost four million people watched England beat Brazil on TV, there has been a significant surge in the game's popularity in terms of attendances, media coverage and general awareness – something Nobbs is fully aware of.
 "The Olympics got so much support for women's football, a lot more people are starting to take an interest in women's football", she says. "The amount of people who know about the Women's Super League now is a lot better and hopefully that'll mean more fans will come to games. It's great that the game's been promoted, I think a lot of the players have improved from that."
Nobbs was included in the initial 30 player GB squad for London 2012 but narrowly missed out on final selection. At the age of 19 though, it came as a surprise simply to be considered and she has already set her sights on Rio 2016.
"I'm only a youngster and to be honest I was totally privileged to be part of the 30 and I didn't expect to get into the full team. I think I've improved a lot since then and now I've earned a few England call-ups.
"I totally understand the Olympic squad selection and I think they did a great job out there. Rio is certainly a future target."
Nobbs certainly has improved since missing out on the Olympics and is showing Hope Powell what she was missing when GB crashed out to Canada at the quarter final stage. Seven minutes into her England debut against Italy in March she smashed a 20-yard shot into the top right hand corner. She won two more caps as England went on to win the Cyprus Cup, beating Canada in the final – sweet revenge over their Olympic conquerors. The only negative that came from representing her country at senior level was the unflattering nickname she inherited: 'Nobber', but although she prefers the more conventional 'Nobbsy', it will not stop her earning many more caps.
Under new Arsenal boss Shelley Kerr, Nobbs has been an ever-present at the centre of Arsenal's midfield this season, pulling the strings and scoring vital goals as Arsenal reached the FA Cup final – beating defending champions Birmingham City 6-0 in the process. She played a vital role in Arsenal's run in the Champions League where they reached their third successive Champions League semi-final, scoring another scorcher in their quarter final win over ASD Torres.
It was disappointing for the Ladies to fall at the semi-final stage once again, especially considering the final will be played at Stamford Bridge. But Nobbs feels the team can still take positives from a tough European campaign and points to the unfair advantage that their continental rivals have.
 "The time the European games come round always seem quite bad for us because most [European] teams are in season, fully playing while we have our pre-season. I think that's somewhere we've got to step up a little bit because we've not been playing as much.
"But to get to the semis was brilliant and even though we didn't get through we still put on a good performance and hopefully next year we'll improve on that and go one stage further.
"Shelley's come straight in and she's done a great job", says Nobbs of her new coach. "Training's been really high tempo and she's got us doing a lot of individual work and hopefully she can improve me as a player as well."
England's top division, the Women's Super League (WSL), runs from April to October. It was moved to the summer months two years ago so it no longer clashed with the men's season in an attempt to boost interest in the women's game.
Attendances at Arsenal have increased significantly on last season's numbers. 1,400 fans turned up to watch Arsenal Ladies' Champions League semi-final against VfL Wolfsburg at their home ground in Borehamwood last month, 500 more than turned up to watch the Gunners at the same stage last year.
So do the growing crowds make Nobbs more nervous? Not one bit.
"I'm not one to get nervous", she says, the day after playing on the hallowed turf of Anfield. "I suppose it's just how I am – it's just football wherever you are."
Nobbs' lack of nerves allows her to show a level of composure on the ball that defies her age and height. At 20-years-old and standing at just 5ft 2in, she shows the poise expected of her more experienced colleagues that include seasoned internationals such as England's Kelly Smith and Rachel Yankey.
Perhaps her natural assured style of play and nerves of steel are down to the fact that she started kicking a ball as soon as she could walk. Nobbs was destined to be a footballer even before she was born and regardless of her gender. Her father, Keith Nobbs, was a tough tackling, old-school centre half who made over 300 appearances for Hartlepool United in the 1980s and after injury ended his career prematurely, he turned his attention to training the next generation. He got his daughter playing in his soccer skills camps in the school holidays and at the age of eight Jordan was invited to a trial at Sunderland. And as she says herself, she has never looked back since.
"As soon as I started there I knew that football was what I wanted to do," says Nobbs, with the self-assured manner that reflects her on-field style. "My mam and dad were always very supportive of me and still are. My dad is always speaking to me before and after games, he's always trying to improve me as a player but also to try and give me confidence to keep going, so I really appreciate everything he's done for me – same as my mam."
If there is one thing Jordan is tired of hearing though, it is the long list of horrific injuries that her dad "always goes on about." His early retirement meant she never got to see him play, but she is constantly reminded of his northern toughness.
"He got kicked in the face – I've got a picture on my phone, and he broke his jaw and even my mam walked past his hospital bed and didn't recognise him because his head was that big and swollen! I think football's changed a bit since then – I hope that won't happen to me!"
With her dad having to retire early due to injury, Nobbs is all-too-aware of the danger that injury poses to her future footballing career and that is something that encouraged her to sign up to a sports studies degree at Hertfordshire University. It is a delicate balancing act, but Nobbs is far from averse to hard work.
"I'm trying to balance the two, sometimes I can't focus on my football which is what I want to do but I still want to try and get a degree so I'll keep working hard at both. Hopefully the game can become professional in the future but whatever happens it's definitely taking the right steps forward. We'll just have to wait and see."
England players currently receive a central contract of £16,000-a-year and there is also a semi-professional career at Arsenal, but one thing that comes across loud and clear from Nobbs is a real sense that she simply feels privileged to have such a fun career and money will always play second-fiddle in her mind. The game may not be fully professional yet but it is certainly heading in that direction and Nobbs could be among the first and surely most deserved players to benefit from a fully professional salary.
"I couldn't be happier to be part of the women's game at a time when it's progressing so much. Doing something you love and being able to get a career out of it is incredible. Just going country to country is an amazing experience, you sometimes forget about the little things that a lot of people don't get an opportunity to do. I'll keep working hard and hopefully have a long career."
Nobbs attributes her recent success to her decision to move down south to join Arsenal at the age of just 17. She admits occasionally feeling home sick and travels back up north whenever she can with her Arsenal and former Sunderland teammate Steph Houghton. But Nobbs has no regrets about her career-changing move. As soon as she was shown around Arsenal's London Colney training ground where the Ladies train alongside the men, her decision was made.
"It was a big move; there was a lot to think about. But as soon as I came down south and I saw the facilities I knew it was what I wanted and it has definitely massively helped me in my career. It's such a massive opportunity so I couldn't say no.
"Playing in the senior squad at such a top club and playing with the players that are here- it's just incredible. I don't regret moving at all. It's hard missing home but my manager is really supportive if I want to go home, so that's always an option."
Deciding on a career highlight is a hard challenge for the 20-year-old, such is the magnitude of her success. She captained England under 15s at the age of just 13 and has played for her country at U-17, U-19, U20 and this year at senior level. She won FA Young Player of the Year in 2010 while playing for Sunderland before moving to Arsenal at the age of 17, where she was voted as Player of the Season by her fellow teammates in her second season.
This season her performances have caught the eye of her opponents too – she was among the six players nominated for the inaugural PFA Women's Player of the Year which was awarded at the same event as the men's award in London last Sunday. It was won by her Arsenal teammate Kim Little and the two have forged a strong partnership at the heart of the Gunners' midfield.
"Kim's been one of the top players in our league for many years," Nobbs says. "And I'm sure she'll keep being one of the top players. I like playing alongside her in midfield – she's got such good experience.
"To be one of the six [nominated for the PFA award] was incredible", she added. "It's just a real privilege to be selected and it's fantastic that the women get the chance to be up for an award at the event."
But despite all the awards she has won already, it is the on-field achievements that matter most to Nobbs.
"I'd say the England debut and goal was my highlight so far. Hopefully there'll be plenty more to come."
The future looks bright for Nobbs, for Arsenal Ladies and indeed women's football in general. The BBC has announced it will be showing live games of this summer's European Championships in Sweden and after England's success in the Cyprus Cup earlier this year, Nobbs is confident of winning more silverware in July. And glory in Sweden would be another step towards catching up Japan and the USA – the superpowers of women's football.
"It's only a matter of time until we start being one of the top teams", Nobbs says with typical confidence. The winning mentality that Nobbs is so accustomed to at Arsenal seems to be taking hold for England and with a ball at her feet there appears to be no limits to Nobbs' meteoric rise in women's football. If only the same could be said of Jack Wilshere and England.
Register for free to continue reading
Registration is a free and easy way to support our truly independent journalism
By registering, you will also enjoy limited access to Premium articles, exclusive newsletters, commenting, and virtual events with our leading journalists
Already have an account? sign in
Join our new commenting forum
Join thought-provoking conversations, follow other Independent readers and see their replies