How Kelly Smith, England's greatest female player, overcame injuries and a drinking problem to inspire a generation
Smith broke onto the scene with Arsenal before a troubled spell in the United States brought her back home to win the Champions League. Now she calls time on her unrivalled career, having left her mark across the globe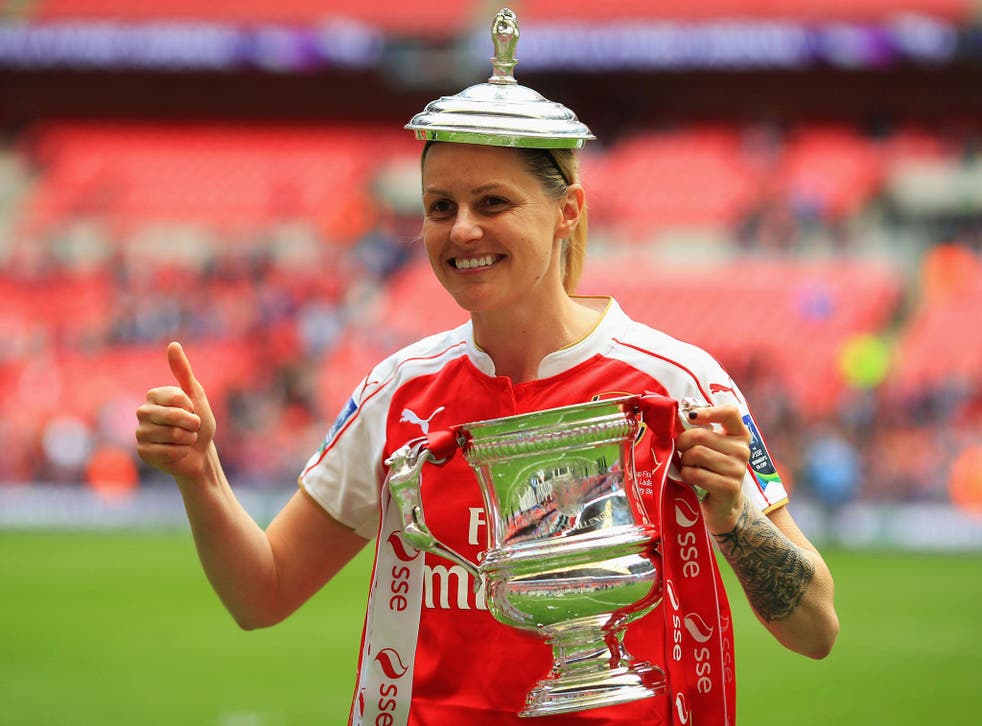 Kelly Smith, who announced her retirement today is the greatest female player English football has produced. The national team's rise to trophy contenders is a relatively recent phenomenon, for decades after the ban on women's football was lifted in 1971 they were also-rans. Smith, however, won respect for the English game overseas, and inspired a generation of players at home.
How good was she? Earlier this week Carli Lloyd, US World Cup and Olympic gold medal winner, was named Fifa's women's player of the year. She was asked who was 'the best player she had played with?' Lloyd, who has played more than 230 times for the game's dominant nation, with some outstanding players, replied: 'Kelly Smith from England'. Lloyd played with Smith very briefly, 12 years ago, for the New Jersey Wildcats, but that was the impact Smith had.
But Smith always made an impression. As a seven-year-old she was barred from playing for her local boy's team because parents of beaten opponents complained. A few days after her 17th birthday she made her England debut, and was named player of the match. She was an automatic choice for the next 20 years winning 117 England caps, scoring a record 46 goals, and making many more – blessed with a wonderful left foot and great vision was a creator as well as a finisher.
Current England manager Mark Sampson said: "I was privileged to have the honour of coaching Kelly. She will be remembered as one of the greatest players. The creativity and excitement she brought to the pitch will stay as treasured memories for every supporter who had the pleasure to watch her play. Combining that with her insatiable work ethic and will to win made Kelly a dream to play with and nightmare to play against."
Smith joined Arsenal, the major team of the era, and immediately began winning trophies, but soon left to play in the higher standard US game. Her time there was, however, blighted by injuries, especially a broken leg in 2004. Far from home and struggling with rehabilitation she developed a drink problem which involved, she said later, 'drinking every day until I passed out, vodka usually'. She added she even felt suicidal. Smith returned to Arsenal and, in time, got control of her drinking. Injuries continued to dog her, but she still maintained a stellar career winning six league titles, five FA Cups and, in 2007, the Champions League. That season Arsenal won the quadruple with Smith averaging close to a goal-a-game.
Smith has combined playing and coaching for several seasons and will now assist Arsenal manager Pedro Martinez Losa on a full-time basis. "I want to see where my coaching career goes," she said. "I'd love to see how far I can develop as a coach. There are goals - to manage Arsenal, the club I love, and even England. Who knows? But I'm at the bottom of the ladder so I'm just really looking forward to seeing how I develop."
Join our new commenting forum
Join thought-provoking conversations, follow other Independent readers and see their replies