Kevin Garside: If Wayne Rooney stays at Manchester United, it won't be on his terms
Rooney is a phantom of the player he was in his early twenties
Kevin Garside
Friday 19 April 2013 12:03 Comments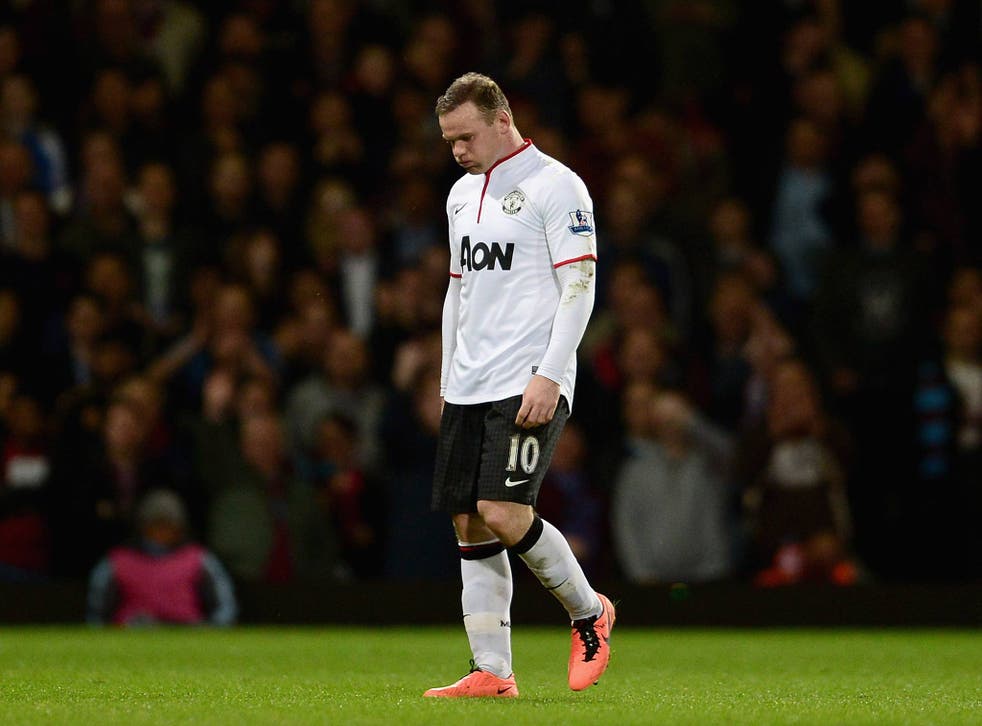 Sir Alex Ferguson's relationship with Wayne Rooney is said to have warmed in recent weeks. There was a pat on the back for the England forward as he made way for Ryan Giggs at Upton Park. But that is no longer the issue. That he was the player sacrificed has shifted the debate from his rapport with the manager to his pertinence to the team.
Ferguson's tenure at Old Trafford is defined as much by the players he has shipped out as those he has signed. So, as well as the pivotal appointments of Peter Schmeichel, Eric Cantona, Nemanja Vidic, Cristiano Ronaldo and Rooney himself 10 years ago, the key decisions were also those to let go Paul McGrath, Jaap Stam, David Beckham, Ruud Van Nistelrooy, and in one particularly brutal cull at season's end, Paul Ince, Mark Hughes and Andrei Kanchelskis.
The speculation in recent days has swept Rooney in the direction of Paris Saint-Germain. Real Madrid also get a mention. During a previous contract wrangle, Manchester City were the rumoured recipients of England's greatest forward talent of his generation. On that occasion Ferguson acted decisively and swiftly to keep his talisman at United. He was a player back then.
Watching him labour around Upton Park, it was impossible not to remark on the decline in output. Rooney is a phantom of the player he was in his early twenties, and at 27, he may be facing the uncomfortable truth that the decline is irreversible. Operating in the most difficult part of the field, Rooney appears to have lost that split-second timing that takes a player clear of the tackle. His touch is leaden and he is too easily shackled.
He might still be capable of episodic bouts of brilliance but the consistent delivery of his explosive past has gone. Ferguson has accounted for the plodding displays of this season by claiming Rooney needs a run of games to be at his best, something to do with his body shape. Rooney looks fit enough. He can run all night. But his decision-making is slow and his movement unresponsive.
Rooney would not be the first to feel the negative tug of nature at an age when footballers are traditionally at their peak. This fella has been at the sharp end of the game since he could walk. A goal-scoring sensation as a minor, Rooney has carried the flame of genius with him throughout his boyhood from the school pitch through Everton's junior programme. His career as a goalscoring prodigy playing above his age group was already a decade old when he burst on to the Goodison turf in the blue of Everton as a 16-year-old.
Age is not only measured in years but in miles on the clock. In a piece that appeared in these pages before Christmas, Rooney's plight was likened to other gifted individuals in whom the light went out early, Ronaldinho and George Best. At the same age as Rooney is now Barcelona sold Ronaldinho to Milan and Best walked out of Old Trafford. Ronaldinho arguably peaked at 26 at the 2006 World Cup. Injury caught up with him in his last year at the Nou Camp and he was never the same player at San Siro. Best was no more than an itinerant curiosity post-United and already lost to the bottle.
Ferguson insists that Rooney will be at Old Trafford next season. He has dismissed the rumours linking United to Atletico Madrid's coveted blade Radamel Falcao. If not him it will be somebody else. Robert Lewandowski of Borussia Dortmund is a name that persistently pops up. If we take Fergie at his word we must also allow that a man and a club can change minds. Rooney has arrived at that point in the contract cycle, with two years to run on his present deal, where value is re-established. Does the club re-sign or sell while they can attract a fee?
In the biggest game of United's season, the return Champions League tie at Old Trafford against Real Madrid, Rooney was not first choice. Ferguson saw a better way of taking United forward. Ferguson no longer sees him as a centre forward. Robin van Persie and Danny Welbeck were preferred. Increasingly, the tendency has been to shift him back to fill the creative gap in midfield.
In his role as radio pundit with BBC Radio 5 live, Michael Owen revealed on Wednesday how Rooney was played in that role in training. He was not asked but told.
If he has a future at United it is in this position but probably not on the improved terms he seeks in what will be arguably his last big contract negotiation. If he sees himself as the main man up front and on a mega-salary commensurate with the stature he once had, it won't be at Old Trafford. Wednesday was yet further evidence of that.
Register for free to continue reading
Registration is a free and easy way to support our truly independent journalism
By registering, you will also enjoy limited access to Premium articles, exclusive newsletters, commenting, and virtual events with our leading journalists
Already have an account? sign in
Join our new commenting forum
Join thought-provoking conversations, follow other Independent readers and see their replies