The Last Word: Kevin-Prince Boateng isn't a hero, just a human being
Some see footballers as inanimate objects, just repositories of bigotry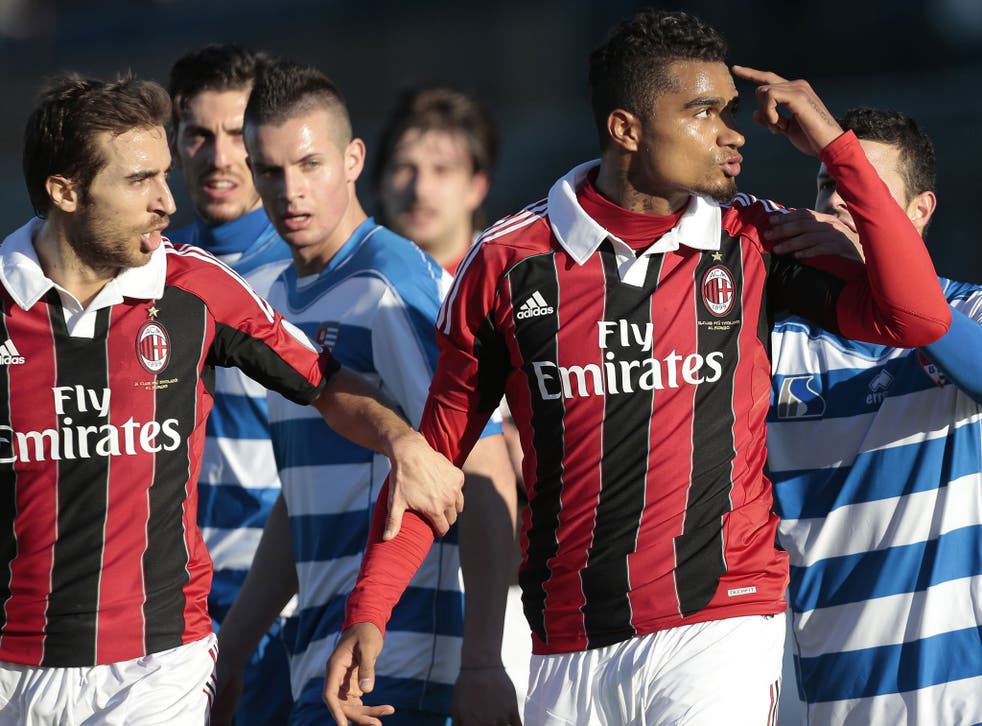 Kevin-Prince Boateng is no hero. He is as flawed and fallible as the rest of mankind. In other circumstances it would be easy to condemn him as a caricature of a modern multimillionaire footballer.
He has more tattoos – a florid 14 at the last count – than the average Hell's Angel. His girlfriend, Melissa Satta, inevitably a "model, actress and TV presenter", blamed his succession of muscular injuries this season on their robust sex life .
This may have struck a chord with Milan's president, Silvio Berlusconi, one of the first to applaud Boateng's decision to lead the players off the pitch in the club's midweek friendly against the lower-division side Pro Patria, but it wasn't rapturously received when Boateng was being criticised for poor form.
The significance of Boateng's gesture lies in its rationality. It was the understandable, inevitable act of a sentient human being. No one should have to endure the sort of racial abuse which reduces its victim to a caged creature in a Victorian freak show. It is abhorrent. But it also reflects an unavoidable aspect of contemporary culture: footballers, and others associated with the cult of celebrity, have been dehumanised, regarded as inanimate objects, repositories of hate, envy, bile and bigotry.
Simpletons flood social media casually to defame them. Footballers' wealth and social eminence is deemed to excuse the vilest insults. Ignorance, stupidity and over-familiarity fuel a collective amnesia that their basic human rights are being compromised.
In that context there was something uniquely disturbing about the confluence of Boateng's principled act and the latest psychodrama involving Mario Balotelli, a case study in the corrosive effects of sustained prejudice. Racist abuse has been the soundtrack of the striker's life.
Born to Ghanaian immigrants who gave him up for adoption, Balotelli suffered as the only black boy in a white neighbourhood. Subjected to monkey chants on his Internazionale debut, he has had bananas thrown at him in the street. Death threats were issued by extreme right-wing groups when, after a visit to Auschwitz, he revealed one of his adoptive parents was of Jewish heritage.
There were 59 incidents of racially aggravated abuse in Italian football last season, but let's not get too complacent. Terence Jones, a so-called Stoke City fan, was with his two children when he shouted "monkey", "black bastard" and "you're dirty, get a bath" at Balotelli during a game in September. He was banned from football for three years and fined £370.
The paucity of such punishment is instructive. Racism terrifies the authorities because it exposes their cynicism and inadequacy. Uefa's insistence that they cannot act in the Boateng case, because the friendly was outside their jurisdiction, is craven corporate cowardice.
Racism has convulsed the English game and will not be combatted by the candyfloss of Football Association action plans, or the equally empty rhetoric of dinosaurs such as Gordon Taylor, the PFA chief executive. Moral ambiguity is so ingrained that Chelsea fail to recognise the conflict between their "zero tolerance" approach to racism and the presence of John Terry as club captain.
In an ideal world a referee would lead players off in the event of abuse, but the Mark Clattenburg case confirms we do not live in an ideal world. Significant protest is rarely painless. This issue will be decided only by another conflagration, so shocking it will be impossible to ignore.
It may come as soon as Wednesday evening, when Milan play Juventus. If Juventus Ultras, who once chanted: "There are no black Italians" at Balotelli, reaffirm their notoriety, and Boateng repeats his protest in the Stadio Delle Alpi, he really will be a hero.
Pompey tears turn out to be prophetic
Kevin-Prince Boateng's last act in English football was to leave the Wembley pitch in tears after missing a penalty in Portsmouth's narrow defeat by Chelsea in the 2010 FA Cup final.
That memory, resurrected this weekend of all weekends, highlights the object lesson provided by a club whose spiral of decline is becoming deeper.
Pompey lost in the first round of the Cup this season. They lost again on Friday night at Walsall, where 500 travelling fans were short-changed by a ramshackle team which lacked substance, spirit and hope.
Relegation to League Two is inevitable, irrespective of whether a 10-point penalty is levied. Players on monthly contracts will drift away.
Even if the fans do take control of the club – a court hearing on 15 January may be inconclusive – they will have to risk alienating their peers by inflicting more swingeing cuts.
The fight for survival matters because of men like Alan McLoughlin, Portsmouth's former Republic of Ireland international. He has defied advice not to return as youth-team coach following a cancer operation which involved the removal of a kidney. His loyalty to a football club who can still be greater than the sum of their parts is inspirational.
Hiss and tell
Sources suggest Lance Armstrong is preparing to confess to having used performance-enhancing drugs. His apologists will be shrill but his motives must be questioned. Armstrong wants to set his own agenda and, having lived a lie for so long, is not to be trusted.
Join our new commenting forum
Join thought-provoking conversations, follow other Independent readers and see their replies