Leeds owner Andrea Radrizzani calls for breakaway league as he criticises 'unhealthy' Championship model
Radrizzani argued that the current financial set-up is unsustainable as he lamented against Premier League parachute payments as well as an imbalance in TV rights deals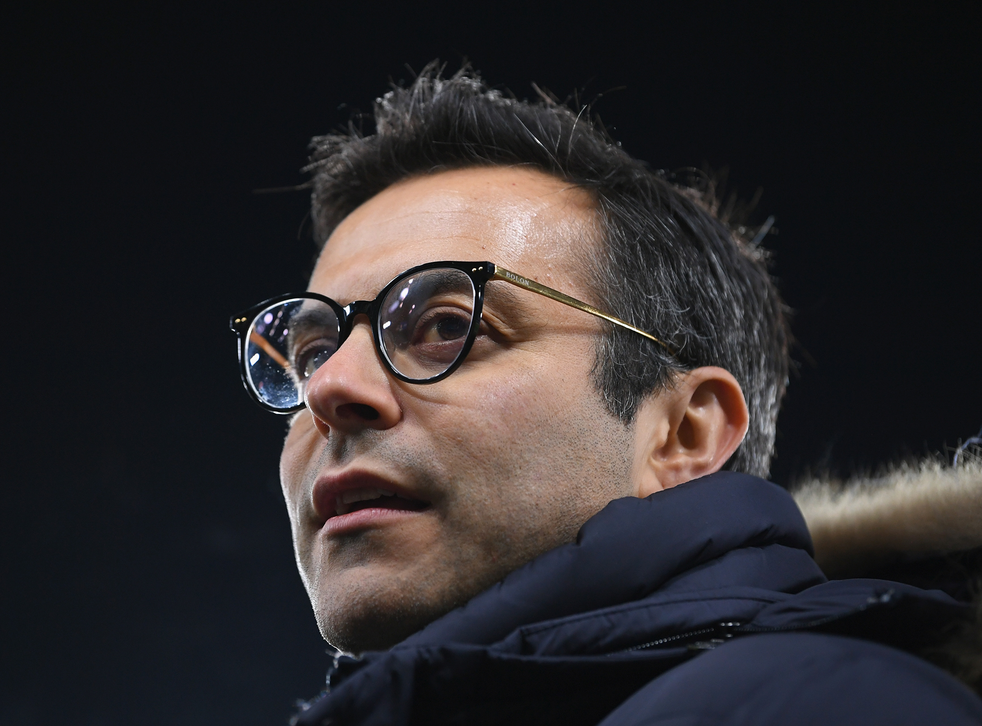 Leeds United owner Andrea Radrizzani believes his club is being "penalised" as a result of an 'unsustainable' Championship model and has urged officials to consider introducing a breakaway league.
Radrizzani, who became sole owner of Leeds in May 2017, argued that the current financial set-up is "not healthy" as he lamented against Premier League parachute payments as well as an imbalance in TV rights deals.
The EFL's current TV package amounts to £90m a year – just three per cent of the Premier League's £2.8bn deal – and is shared among all 72 clubs, although the 24 in the Championship receive the bulk of it.
Radrizzani also highlighted the "huge gap" between long-term Championship clubs and those 'yo-yo' sides dropping down from the Premier League, who receive £75m across a two-year period thanks to the parachute payment scheme.
The Italian, speaking at the Leaders Sport Business Summit on Wednesday, insisted that this disparity meant it is "really not sustainable to stay in the Championship". This echoes a financial analysis conducted by Deloitte earlier this year, which revealed that 19 of the 24 Championship's clubs made losses during the 2016-17 season.
As a solution, Radrizzani called for a complete overhaul of the Championship and even suggested introducing a "Premier League 2".
"I think the model of the Championship should be reconsidered," he said, "because the turnover of owners, keep changing all the time every one, two, three years, is not really healthy system for the fans, for the clubs – this is because it is really not sustainable to stay in the Championship.
"There is a huge gap with the clubs coming down relegated from the Premier League, they have parachute [payments], they have a bigger TV budget. This model and also the small money they [the EFL] generate from TV rights, split between 72 clubs, maybe they need to reconsider and consider another way to create a Premier League 2 or something else, that can be sustainable, even for who is not promoted."
Radrizzani admitted that he has shared his thoughts with other chairmen in the Championship as he expressed his concern that Leeds, as one of the league's biggest clubs, was being 'penalised' under the existing model.
"We should concede that a club like Leeds that is watched by 500,00 to 600,000 people live on Sky, getting from the league only £2m to 2.5m and are actually penalised because we are more than 20 times on TV," he added. "Maybe we should reconsider the system because it doesn't work.
"We lose money and we are creating a show that is high interest for everyone.
"I think other chairmen love to open a discussion because I think the time is getting ready to consider what to do to move forward, and don't have a crisis every two years with every club going bankrupt or changing ownership."
When asked if other chairmen supported his views, Radrizzani said: "You should ask the other clubs but I'm sharing these [ideas] with other chairmen and they agree."
Despite this, the entrepreneur, who also owns sports broadcasting firm Eleven Sport, revealed on Wednesday that Leeds' worth has more than doubled since he acquired the club for £45m from Massimo Cellino last year.
Radrizzani put Leeds' upturn in fortunes down to the arrival of Marcelo Bielsa, who has guided the club to third in the the table after 12 games in charge.
"I think everything [has to do with him]; the club has progressed already in terms of management, facilities and also the sports side is doing better, so all the combination, the big impression is the club is catching up to be a modern club and to be soon, if not this year maybe the next one, to be ready to go in the right direction for promotion."
Register for free to continue reading
Registration is a free and easy way to support our truly independent journalism
By registering, you will also enjoy limited access to Premium articles, exclusive newsletters, commenting, and virtual events with our leading journalists
Already have an account? sign in
Register for free to continue reading
Registration is a free and easy way to support our truly independent journalism
By registering, you will also enjoy limited access to Premium articles, exclusive newsletters, commenting, and virtual events with our leading journalists
Already have an account? sign in
Join our new commenting forum
Join thought-provoking conversations, follow other Independent readers and see their replies